For IT, Procurement, and Finance teams, the current economic climate puts the spotlight on software waste. That makes answers to questions like what applications do we have, where are we overspending, and how can we save money even more important. 
Zylo's SaaS Management platform finds and eliminates waste by providing full visibility of software applications and licenses, granular usage data, and renewal timelines, so you are never caught on your heels.
Renewals are a prime opportunity to put this data into practice to support company-wide cost-savings initiatives. The average organization experiences 234 renewals each year. That is about one per business day! Whether you rightsize your contract, negotiate lower pricing, or cancel a subscription altogether, each one is an opportunity to save money.
To more easily understand the value of any given application, quickly uncover money-saving insights, and streamline your renewal process, use Zylo's App Overview.
"App Overview is another bold, clean, and easy-to-understand tool from Zylo. When managing a software stack, you must be able to answer questions fast, convey information efficiently and provide the decision-makers the best possible foot forward in renewals conversations."

– Josh Ehlers, Software Asset Manager, Instructure
App Overview: Your One-Stop Shop for Application Insights
Is this app being adopted? Are we using all of our licenses? Where are employees expensing an application when we have a corporate agreement in place? Zylo's App Overview brings spend, usage, and adoption insights together in a single view. Within it, you can quickly find everything you need to make confident decisions around your SaaS licenses and renewals.
"The App Overview experience allows users to see the key data about their subscription in an easy-to-use, graphical format. It surfaces key metrics, like utilization and potential overlaps, to allow application owners and teams to make data-driven decisions quickly as it relates to potential cost savings or opportunities."

– Brittney Linville, Senior Manager, Global Enterprise Procurement at Highspot
Do You Want to Save Time Preparing for Your Renewals?
As mentioned earlier, the average organization experiences about one software renewal each business day. (Yikes!) Gathering and analyzing the relevant data points to prepare for those renewal conversations can easily consume hours – especially as SaaS becomes increasingly decentralized. How much is this tool costing us? What teams are using it? How many licenses did we purchase? How many of those licenses are being used? Application ownership, spend and usage data, contract information, and renewal dates are scattered and fragmented. IT, procurement, and finance teams must complete an exhaustive investigation to track down the details needed to evaluate applications, rationalize, and prepare for contract negotiations. The process is repeated for every application purchased in your organization, meaning you are always preparing for renewals.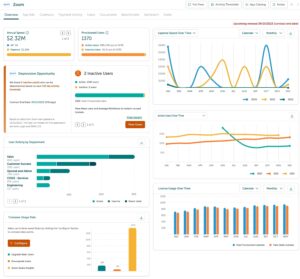 Instead of spending hours compiling and analyzing endless amounts of data, App Overview brings app insights together and makes them actionable through easy-to-use visualizations. You can quickly find everything you need in one place to make data-driven decisions to rightsize, renew, or cancel software.
What does the adoption of this application look like? Is this an app that employees would want to renew? App Overview displays trends in application adoption, so you can quickly see where to invest more or when to cancel an underutilized app. 

Are we paying for licenses that are going unused? Gain instant access to your provisioned active versus inactive users and monitor license usage to reclaim unused licenses, rightsize your contract, and reduce wasted spend.
Is Optimizing Licenses and Lowering Software Costs a Business Initiative?
According to Zylo's data, 44% of SaaS licenses go unused during a given 30-day period. That means an organization could easily waste $17 million on SaaS each year due to unused and underused licenses! So, what's the challenge? Managing licenses is manual and time-consuming. IT teams typically use application administration dashboards with some level of usage reporting or employee surveys that can be valuable but not precise. 
With App Overview, you don't have to manually pull data or wait on responses. You can instantly identify underutilized licenses and applications and remove waste to save on spend. 
Here are a few scenarios where this might come in handy:
How often has someone asked you for a license and only used it once or for a one-off project? Rather than buying more licenses (and spending more money), quickly find inactive licenses and deprovision them, so you can re-allocate those licenses to employees in need.

Did you purchase too many licenses? Gain immediate insight into your license usage to rightsize your contract and reduce your spend.

Are your employees assigned to applications based on their role? Get a breakdown of department usage for every application. Rather than managing licenses one-off, you can find whole departments or large groups of people not using an application.
Would You Like to Have Spend Insights and Analytics at Your Fingertips?
Need to quickly know how much you're spending on an application? Within App Overview, you can see at-a-glance your annual spend on the application, what that spend looks like in your fiscal year, and how much of that spend is coming through accounts payable versus expense. 
So, now you know what you're spending on the application. How has that spend changed over time? Has it increased, decreased, or remained the same? Within App Overview you can monitor trends in your AP, expense, and total spend, so you can plan, forecast, and report on app-level spend. 
Below are examples of what you may find in App Overview's trending charts:
Is there a price increase baked into the contract? Quickly see year-over-year contract growth.

Have you moved users who were expensing an app into the corporate agreement? Analyze trends in your expense spending over time. 

Did you add or subtract licenses at your renewal? Visualize and report on changes in your total spend on the application.
"The Zylo App Overview gives me a clear picture of the app spend and usage. It is a fantastic tool to display during meetings with leadership when discussing SaaS spend on the fly."

– Cory Brester, Director of Information Systems at Foundant
Start Now with Your Best Foot Forward
With tons of renewals each year, you can't afford to get caught unprepared and overpaying. Zylo's SaaS Management Platform gives you the data you need to proactively plan and inform your strategy for renewals and actions for cost savings. Request a demo to speak with one of our SaaS management experts today.