The shift to the cloud has created a massive shift in how businesses and their employees purchase, manage, and renew software assets. Ten years ago, business department leaders submitted requests to Procurement or IT for every software purchase. Today, any employee within an organization can purchase software-as-a-service (SaaS) with the click of a button. 
However, the ease of purchase has created a problem with SaaS growth, as it creates a highly dynamic environment in the SaaS stack.
Zylo's SaaS Management Index found that the average organization has 291 SaaS applications, spending $50 million annually.
The more SaaS an organization acquires, whether individual employees or teams expense it, the harder it becomes to manage. Which can become a problem as six new applications enter an organization's SaaS portfolio every 30 days, resulting in an average of 204 renewals every year.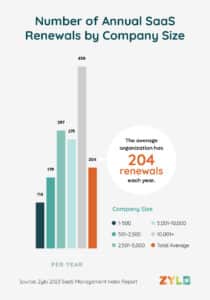 This is becoming a dilemma cutting into the bottom line of many organizations without proper SaaS management.
SaaS use is growing rapidly – and will continue to do so for the foreseeable future. Gartner forecasts that SaaS spending will grow up to $195 billion – up from $167 billion in 2022. And that spending is increasingly decentralized.

Ownership of SaaS applications in recent years has shifted from IT to individuals and business units. That now accounts for more than half (63%) of SaaS spending, and 45% of the application quantity. For many organizations, this shift to decentralized SaaS makes sense when compared to on-premise software asset management. This is due to the fact that SaaS tools:

Offer lower per-solution cost

Provide proof of concept before purchase

Can be implemented more easily

Scale with the business
However, the prevalence of automatic renewal clauses in SaaS subscriptions makes charting a holistic renewal strategy a critical task.
Regardless of company size or experience, the growing adoption of SaaS also challenges business leaders to find new ways to safeguard value, demonstrate ROI, and prevent risk with this large area of investment.

In this guide, you will learn how SaaS Renewal Management:

Reduces the financial impacts of missed renewals and redundant purchases

Increases visibility and awareness of an organization's entire SaaS portfolio

Improves organizational security and data protection
The Practical Guide to Rationalizing, Rightsizing and Renewing SaaS
Learn More
What is a SaaS Renewal?
A SaaS renewal is simple. It is whenever the end-user renews their subscription to a SaaS application for a set time. Still, the proliferation of SaaS applications means many of these renewals are occurring across an organization regularly. This is true whether they are manual or automatic.
A study of Zylo's database of over $30 billion in SaaS spending has revealed that a large organization will, on average, undergo at least one SaaS application renewal every business day. 
These renewals offer an opportunity for organizations to evaluate their spending and usage. Is the application used to its full potential? Do we still need this app? Knowing about renewals ahead of time allows for organizations to address questions like these, and decide how they can adjust for stronger growth and future needs. 
However, this can be challenging due to the sheer number of known and unknown applications operating across an organization. That's why your organization needs a strong SaaS renewal strategy. 
Goals of a SaaS Renewal Strategy
Proactively managing your renewals is vital for holistic SaaS management. Rather than dealing with renewals only when they appear, a strong SaaS renewal strategy empowers organizations to cut SaaS costs and risks. This is essential for optimizing your SaaS investments. 
An effective SaaS renewal strategy will: 
Identify SaaS ownership –

Visibility is always the first step in proactive SaaS management. By knowing who and what is using a SaaS application, identifying SaaS ownership enables organizations to better track spending and usage. 

Prevent missed renewal dates – 

A missed renewal date is a missed opportunity. Knowing exactly what is up for renewal allows organizations to evaluate and prepare while avoiding the costs associated with a missed renewal.

Empower Line of Business owners –

Effective SaaS renewal strategies enable line of business owners to make strategic and effective decisions in their SaaS purchases.

Improve value –

Eliminating redundant spending and enacting enterprise agreements help organizations get the most out of their subscriptions. 

Manage proactively –

A SaaS renewal strategy shifts your business from reactive to proactive SaaS management. Take control of your renewals. 
How to Prepare for a SaaS Renewal
Rather than dealing with renewals as they appear, we recommend that organizations prepare a 90-day window – or more for large, enterprise suites such as Microsoft or Salesforce. Planning allows you to never miss a renewal date, saving you from the risk of your contract locking in for another year.  
Understand What You Have
This begins with full visibility of your SaaS assets. After all, how can you manage what you don't know you have? This empowers you to identify ownership and usage across your organization and to strike a balance between IT, LOB, and individuals. From there, you're prepared to optimize your utilization towards a recommended 90% rate. 
Rationalize and Rightsize
Once you identify who is using what, you are then ready to rationalize and rightsize your SaaS portfolio. 
This means understanding where you have redundancies in your stack. From there, companies can determine where they're overpaying for seats for applications, or what applications are operating within the organization that serve the same purpose. Once you've accomplished this, you can consolidate or eliminate these applications the next time they are up for renewal, if not sooner. 
Create a Renewal Calendar

Visibility also gives you the power to create a renewal calendar. With these tools, companies can map and manage renewal timelines effectively and prepare for long-term success with a strong SaaS renewal strategy. By getting a clear view of renewal dates, an unexpected renewal will never surprise your organization again.
Even more important, businesses can comfortably review contract terms well ahead of renewal. 
Follow a SaaS Renewal Playbook
Of course, any good SaaS renewal strategy will require consistency. To prepare for this, use a SaaS renewal playbook to stay on top of your renewal calendar to systematically address renewals before, during, and after they occur. 
For more help, this SaaS renewal checklist will guide you every step of the way. 
How to Negotiate SaaS Contracts
With the power to prepare for renewals comes the power to renegotiate your SaaS contracts. This enables organizations to work with their SaaS providers to create contracts that allow them to get the most out of their SaaS. The last thing you want to do is cave on price in negotiation – or on other contractual terms important to your business.
So, here are the best practices to negotiate your SaaS contracts. 
Gather Insights and Research –

Get all the important information you need to know about your contract. Understand how your team is using the tool today, the terms and limitations of the current contract, determine which elements need reviewing, and use SaaS benchmarking to ensure you're getting the best deal.

Partner with internal stakeholders –

Including stakeholders in the SaaS management process can help build trust and gives negotiators additional information to leverage for better prices to multi-year contracts. 

Negotiation isn't all about price – Building relationships with SaaS companies can go a long way in negotiations as they garner trust and good faith. These vendor negotiation tips can help, especially during economic hardship.
Communicate the path to execution with the vendor –

Communicating with transparency the how and why of your needs to a SaaS vendor can help you expedite the negotiation process. Vendors can then return the favor by laying out limitations and potential workarounds to help create win-win situations for both parties.  

Be proactive with renewals –

 Planning for renewals prepares you for renegotiations. Even if negotiation isn't on the board, proactive planning keeps costs down and eliminates reliance on auto-renewals. 
Negotiate the Best Deal
Now that you know how to prepare for a negotiation, you can move on to what to bring to the table. These tactics will help you get the agreement you need to get the most out of your SaaS. 
Know the vendor's fiscal year or end-of-quarter –

Sales representatives often have quotas to meet each quarter or fiscal year. Try signing near the end of the quarter to take advantage of additional discounting as these reps strive to meet quota. 

Consider a multi-year commitment –

If you predict an increased and stable usage with a vendor's SaaS, and are unlikely to switch, consider a 2-3 year agreement. Vendors will often provide additional discounting and better unit pricing for these agreements.

This is where a complete and holistic view of your usage data can help inform renewal decisions. 

Increase licenses –

If usage has increased over the contract period, and your organization projects future growth, you can leverage this information to try and lower the pricing in negotiation. Vendors frequently offer tiered pricing, and as seat count increases, the pricing per seat decreases.

If you've rationalized your portfolio, you may find that consolidating your SaaS stack will allow you to move up a tier for better pricing. 

Communicate budget restrictions –

Once a vendor provides their initial proposal, you might find it advantageous to explain when it does not meet your current budget. In turn, pitch a lower target price or discount percentage to guide the vendor's next offer. 

Leverage benchmarks – Once again, benchmarking helps you determine what you're paying compared to your peers. If you're paying more than others using the same service, you can leverage this in negotiating SaaS contracts.

This is a great tactic to bring to the table when a vendor does not want to lower pricing because research tells you that there is room for discounting. 

Offer a reference or case study –

 You may be able to get additional discounts by offering to be a prospect reference or agreeing to a case study. This will take work and agreement between you and your marketing team but has cost-cutting potential.

Once again, this is how a partnership is key in negotiation. It offers leverage when you are certain it is something the stakeholders will find agreeable. 

Start conversations early –

Plan 90 days ahead. This allows you to move at your own pace while also putting pressure on the vendor to make a deal.

Proactive SaaS Renewal puts time on your side to make the most out of your SaaS. 
How Versapay Leverages Zylo's Platform and Managed Services to Take Control of SaaS
Learn how Versapay's IT team taps into the Zylo platform and a dedicated SaaS management resource to optimize its SaaS portfolio and drive cost and time savings.
Learn More
How Zylo Helps Procurement Proactively Manage Renewals
Manage SaaS renewals with confidence and without surprises. Zylo's Discovery Engine provides 100% visibility of your SaaS assets. This helps establish a system record that empowers you to use data-driven insights to stay on top of renewals at a massive scale, prepare for renewals in hours and gain negotiation power by knowing your numbers.
What's more, it provides a contract concierge service to help wrangle contracts and put them to work for you.
But that's not all Zylo helps with. 
Insights, Dates, and Data
Zylo Insights provides personalized, prioritized, and actionable recommendations for quick wins to drive rightsizing and savings initiatives.
In a holistic, single-view approach, you can see all your optimization recommendations prioritized by the greatest return. What's more, this empowers you to rationalize your SaaS stack while Zylo's renewal alerts provide you advance notice to manage renewals.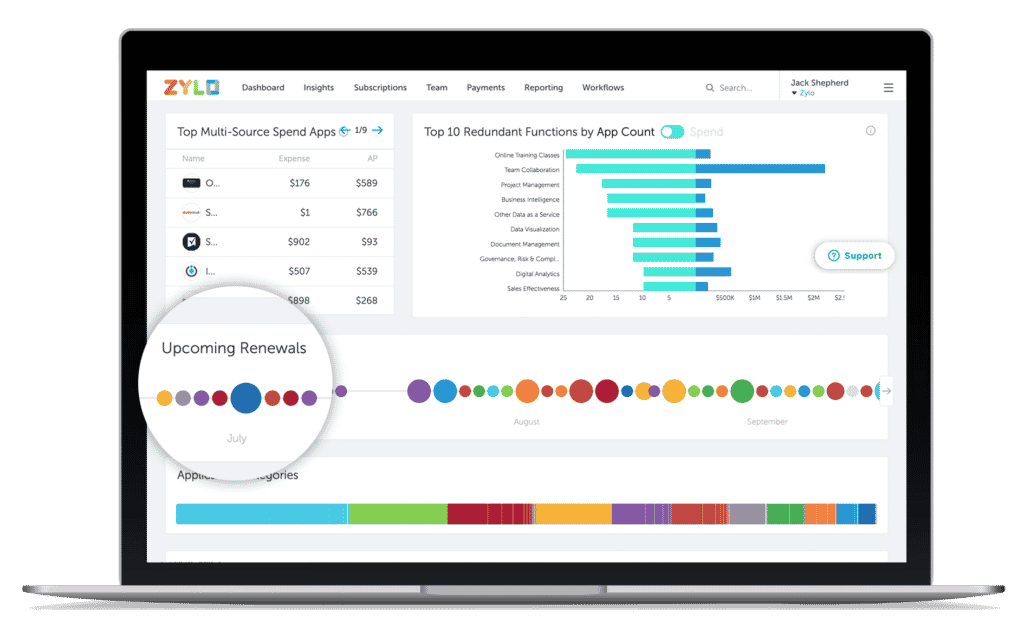 Contracts and Payments
Zylo helps you manage your SaaS contracts, so you'll never find yourself hunting for missing contracts again. Our service empowers users to track payment activity, load contract details, and save all of your contract documents into a single, at-a-glance reference.
Even if your portfolio includes thousands of applications, you will know what is up for renewal and what you can do about it. 
Benchmarks
Our data finds that organizations on average overspend on applications by 15%. That's why we offer Zylo benchmarks. Zylo surfaces license, subscription, and payment data across your portfolio. Then it benchmarks that against the market. Using anonymized data from the sector's largest customer base, you will find the right products at the right price. 
Knowing the numbers is the first step to negotiation power. 

Zylo SaaS Negotiators Will Go to Bat for You
Zylo's SaaS Negotiator Service acts as an extension of your own team while using your company email address to create a seamless experience across your business. 
As an example, our team and services have helped businesses like Talkdesk make incredible improvements. After 10 years of growth, the company found that its SaaS portfolio had grown decentralized and lost visibility. This left them with little insight into what SaaS was purchased, what it was costing them, or even who made the purchases. In a few short months, Zylo helped them establish improved collaboration and effective SaaS management. 

Working with us, Talkdesk achieved: 
$350,000 in annuals savings in just a few months
24 successful negotiations in only 6 months with 16 more in progress
5 benchmarks
Near Immediate ROI, with the service paying for itself in 3 weeks.
The same output as a full-time employee
And better collaboration between IT, procurement, and business units
Schedule a demo with us today and see how we can help your organization manage your SaaS assets, and achieve better ROI.