As software solutions expand, so does the need to manage them. This means identifying, monitoring, and managing enterprise applications across multiple layers of business. Then, aligning these tools with business objectives to deliver the maximum value possible to the organization. In a nutshell: application portfolio management. 
Read on for how Application Portfolio Management can be applied your SaaS applications.
What is Application Portfolio Management?
You may already know the answer to, 'What is application portfolio management?' But, let's level set for a second.
In short, application portfolio management, or APM, is the proactive approach organizations use to effectively manage their software application assets. It sounds simple when we say it that way. However, the process requires an in-depth understanding of application assets to establish.
At a high level, your application portfolio management strategy ensures your software investments drive positive outcomes for the business by aligning applications to business needs. For SaaS, this means inventorying assets across your entire SaaS stack and utilizing insights to rationalize your portfolio. It becomes interwoven into the architecture of your company in an ongoing process. The process often entails evaluating costs, creating standards, and producing meaningful, measurable results. 
As a continuous system, APM accounts for all changes in the portfolio. This empowers enterprise organizations to: 
Create complete visibility of their applications
Optimize available licenses
Rationalize application assets
Manage SaaS renewals
Ensure compliance and governance across the whole organization
Together, this creates a system that has become an integral component of many organizations to combat the sprawling and hidden costs of SaaS assets. All the while, it becomes a consistent source of portfolio optimization and improved ROI. 
Why Do You Need Application Portfolio Management?
The role of enterprise software architecture shifted with the rise of SaaS over the last decade. It now includes ensuring SaaS software works for the business by tying application utility to business needs. That means ensuring every SaaS asset is driving value for the enterprise and is doing so as efficiently as possible. 
Leah Tubb, the Program Manager of IT Architecture, Planning & Innovation at Atlassian, shared her insight on this with us on SaaSMe Unfiltered.
"We root everything in business capabilities," said Tubb. "We want to know – whether it's people, process, technology, or information – how it aligns to business capabilities, because then we know exactly what it's doing for us and how we are driving business value for Atlassian. How things come together, where do we have redundancy, and where can we start doing rationalization?"
Tubb went on to share with us the importance of communication between IT and business to ensure better utility and value from the enterprise's SaaS portfolio.
This is an essential part of APM for the modern enterprise's architecture. That's in part because the size of the average organization's SaaS portfolio requires a programmatic approach to management. What's more, Zylo's 2023 SaaS Management Index report found that SaaS portfolios grow alongside enterprises.

Here are the numbers: 
Enterprise (5,000-10,000 employees) : 392 applications
Large Enterprise (>5,001 employees) : 664 applications
Each of these applications comes with its own terms of use and renewal timeline. To manage them effectively requires a programmatic approach such as APM that creates dedicated, ongoing processes. 
This means any enterprise concerned with scalability must be ready to create a SaaS-conscious APM system. Not only because of the sheer volume of SaaS applications but because their SaaS portfolio will continue to grow. And it will do so at a much faster rate than on-premise software solutions.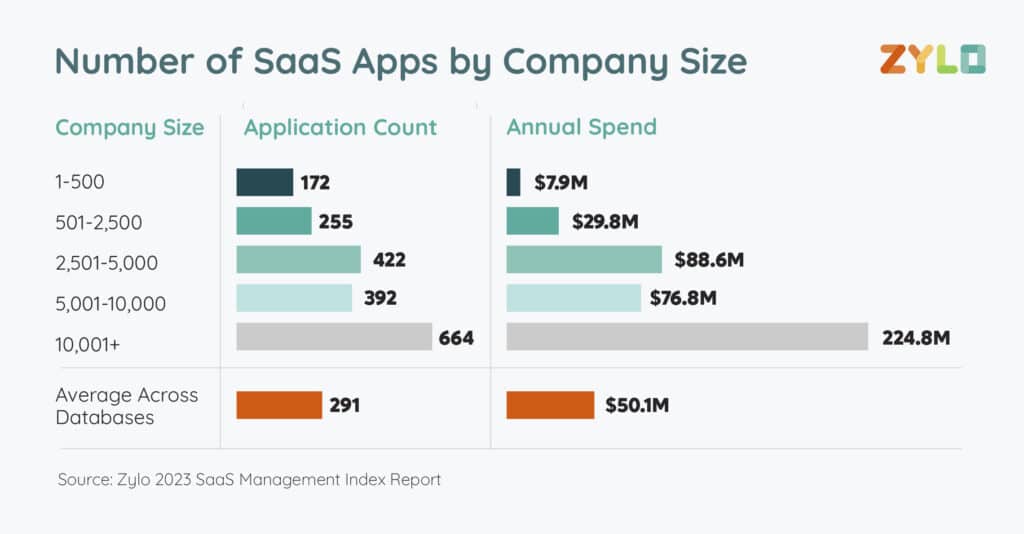 With this growth in the SaaS portfolio comes a rise in costs. Which is another reason that application portfolio management is so important to modern enterprises as these costs are second only to headcount.
Here are the average annual costs facing enterprises according to Zylo's SaaS Management Index report: 
Enterprise (5,000-10,000 employees) : $76.8M
Large Enterprise (>5,001 employees) : $224.8M
And these costs are only expected to grow as SaaS outpaces on-premise software. According to Gartner, two-thirds of spending on application software will be toward cloud technologies in 2025. This projection represents a 57.7% increase from 2022.
Without application portfolio management, these costs will continue to grow, inefficiencies will form, and your SaaS will lose utility. Don't let this happen to you. 
What does it look like in practice?

👉 Check out these application portfolio management use cases.
The Benefits of Application Portfolio Management
What are the benefits of application portfolio management for your business. When it comes to SaaS, we see these four key benefits.
Get the Right Tools for Business
Effective APM aligns tools to business needs. Establishing a system of governance that allows employees freedom within limits maintains the flexibility SaaS applications offer. It also prevents Shadow IT from unauthorized acquisitions. This provides employees with SaaS options within reasonable restrictions to use tools they are familiar with. 
This ensures productivity, collaboration, and innovation across business units. This is in part because effective APM provides employees a view of what tools are available across the organization and which tools can assist their daily workflows. 
Streamline Your Portfolio
APM is more than rationalization. Rather, rationalization is an important component of APM. Rationalization reduces the functional overlaps in your SaaS portfolio where it makes sense. This means rooting out redundant applications and duplicates of the same applications.
So, your organization only pays for what it needs. 
Maximize Investment
When rationalizing your portfolio, you may find that you're running multiple applications that perform the same function. Consolidating these down to a select few preferred applications enables you to leverage enterprise contracts that can get you better pricing from vendors. Thus, you maintain the utility of your pre-consolidated SaaS portfolio while reducing the cost.
Furthermore, there's the matter of rightsizing licenses. Similar to rationalization, rightsizing involves ensuring you only pay for what you need. However, this involves how many seats you are paying for as opposed to the number of seats you use.

That's not even to mention the improved employee productivity we discussed improves ROI by getting more out of less. 
Reduce Costs
Rationalizing and rightsizing together drive reduced costs. Again, this means getting the best prices using consolidated enterprise agreements. Vendors are often willing to work with enterprises to make custom agreements that reduce costs in the interest of long-term collaboration. 
Additionally, an effective APM is constantly rooting waste out of the SaaS portfolio. This means finding and eliminating underutilized and unused applications, and replacing them if necessary. 
And these are only a few of the benefits that APM offers enterprises. When establishing your own SaaS-conscious system, you may find ways to transform your SaaS portfolio in powerful ways unique to your company or industry. 
How to Get Started With APM
Be Ready to Collaborate
First, you will need a dedicated Application Portfolio Manager focused on SaaS. Most organizations typically have a substantial headcount already working on their IT architecture and APM functions. As such, it is unlikely you would need a new hire to fill this position. 
This position will require someone with proven experience in communicating across whole enterprises to provide an effective liaison. This is because they will be ensuring collaboration across the whole enterprise. SaaS management is a team sport and requires collaboration between IT, finance teams and the business units that are purchasing and using SaaS.

This is what Zylo customer Atlassian, a software company, found when rationalizing their SaaS portfolio for their globally distributed workforce. As their SaaS management practices matured, so did their collaboration across business units. In the process, they discovered much of their overlapping tools were the result of multiple levels of employee procurement. 
Atlassian Reinforces Enterprise Architecture with Zylo SaaS Management
Learn how Atlassian's enterprise architecture uses Zylo to encourage innovation and rapid growth while constantly rationalizing their application portfolio.
Learn More
"Management at a higher level often doesn't realize these decisions are being made at the lower level," said John Stame, Senior Enterprise Architect for Atlassian IT.
Leah Tubb, who we mentioned earlier, partnered with Atlassian's Enterprise Architecture team to drive SaaS application decisions based on business requirements. Together, this created a harmonious partnership between IT and business for better growth. Which meant they were better equipped to wrangle the decentralization of SaaS across the enterprise's entire portfolio and bring visibility to what was purchased at all levels of business.

"Let's have a discussion as to are those [applications] the right ones?" said Tubb, "Are they actually serving the needs that they need to serve, or what can we do better? And then you're driving that partnership between business and IT." 
Once your organization prepares for this level of collaboration, you can begin looking at your portfolio. 
Gain Visibility
Once you're ready to collaborate, the next step is to establish visibility into your entire application portfolio. Business units of today manage the bulk of SaaS applications rather than IT. So, unlike on-premise software, SaaS and cloud software spread throughout the entire enterprise. This means it's essential to establish visibility across the whole organization to fully understand the investment and value in these applications. 
Visibility requires you to begin by identifying what applications you are using and where. From there you can pinpoint their costs and determine who is responsible for their management and purchase.
The first step in solving a problem is seeing the problem. 
Rationalize Your Applications
With visibility, redundant and duplicate applications will become apparent. As we've discussed, eliminating or consolidating overlapping applications is an excellent means of cutting costs. However, there is more to it than that.
Rationalizing in SaaS-conscious APM means taking into consideration when to intentionally keep or take on redundant applications.
Chris Asing, the Head of Business Technology at Redis, shared his insight and experience with this with us on SaaSMe Unfiltered. 
"Product A offers a wonderful workflow tool for all of the IT properties," said Asing, "but when I move over to the sales and marketing stack, it's another workflow product that actually solves the same problem, but it integrates with the right tools. And so while it may be duplicative, it's actually serving that function significantly better than my product would be serving their function because the products themselves haven't matured."
In this, we can see how caution is essential when considering how to handle overlapping applications. Effective APM rationalization considers this and examines the needs of the business, ensuring that each business unit has the right tools available for its specific task.
This means talking to the day-to-day users to understand how they're using tools, and allowing data to drive the conversation. 
Looking for more tips?

👉 Check out these APM best practices.
Make It a Practice, Not a Project
Possibly the most important part of establishing an APM is remembering that effective APM is a programmatic practice. It isn't a project. "Project" implies it is a one-and-done approach. Which cannot be farther from the truth. 
Application portfolio management is establishing a system of good governance and processes in the enterprise architecture of an organization. This ensures these benefits we've discussed are permanent, long-lasting, and continuous.

How Zylo Enables Effective Application Portfolio Management
For all of its benefits, establishing an effective application portfolio management can be difficult to get off the ground. But it doesn't have to be. Zylo offers comprehensive application portfolio management software that streamlines the process of creating an APM system that works for your enterprise.
This includes an array of powerful tools to put you in total control of your SaaS portfolio. 
Comprehensive Discovery
Zylo offers tools to achieve the comprehensive discovery of your SaaS portfolio, giving you visibility of your SaaS wherever it hides in your enterprise. No matter if your SaaS is properly cataloged, or hidden in your expenses, Zylo automatically finds and tags SaaS applications.
Zylo uses a patent-pending machine learning model with near 100-percent accuracy. This frees you to easily ask and answer the big questions as to how to organize your SaaS, such as: 
What applications do you have?
How do applications align to business capabilities?
Where are redundancies?
Who owns what?
How much is being spent?
Utilizing Zylo's integrations, interactive dashboards, and multiple-organization reporting offer visual reports into and around your licenses, users, and payments.

Download our Discovery Engine data sheet, and see how it works.  


Insights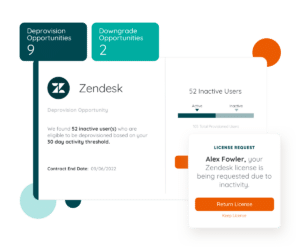 Zylo Insights delivers recommendations prioritized by impact. Whether it's newly expensed subscriptions to expired contracts, Zylo gets you immediate access and detailed information. This empowers you to locate problematic applications, renegotiate contracts, and share detailed information with other stakeholders. 
Uncover more value, quickly with instant recommendations for rationalization and rightsizing opportunities. With Zylo, you'll no longer have to waste time searching for data with manual processes, allowing you to take immediate action on savings opportunities. 
Benchmarking and the Zybrary
Zylo Benchmarks provides you with a powerful research tool. You are able to search for information on popular applications, query different categories to help you find functional overlaps, and help you compare the prices you're paying to that of your peers. 
This information empowers your organizations to measure your SaaS stack's costs and gives you data to bring to the negotiation table when you renew SaaS contracts.

Our library, or the Zybrary as we call it, contains information on 20,000+ applications and more than $25 Billion SaaS of spending under management. Zylo puts this immense amount of data at your fingertips. 

The Bottom Line of Application Portfolio Management
In essence, application portfolio management is a systematic program weaved into the architecture of an enterprise to do more than just save on spending. It creates a system of collaboration that empowers the entire organization to utilize the right tools and improve productivity, maximizing your application investments. 
Additionally, modern SaaS-conscious APM provides full visibility and optimization of SaaS assets. Zylo can help you achieve just that with discovery tools, insights, and benchmarking in a single SaaS application management tool. 
See how Zylo can help your organization's application portfolio management and request a personalized demo today.