Application portfolio management, or APM, isn't new. Since the '90s, organizations have practiced APM — a proactive approach to managing software assets — to govern and optimize all software investments, ensuring they drive meaningful impact for the business.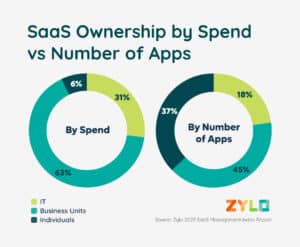 The difference in today's APM lies in the complexity. As software has shifted from on-prem to the cloud, the resulting decentralization makes it harder to track apps. Zylo research shows 37% of all applications today originate from employee-led purchases. This makes APM more critical than ever, as unvetted software puts organizations at risk for data breaches, data loss, unplanned expenses, and more.
Why Application Portfolio Management Is Important
With effective software management, organizations can evaluate costs, create standards, and produce meaningful results. Learn the top reasons to use application portfolio management and its importance to your business. 
Maximize Utility of Applications
With the ease of app acquisition, SaaS sprawl runs rampant in organizations of all sizes. According to Zylo's 2023 SaaS Management Index, on average, large enterprises (10,000+ employees) have 664 apps, while enterprises (5,001-10,000 employees) have 390. Within those numbers are duplicate apps, redundant apps, and even unused apps collecting virtual dust. 
By mapping tools to capabilities, organizations reduce redundant applications, while fostering good adoption and utilization. Leah Tubb, Program Manager of IT Architecture, Planning & Innovation at Atlassian, shared her insight on this with us on SaaSMe Unfiltered.
"We root everything in business capabilities," Tubb says. "We want to know — whether it's people, process, technology, or information — how it aligns to business capabilities, because then we know exactly what it's doing for us and how we are driving business value for Atlassian."
Ensure Operational Efficiency
After inventorying assets and aligning them with business needs, organizations can then add those tools to a pre-vetted and approved app catalog. Empower employees to self-select the tools they need to be the most productive, and implement a process for them to request anything outside of the catalog. A standardized set of tools improves collaboration and operational efficiency. And this consistent process and portfolio helps ensure proper management and governance going forward. 
Reduce SaaS Spend
Zylo research shows enterprises and large enterprises spend $76.7M and $224.7M on SaaS annually. And Gartner predicts SaaS spend to triple by 2026. Rationalizing applications regularly, and then rightsizing at renewal, results in significant SaaS savings.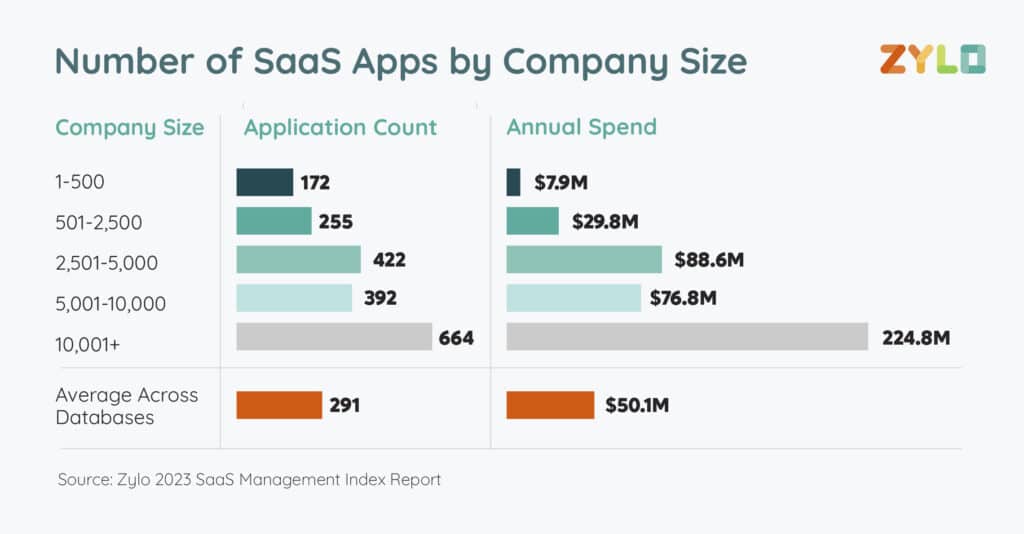 When rationalizing your portfolio, you may find multiple applications that perform the same function, or even multiple single-user licenses for the same app. By consolidating cross-functional apps to a few preferred options — and combining single use licenses into one agreement — you can leverage enterprise contracts that result in better pricing from vendors. 
Use data at renewal time to rightsize licenses, too. This involves knowing how many seats of an app you pay for versus what you use, so your company can either downgrade the app or negotiate a better deal when adding additional seats.
Boost Employee Productivity
A streamlined SaaS stack with limited redundancy improves collaboration. For example, employees across the organization can communicate and collaborate better when there's a central project management app versus one for each department.
In addition, your IT team can approve a list of apps that work with existing organizational software and systems. Access to an application catalog allows employees to quickly find the tools they need to perform their jobs best, or request them if not available.
Stay Ahead of Security and Compliance
Shadow IT, or SaaS purchased outside the ownership or control of IT, leaves organizations vulnerable to data loss, data breach, and compliance issues. According to IBM's Cost of a Data Breach Report, data breaches cost companies an average of $9.44 million in 2022 — the highest amount in the report's 18-year history.
When apps go through the proper IT vetting process, your organization's experts can limit security vulnerabilities and ensure the apps you use maintain compliance with regulations like the Health Insurance Portability and Accountability Act (HIPAA) and General Data Protection Regulation (GDPR).
Track, Monitor, and Optimize SaaS with APM
To sum it up, effective APM saves organizations time and money while limiting risk and reducing SaaS sprawl. And to ensure software investments drive positive impacts for your business, it's a must. 
APM isn't a one-off project. To be truly effective, it should be interwoven into the architecture of your company. Zylo lightens the heavy lift, with tools like Discovery, Insights, and Benchmarks, that streamline the process of creating an APM system that works for your enterprise. 
Learn how Zylo APM helps organizations track, monitor, and optimize SaaS — resulting in enhanced operational efficiency.