SaaS Is Creating a Shift in the Way Companies Manage Software Licenses
The days of on-premises software are numbered. The future of software is Software as a Service (SaaS). 
Sure, on-prem will stick around for a while. But the warning signs are already written on the wall.
In fact, IDC reported that SaaS spending overtook on-premises software spending for the first time in 2022. Add to that, a majority of the top 20 software vendors will phase out perpetual licenses completely by the end of 2023 – according to Gartner. This will increase costs for business by at least 35%.
This ever-strengthening push for more SaaS and subscription-based software services means you have more licenses to keep track of than ever. And that's not going to stop any time soon. The old ways of managing licenses and cataloging software just don't work anymore. 
SaaS is inherently different from on-prem, and you must shift your mindset accordingly. Consider this your sink-or-swim moment.
In this blog, we'll tell you everything you need to know about software license management through the lens of SaaS. 
Understanding the Difference Between On-Premises and SaaS
Before we discuss software management in the context of SaaS, it's important to clarify how it differs from traditional on-premises software.
On-Premises Software
If your business has been around for a decade or more, you likely have or have had on-premises software. Those technology assets were hosted at a physical location that your business owned. And you paid for a set number of licenses that you held in perpetuity. As such, IT had full oversight of the software and knew what was in the environment.
When it comes to on-premises software, optimization meant making sure you were using your licenses to the fullest extent. Since they're already paid for, you're essentially managing a sunk cost.
Software as a Service
With SaaS, software is hosted in the Cloud. IT is no longer the only buyer, as any employee can purchase a tool on their own. This decentralization and potential for hidden software (shadow IT) limits IT's oversight into your company's environment. In contrast to on-premises license management, the cornerstone of SaaS management is ongoing discovery and inventory so that IT has full visibility. 
Licenses aren't permanent anymore, they are by subscription. The downside is that you now need to keep track of your contracts, renewal dates, and license terms – which are different for each app. However, the benefit is that you can monitor and optimize those licenses as your needs change. This approach gives you flexibility in scaling your software needs, but only if you have a robust software license management system that gives you visibility.
What is Software License Management?
With this completely new software landscape created by the Cloud, a different approach to software license management is needed. While it's not a night-and-day difference, let's start with a basic definition. Software license management is overseeing the full life cycle of a software license, from onboarding to offboarding.
Software license management has many activities involved, and several departments in your enterprise should be involved in the execution of your plan. Those departments are:
IT:

handles the provisioning of your software licenses and managing access to software in different teams and departments.

Software asset management (SAM):

oversees license and cost optimization.

Procurement:

owns renewal management and contract negotiations.
A robust software license management practice involves a significant amount of work – and it's constant. You never stop managing and optimizing SaaS licenses. Because it is an ongoing, necessary sink of resources and time, you need to ensure that your program works efficiently and effectively.
Why Software License Management Matters
You might be asking, "If software license management is such a big time sink, why should my enterprise bother with it?" Let's take a look at a few insights from our 2023 SaaS Management Index that gives several reasons why software license management is critical to your organization.
Reason #1: Limited SaaS Visibility for IT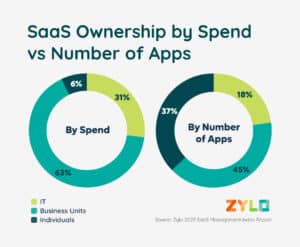 First, a lack of a software license management system means you're limiting SaaS visibility for IT. Nowadays, IT only owns 18% of applications and 31% of SaaS spend. This decentralization of SaaS licenses leaves IT blind to a majority of the SaaS in your business.
You can't manage what you can't see. An effective software license management program ensures IT has complete visibility, regardless of who owns the application. This empowers them to provision licenses properly, manage access correctly, and govern SaaS far more effectively.
Reason #2: Overspending on SaaS
You spend a lot on SaaS, and you're probably overspending. Companies spend an average of $4,600 on SaaS per employee, which equates to $50 million annually in total SaaS spend. In addition, Gartner predicts that, by 2026, companies without centralized SaaS management will be overspending by 25%—meaning your $50 million SaaS spend should only be $40 million.
A huge part of this comes from license bloat. If you have more licenses than you need, you're wasting money on licenses that are unnecessary. 
Ongoing license management enables you to:
Avoid the cost of adding unnecessary licenses mid-contract

Ensure users are licensed correctly, like not paying for premium when you just need the basic or free version

Boost adoption rates, which cuts down on unused licenses—and thus wasted spending

Save money by rightsizing your needs at renewal and cutting unnecessary licenses
Reason #3: License Waste
License waste is rampant in your business. Forty-four percent of licenses go unused in a 30-day period – which equates to $17 million in wasted SaaS spend annually. Poor usage not only wastes huge amounts of money, but it also hinders collaboration and efficiency within the business. 
Ensuring ongoing optimization of your SaaS licenses keeps the waste at bay. You can maximize the value of your SaaS investments while boosting adoption rates throughout your organization. That leads to reduced costs and increased efficiency between employees, teams, and departments.
Reason #4: Unknown Risks and Costs
Shadow IT—software that is not seen or managed by your IT department—can pose huge security risks and incur unknown and unnecessary costs to your company.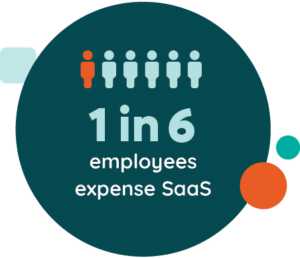 One in six employees expense SaaS. While employee-led purchases account for just 6% of spend, they also bring in a whopping 37% of applications. All these hidden applications means there's also a ton of licenses not being managed. Again: you can't manage what you can't see.
When you don't know what applications are in your organization, it's difficult to allocate and provision licenses appropriately. Complete visibility into all your software enables you to put governance in place. This helps mitigate potential security, compliance, and financial risks inherent in shadow IT. 
Reason #5: Leaving Money on the Table
On average, organizations have 204 renewals a year, or about one per business day. With that many renewals, if you aren't optimizing your software licenses, you're leaving money on the negotiating table. 
Knowing an application's license utilization and adoption rate gives you the data you need to rightsize your licenses and negotiate renewal in alignment with your business's needs. Your procurement and negotiation teams must have the right tools to succeed.
Types of Software Licenses
So, software license management is important. But as you're starting—or revamping—your organization's license management strategy, you will encounter a variety of license types and can easily get lost in the terms and renewals of them all. 
First, let's define what a SaaS license actually is. As we've mentioned, a SaaS license is an ongoing commitment for as long as you pay for the service. You subscribe to the service and gain access to its updates, features, and support staff. You aren't responsible for the upkeep of servers or data, which means SaaS is more affordable and manageable for most companies.
Within that broad definition of a SaaS license, there are a few distinct types of licenses:
User-based.

Each person who needs the tool gets their own license. You typically have to agree upon and pay for a specific quantity of licenses.

Usage-based.

The company pays for the consumption of the product. You use the software for a certain amount of "transactions" or hours and data depending on the amount of usage. There are typically price thresholds for different rates of use.

Flat rate.

You pay a single platform fee for any number of licenses or usage levels.

Tiered.

The price of the app increases as you add more features. You may have licenses at different tiers (Zoom runs like this) with different license quantities, features, contract terms, etc.

Freemium.

Free to use but with limited features and users. They provide an option to upgrade the subscription to a paid version with more features.
Each type of license has different strengths and weaknesses, as you can imagine. This knowledge is critical so you can better track, manage, and optimize your licenses. 
How to Track Software Licenses
You probably get it by now. Visibility is foundational to tracking your software licenses. That's because it allows you to optimize usage and adoption. But, how do you actually go about it?
Inventory Your SaaS
Many companies use something as basic as a spreadsheet to track all their software. The downfall of this system is that it is manual, time-intensive, and prone to error. You're logging into each app and/or reaching out to each vendor to get the usage data you need. In a word, it's inefficient.
To effectively track software licenses, you need a SaaS management platform (SMP) and license dashboard that does some of the work for you. The tool pulls in all disparate application information, tracks license and usage data, and surfaces actionable optimization insights. Ultimately, it removes the menial work of data gathering and tracking you'd be doing manually with the spreadsheet.
Centralize Critical Data
Integrations make all this possible. Contrary to belief, no, you don't need a direct integration for every app. For example, Zylo offers multiple ways to synchronize data between systems including direct and SSO integrations, API, and secure mapping and transferring of usage in bulk. Regardless of where your data lives, the platform can ingest, filter, analyze, and make your SaaS data actionable.
For example, let's say your company uses Zoom. A typical Zoom contract includes a set number of paid and free licenses. The key difference is meeting length. Paid licenses, also considered a Named Host, can have meetings longer than 40 minutes. In contrast, free licenses, or Basic, are capped at 40 minutes. Visibility into that data helps you understand which users have which license, how long their meetings are and what optimization opportunities may be available. 
What Is Software License Optimization?
Once you have complete visibility into all your SaaS licenses, it's time to take action. The next step is software license optimization. The goal here is to make the most effective and efficient use of the SaaS licenses at your organization's disposal. 

Naturally, you want to make the most of your investment in tools for your business. We go by the code, "Use what you pay for; pay for what you use."
Optimizing your software licenses is key to eliminating unnecessary spending, increasing adoption, and driving efficiencies across the business. Often, we measure optimization in terms of cost avoidance and cost savings—optimizing current licenses and rightsizing at renewal, respectively. In practice, that looks like examining your licenses and cutting them where you need to. 
Going back to the Zoom example, "the reality is not everyone needs a certain type of license," shared Chris Asing, Head of IT at Redis. 
"The reality is not everyone needs a certain type of license."

— Chris Asing, Head of IT at Redis 
On the SaaSMe Unfiltered podcast, Asing went on to explain that he's been able to "capitalize on workflow and automation tools to discover and then take action where there's underutilization."
To optimize your licenses, you need to have three key things: 
Visibility into critical application data, like provisioned vs. available licenses, license types, usage, and renewal data. 
Access to price benchmarking, which gives you leverage during renewal negotiations to help you get the best price. 
A way to show your work and track the savings and avoidance your team realizes as a result of your optimization efforts.
Now that we've defined software license optimization, how do you know where to find those optimization opportunities?
Optimization Opportunities
License optimization opportunities don't just appear out of thin air. Understanding common, key optimization opportunities means you can act on them more quickly. It's worth mentioning that this is especially challenging using a spreadsheet, as it requires you to spend your time analyzing the data. Whereas a SaaS management platform can automate these types of insights.

Here are the most common opportunities:
Employees entering and exiting your organization.

Ensure you have processes in place to provision licenses for new employees and pull back licenses from employees who have left the company.

Seasonal use licenses.

Some users may need a tool at a specific time of year but not all year long. This is an opportunity to reassign a license to someone else.

Ongoing license hygiene.

Keep your environment clean by reclaiming licenses from employees who haven't used a tool in the last 30 or 60 days and downgrading licenses for users who aren't using premium features.

Duplicate subscriptions.

An employee who buys a license outside of your corporate contract could have used the available licenses you're already entitled to. The more employees that do this, the more inefficiently you're using the licenses you already have. 

Subscriptions to unapproved tools.

Like duplicate subscriptions, you're not making the most of the license you already have on approved tools.

Users have access to multiple apps with similar functionality.

This hinders collaboration and productivity, not to mention you are likely wasting licenses. While rationalizing your portfolio isn't specifically license optimization, it's a way to maximize the use of the licenses you have among fewer tools.

Rightsizing licenses at renewal.

While regular maintenance is key, it's good to examine your license needs before negotiating your renewal to ensure you're not getting more than you need and to provide leverage for improved pricing.
Steps to Better Your Software License Management
Now that you have a foundational understanding of software license management and optimization, it's helpful to understand best practices. Here are the best steps you can take to manage software licenses at your organization.
Centralize license management.

Utilize a tool like a SaaS management platform to unify your data and create a central source of truth.

Measure adoption rates.

You should know what licenses need to be adopted or rightsized.

Monitor and analyze license activity and usage.

You want visibility into which SaaS apps are best utilized by your organization.

Continuously optimize, de-provision, and downgrade.

Use what you pay for; pay for what you use.

Leverage multi-organizational licenses.

If you have multiple instances of the same application across different areas of the business, consider rolling them up into a single contract. Salesforce and Atlassian are two great examples. 

Ensure compliance.

You can't prevent risks without visibility. Implementing governance ensures all the boxes are checked around potential violations and vulnerabilities. 

Use a software license tracking and management tool for your SaaS.

It will serve as your SaaS system of record for all key data that can power software license management from end to end.
Power Better Software License Management
With the shift to SaaS, it's easy to run into challenges. From overspending and license waste to shadow IT, SaaS can sometimes feel like it's more trouble than it's worth. But, with the right software license management tool, you can rest assured that you're keeping your SaaS inventory optimized and safe by minimizing costs and risks.
Zylo helps IT leaders measure usage, maximize efficiency and drive adoption in the following ways:
24/7, centralized view of SaaS usage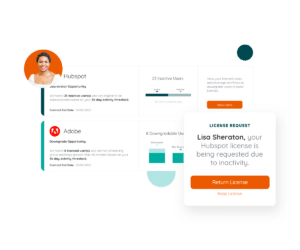 How well are your apps being used? As we shared previously, 44% of licenses sit unused or underutilized. Stop wasting time in individual admin panels and get a full view of SaaS usage across your entire business in a single system of record.

Rightsize and reclaim licenses
Can you easily identify and act on underutilized licenses to maximize your SaaS investments? Rightsize and reharvest your SaaS licenses to reduce shelfware in minutes, not months.

Consolidate your SaaS stack
Is the project management tool Marketing is using that different from the one Product is using? Identify overlapping SaaS apps and areas of redundancy. Easily make app-to-app comparisons to determine which software is best for your business and sunset what's no longer needed.
Today, more teams are looking into a comprehensive platform to manage software licenses. Samantha Griffin, Senior Software Asset Manager at Genesys, said it best. "If you consider something like a workflow that we use in Zylo, being able to have access to the information and automate the sending out of the emails to make sure that we're re-harvesting the right licenses from the right people, it saves me hours." 
Save time and energy while ensuring you have the tools to implement the best software license management strategies. Schedule your personalized demo today to see for yourself.