How To Unlock More Value From Zoom Licenses
Zoom cloud video conferencing is one of the most versatile and useful web conferencing applications available. It's intuitive, user-friendly, and relatively affordable – making it an invaluable addition to any technology stack.
But when multiple user types are deployed across an organization, Zoom license management can present a complex challenge. According to Zylo data, as many as 24% of all Zoom licenses are under-utilized. Zylo tracks more than $20 million in annual spending on Zoom, accounting for more than 140,000 users. These trends represent a significant opportunity to recoup costs and right-size Zoom license quantity or entitlements to actual usage.
Why is ensuring active utilization of Zoom licenses a challenge? Like many applications, Zoom offers a range of license plans, which makes license management more complicated. Specifically, Zoom offers four different plans – Free, Pro, Business, and Enterprise. Theoretically, any number may be present in a large enterprise-level organization.
Understanding the differences between Zoom license plans is essential for driving maximum value via optimization and right-sizing license types to match individual users' needs.
While Zoom's Free option provides unlimited one-on-one meetings at no cost, meetings with more than two participants have a 40-minute maximum. Pro, Business, and Enterprise plans offer unlimited meeting capacity with no caps at varying ranges of license quantities and prices from $14.99 to $19.99 per month per host.
Even though Zoom premium plans are relatively inexpensive per user, scaling that cost across several thousand employees in an enterprise creates immediate, significant costs.
Zylo + Zoom Integration Makes Optimizing License Value Easy
Zylo's in-depth Zoom integration makes it easy to leverage more value from Zoom across an enterprise. It identifies users; displays each user's respective license; and reveals Zoom-specific utilization information that may be otherwise difficult to find.
Related: More Zylo Integrations
Zylo Displays Total License Count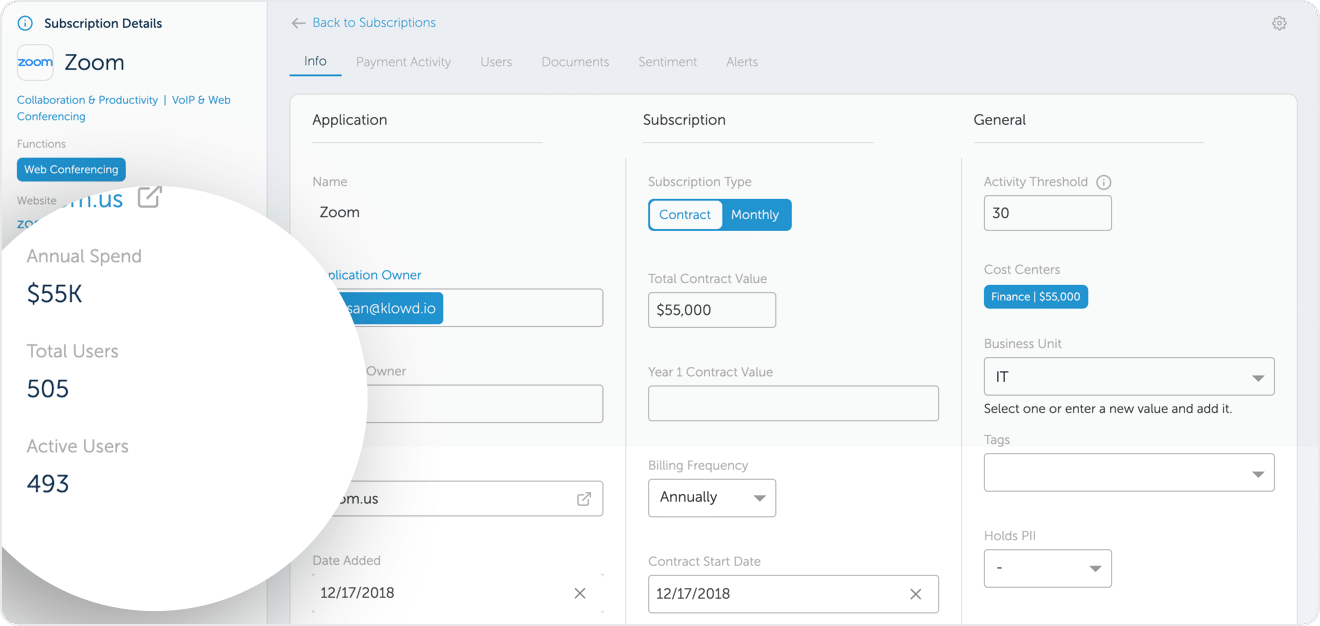 Like all applications managed with the Zylo SaaS management platform, when viewing a Zoom instance, the user can quickly see the total cost of the application, the total number of users, and the number of licenses provisioned.
Enterprise-wide utilization rates are also displayed. With customizable activity thresholds, the Zylo platform also creates the ability to see a total view of active license utilization.
This consolidated information helps resource leaders like software asset managers understand the total deployment, but the ability to see each user's license type and their specific utilization metrics are what sets the Zylo Zoom integration apart.
In a sense, Zylo allows software asset managers to "zoom" in on each user's Zoom activity and history. This ability provides meaningful analysis toward reducing license waste due to underutilization.
See Every Zoom License User
First, Zylo integrates directly with Zoom to identify every current user in the organization.
This user information includes the user's name, email address, and respective department. The Zoom application detail page makes it easy to identify who utilizes free or paid Zoom subscriptions at a glance.
See Every User License Type
Next, Zylo integration with Zoom reveals another layer of information: Zoom license type information.
Within the Zoom application view, Zylo users can see which type of license each user holds, including Free, Pro, and Business plans (which incorporates both Business and Enterprise plans).
For the first time, rather than license information siloed in individual user accounts, Zylo users can see every instance of Zoom and every license type. This information provides resource managers with the data they need to make informed license right-sizing, consolidation, or additional purchasing decisions.
See User Activity & License Utilization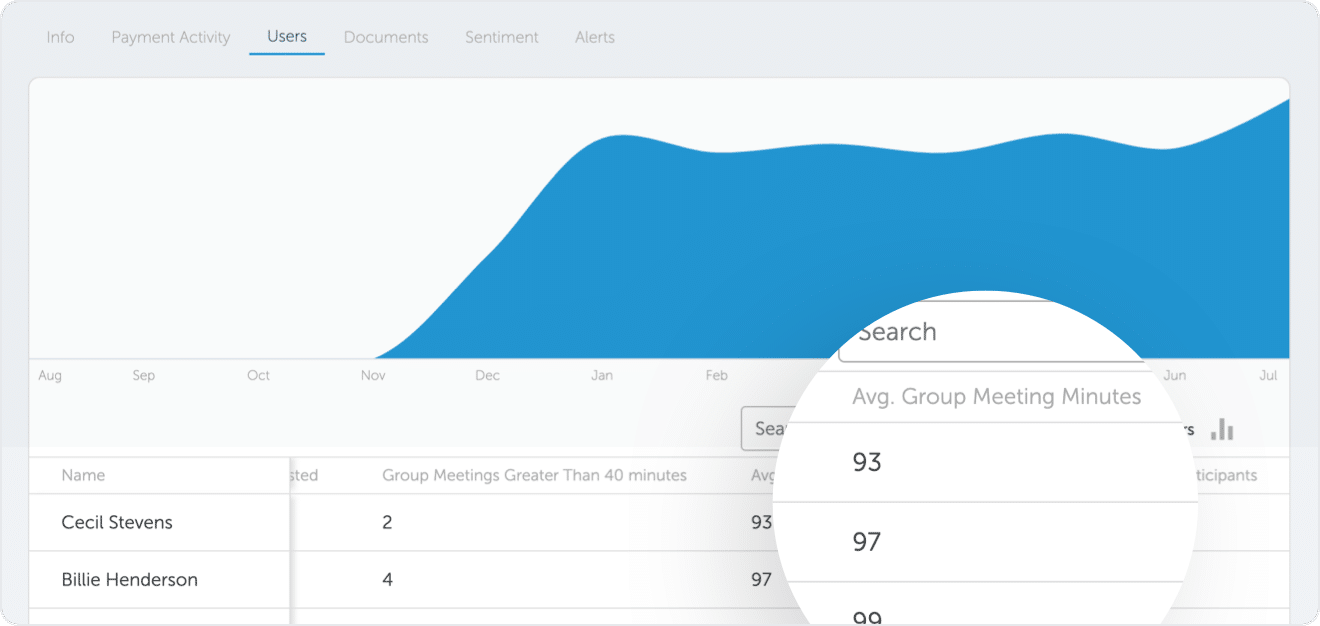 Lastly, Zylo's integration for Zoom unlocks the last and most powerful piece of the right-sizing puzzle: Actual Zoom utilization information. In Zylo, each user's Zoom activity can be tracked and compared. This includes their monthly log-in activity, the user's average meeting length, and their meeting frequency.
Why is this information important? These metrics enable teams to make smart decisions and right-size their Zoom instances to users' actual needs.
Let's say Example Employee Bob is a Zoom Pro license holder and hosts a Zoom meeting every few business days. However, his average meeting length is just 30 minutes, and he rarely utilizes Zoom for group meetings.
In this scenario, a resource manager could ask Bob to switch his Pro license to a Free account, leading to savings of at least $14.99 per month or about $200 per year.
When scaled across an entire organization, identifying, tracking, and right-sizing Zoom licenses to fit actual employee usage patterns – and need – can create immediate, significant cost savings.
Downgrade Zoom Licenses with License Workflow
As demonstrated above, Zylo's Zoom direct integration makes it possible to identify every instance of an under-utilized Zoom Pro license. With this information, license management stakeholders can then downgrade Pro users to Basic users, ensuring they maintain access to unlimited 1:1 meetings under 40 minutes without the additional Pro price tag.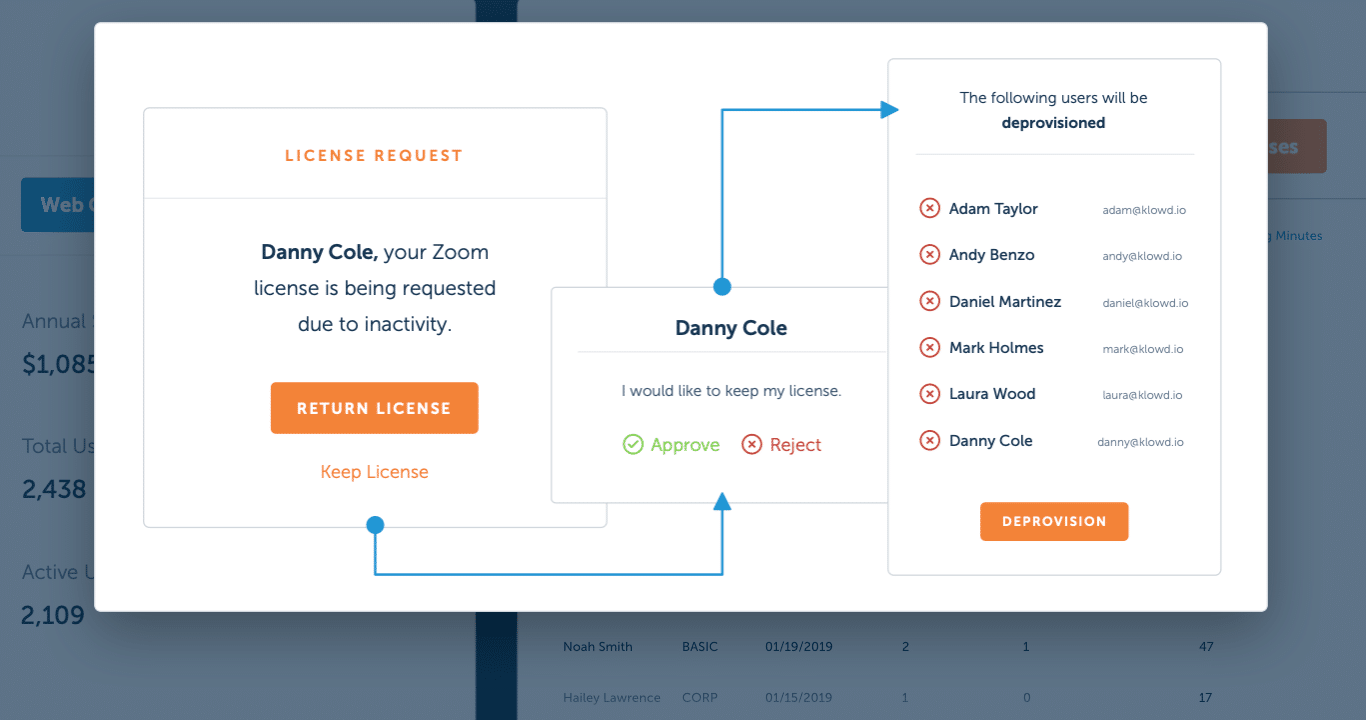 To enable this process, Zylo's integration features a Zoom-specific license management workflow that brings together several steps into a cohesive intuitive process, making it easy to quickly reap the benefits of reduced license costs.
Review – From within Zylo, a Zoom admin can review all under-utilized Zoom users that could relinquish a Pro license and downgrade to Basic.
Create Custom Email – The license manager can then customize an email sent from within the Zylo platform that requests each individual Zoom Pro user to approve or deny the downgrade request. The email features each user's usage history in Zoom along with the rationale for the downgrade request.
Review Responses – After responses are received, the license manager can then immediately process all approved downgrades – all from within the Zylo license management dashboard. All changes appear in real-time in your company's Zoom account.
Zoom is essential in the age of remote work and distributed teams. But as more users rely on Zoom and other video conferencing tools to effectively work while outside the office, it becomes more imperative to measure actual utilization and create informed decisions that right size licenses and entitlements to meet actual user needs.