The average organization sees 204 SaaS application renewals annually, and each renewal opens the door to a cost-saving opportunity. Beyond cost savings, SaaS renewals offer a chance to evaluate usage and adjust terms for future needs.
Having the right data proves critical to optimizing your portfolio, saving money and time, and gaining peace of mind. But how can you transform that data into informed renewal decisions? In this blog, we highlight seven key data Procurement leaders should use to inform their SaaS renewal strategy.
1. Renewal Date
Knowing about renewals ahead of time allows for organizations to mine usage data, consider future needs, and enter negotiations better prepared. Zylo recommends organizations set alerts for 90 days prior to a renewal to allow time for planning and to avoid surprise auto-renewals that lock you into contracts with unfavorable or undesirable terms for another year.
By proactively looking into their Slack renewal 90 days out, a travel and media company that uses Zylo found 112 licenses that were not utilized, netting them 16% savings on their overall contract.
2. Application Owner
Consult with the application owner for context around why the application is critical or not, and what they're looking for into the next contract timeframe. The application owner and users are also best equipped to provide information on the vendor relationship — such as whether there have been significant outages or CSM churn — which can be leveraged in negotiations.
Karen Hodson, Global Procurement & Real Estate Officer at CM Group said it perfectly in our conversation on SaaSMe Unfiltered. "The only way to be proactive is to have conversations with those that are buying or wanting these tools to understand their needs."
3. Utilization Data
In general, Zylo recommends a 90% utilization rate for applications. Knowing how widely an application is used helps determine current and future needs. For example, are there unused licenses floating around that can be reassigned?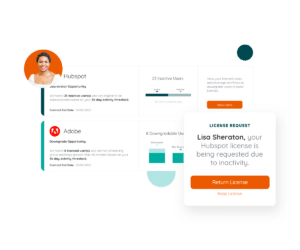 When an electric vehicle company examined their Zoom utilization in Zylo to prepare for renewal, they found 200+ users who failed to meet the threshold for a paid Zoom license. They had planned to purchase more licenses for expected headcount growth, but instead reassigned the paid licenses after downgrading those users to the free app version. 
The EV company also gained major negotiation leverage, which helped them garner an additional 100 licenses at no cost, resulting in a 50% webinar license cost reduction and $5K in savings. Lastly, they adjusted payment terms to split payments to better accommodate their cash flow.
4. Redundant and Duplicate Applications
Whether SaaS discovery uncovers redundant functionality in applications or even duplicate apps, it presents an opportunity to consolidate and rationalize your SaaS tools. Not only does this result in cost savings, but more employees operating within the same tool leads to better collaboration and productivity across the business. This proved true when a manufacturing company used Zylo Insights and discovered seven applications that served the same function, and consolidated down to one provider. 
5. User Sentiment
Zylo's SaaS Management Platform automatically sends sentiment surveys to app users. Consider eliminating tools with low-user sentiment scores in favor of newer, feature-rich, and easy-to-use apps. You may also interview key stakeholders about the software to find out its use case and why it's ranked low. 
6. Growth Expectations
Consider how your workforce will grow, rightsize, or restructure in the upcoming year, and optimize your vendor agreement accordingly. Also, take into account any major software you plan to roll out company-wide, and whether the app integrates. 
7. Price Benchmarking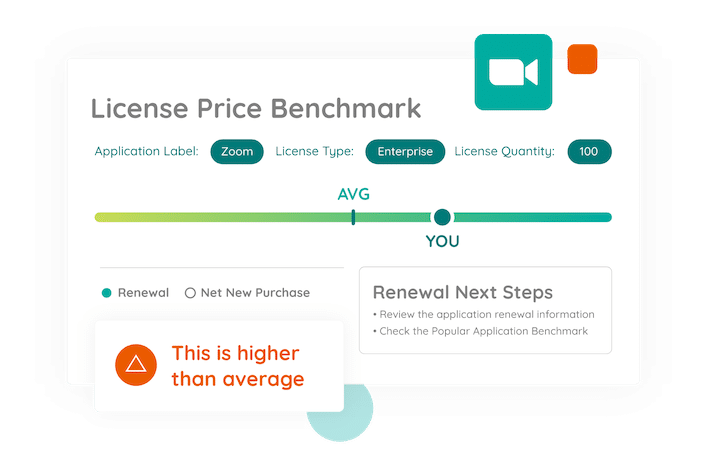 Zylo data finds organizations overspend on software by about 15%. Price benchmarks help you understand what you should be paying for when using an application based on what similar-sized organizations pay, and this data is available in Zylo. 
For example, a software company utilized the data within Zylo Benchmarks to their advantage when they found they were overpaying on their Adobe vendor agreement. Their current reseller wasn't willing to honor the benchmark price, so they found another vendor who would, resulting in a 10% spend reduction on the contract. 
Transform Data into Informed Renewal Decisions with a SaaS Management Platform
Opportunities to save money when negotiating SaaS renewals often go missed due to decentralized SaaS acquisition and auto-renewal clauses. Put simply, procurement professionals can't prepare for SaaS renewal negotiations when they don't see them coming. By pairing a platform like Zylo with your practice, you can better track and prepare for renewals. To add icing to the cake, a Discovery Engine that finds all your SaaS will add rich insights into utilization, spend, and app redundancy.
Your SaaS management practice should focus on building a repeatable, predictable process around this primary business operation related to SaaS. When you're aligned with company-wide goals, have operational rhythms in place, and orchestrate the program across the business, you'll be able to tame the chaos of renewal management. This allows you to be proactive, transforming data into informed renewal decisions that help you take advantage of cost-saving opportunities.
Get the support you need to manage renewals from end-to-end — whether in-house or by working with a procurement partner like Zylo.
Ready to negotiate like a pro? Check out our blog on negotiating SaaS contracts for greater purchasing power.