You've got a major SaaS renewal coming up. You think you have a good price – and the right product for the job – but how can you know? Can you trust the review sites to point you toward the best solutions? And when your sales rep says it's their best deal, is it really?
Sounds like you need good benchmarking data. But SaaS benchmarks have historically been hard to come by – and even harder to keep current. It's notoriously difficult to know how to offer the best solutions for employees while sticking to your budget. 
Not anymore. We're excited to present our latest innovation, Zylo Benchmarks, to help you make sure you're getting the right software at the right price.  
To help you save money and improve efficiency, Zylo's Portfolio, Popular Application, and Price Benchmarks give you on-demand data to support your SaaS strategy, renewals, and decision-making. Rather than just offering high-level metrics, Zylo lets you drill down and compare your application sprawl, stack, and spend with companies like yours. 

Zylo Benchmarks find that the average company overspends 15% on software licenses. Do you?
This new offering generates accurate benchmarks using anonymized data from the sector's largest customer base and our Zybrary™ of nearly 20,000 applications. We've baked into the Zylo platform the industry's most extensive experience in benchmarking, gained from managing $21B in SaaS spend. This means you can have the richest benchmarks on the market at your fingertips, 24×7. 
Even the most proficient procurement teams can do better with real data. By tapping into Zylo's expertise and the Zybrary – the world's smartest and most complete AI-powered library of SaaS applications, usage, adoption, spend, and more – they are best prepared to get their jobs done.
Portfolio Benchmarks – See How Your Stack Compares to Your Peers'
Here's your chance to compare your entire SaaS portfolio against organizations like yours.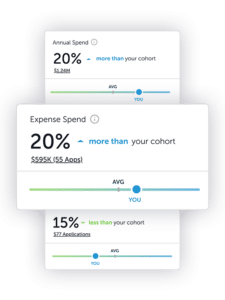 With Zylo's Portfolio Benchmarks, you can: 
Compare your application mix, spend, and sprawl.

Filter and compare by category, subcategory, and even drill down into functionality per application.

Assess your annual spend, new applications, total number of applications, and amount of spend through expense reports against your peers.
​​For example, you might want to know if your marketing team's tech stack is in line with the rest of your peers or if it is under-developed. Under-investing in marketing technology can put your company at competitive risk. Portfolio Benchmarks can help you uncover gaps.
Popular Application Benchmarks – Pick the Best Application for the Job.
When you're considering choosing a single application to replace redundant tools, Popular Application Benchmarks help you make the best decision.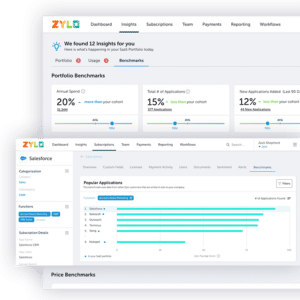 With Zylo's Popular Application Benchmarks, you can: 
Discover what applications are popular in organizations like yours.

Drill into top application recommendations by category, subcategory, or specific functionality. 

See the top applications for any given need, as well as how they stack up against competitive tools. 
​​For example, you might discover that you have 4 different applications for project management. Popular Applications can help you see which of the tools you have are the best to standardize on, based on the functionality your users value most. 
Price Benchmarks – Get the most for your money.
Renewals can be stressful, leaving you wondering if you're getting the best price for your subscription. But not anymore.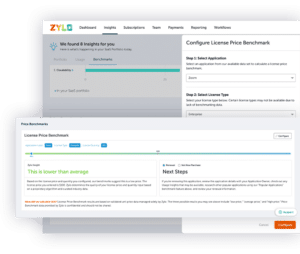 With Zylo's Price Benchmarks, you can: 
Renew with confidence knowing how your pricing compares, research scenarios by inputting your current price, or compare against quoted or forecasted prices. 

Drill down into prices by application and license types. 

Support budget planning by running quantity and cost scenarios.
​​For example, you might want to understand how much you're spending on Salesforce compared to your peers. If you find you're paying $x more than companies your size, that gives you negotiation power at renewal time to try to reduce your spend.
How Can Benchmarks Help You?
CIOs

can compare their portfolio against their peers' to understand how to offer the best solutions for their employees while demonstrating prudent budget management to their CFOs. By capitalizing on the expertise built into the Benchmarks solutions along with the Zybrary, CIOs can be assured they meet both the needs of employees and IT governance.

Procurement and application owners

can be sure they are armed to get the best price at purchase and renewal, down to the license level. 

Application owners and buyers

can be sure they're picking the best solution for their problems, down to the functionality level.
Ready to see how Zylo Benchmarks can make you a SaaS know-it-all? If you're an existing Zylo customer, reach out to your SaaS Consultant to learn more. If you're not a current customer, schedule a demo today to see Zylo Benchmarks in action. 
Curious how the feature came to be? Our product team shares what went into creating Zylo Benchmarks.