Application portfolio management (APM) refers to the proactive approach organizations use to effectively manage their software application assets. Successful APM allows companies to gain and maintain control of the applications used business-wide, ensuring each one aligns with organizational goals. 
The dynamic nature of SaaS both complicates APM and stresses its criticality. According to Zylo's 2023 SaaS Management Index, the average organization has 291 applications in their SaaS portfolio. And companies see about 6 new applications enter their environment every 30 days, on average.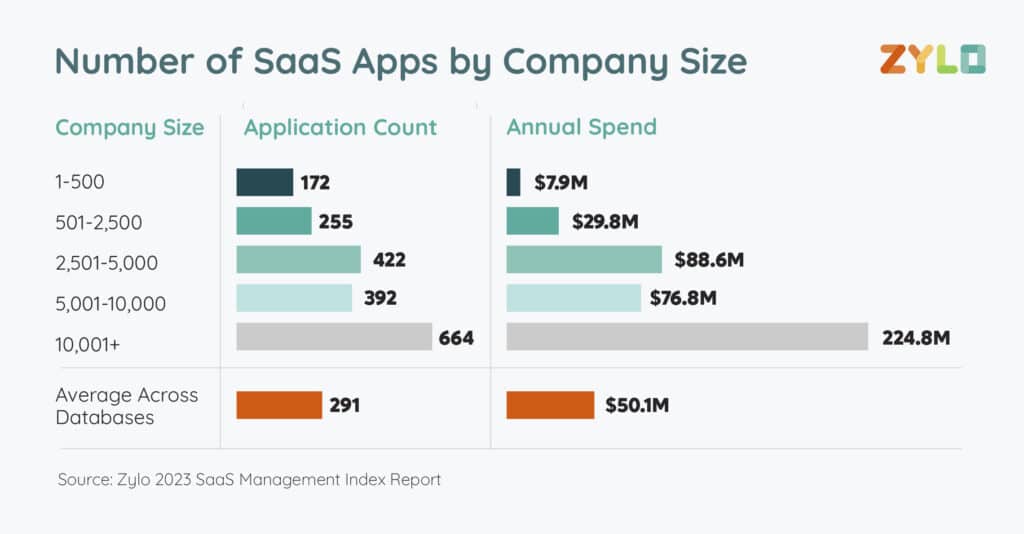 Managing hundreds of apps requires a programmatic approach; spreadsheets won't cut it. Learn more about the use cases for APM, so you can get everyone within your company on the same page in supporting an ongoing APM strategy.
Use Cases for Application Portfolio Management
There are numerous use cases for APM, which we categorize into four key areas: 
Visibility

License optimization

Cost savings and avoidance

Governance and risk mitigation
1. Visibility
When software solutions were exclusively on-prem, IT and finance leaders knew what software existed in the company's tech stack, including the use cases and cost. Today, business units manage more than half of SaaS spending, while IT only manages 31%.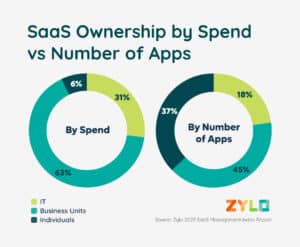 This decentralization results in shadow IT, which leads to increased costs and risks. Effective APM helps business leaders understand their application landscape, ensuring alignment on what business needs each app fulfills and what value it delivers. Gaining visibility builds the foundation to enable other APM use cases. 
Comprehensive visibility includes:
Categorization

: Find and classify applications, whether they're IT-managed, line-of-business owned, or shadow IT.

Spend discovery and tracking

: Manage company-wide SaaS license costs.

Contract entitlements and renewal terms

: Stay on top of renewals.

App owners

: Know which business units or individuals manage which apps, and whether they still use them.
How the Zylo Discovery Engine Powers the Most Comprehensive SaaS Management Platform
Learn More
2. License Optimization
With complete visibility achieved, organizations can then use their APM strategy to enable app license optimization. The end goal is to make the most of your business tools, which is achieved by maximizing utilization of the applications your business pays for. 
According to Zylo data, the average organization only uses 56% of its provisioned licenses. Zylo recommends achieving a 90% or higher utilization rate across the board for your SaaS stack. Maximize SaaS investments with these optimization best practices:
Measure adoption, license activity, and consumption

: Look for unused and underutilized licenses.

Deprovision or downgrade licenses in real-time

: If someone isn't using their license, or has a paid account when a free version would suit their needs, consider eliminating or reassigning those licenses.

Manage multi-org licenses

: See user and activity data for all licenses across multiple instances of enterprise software.
Here's everything you need to know about SaaS optimization.
3. Cost Savings and Avoidance
With license optimization best practices under your belt and real-time utilization metrics in hand, it's time to transform that data into informed renewal decisions that save your organization money. Money-saving strategies include: 
License reclamation

: Reassign unused apps, or use utilization data as a basis for reducing licenses — and associated costs — at renewal.

Rationalization

: Move multiple instances of apps into enterprise agreements, and consolidate apps with redundant functionality. 

Price benchmarking

: See how your price compares to other similar orgs, and leverage that data for negotiations.

Procurement coverage

: Understand what renewals are covered by your team.
Reduce SaaS costs with these seven steps. 
4. Governance and Risk Mitigation
Effective APM helps identify and mitigate security and budget risks — all while providing a better employee experience. Reduced risk looks like:
Identifying shadow IT

: When apps bypass IT vetting, they pose security, compliance, and financial risk.

Standardizing apps via an employee catalog

: Avoid shadow IT by empowering employees with an app catalog and a formal process for requesting tools not included. Standardizing apps used companywide boosts productivity and effectiveness. 

Tracking compliance

: Ensure all company apps are in compliance with industry and regulatory requirements.

Implementing departmental/cost center app visibility and budgeting

: Make it a non-negotiable that department managers and line of business leaders understand their SaaS stack and spend.
When it comes to SaaS governance, we recommend using the Freedom within a Framework approach to allow your employees to select the tools they need to be successful, but still maintain compliance.
Evolving Your SaaS Governance Framework for the Digital Workplace
Learn More
Power Application Portfolio Management with Zylo
Zylo enables organizations to discover, optimize, and govern their SaaS portfolios. The enterprise SaaS Management Platform and expert SaaS negotiator services help:
Save up to 20% on SaaS with zero risk

Discover and optimize all SaaS subscriptions and licenses

Take control of renewals

Ensure SaaS compliance

Empower employees with the tools they need
Now that you understand the benefits and use cases of APM, the only thing left to do is request a personalized demo of Zylo to streamline your APM strategy.