Negotiating SaaS fees enables Procurement to unlock cost savings and boost purchasing power
When it comes to SaaS contracts, we all want to get a good price. After all, getting a good deal is paramount to running a responsible business. Especially these days when CFOs have increased scrutiny on OpEx.  
But it goes beyond supporting your bottom line and cash flow. Negotiating SaaS fees with your vendors can unlock surmountable cost savings and increase your purchasing power.
Knowing how to negotiate and what to even look for at the negotiating table can be a difficult task. The last thing you want to do is cave in price negotiations for SaaS. 
Let's examine six ways you can go into your next renewal or software purchase prepared to negotiate favorable SaaS fees for your organization. And, better yet, unlock cost savings!
The Ultimate Guide for Wildly Effective SaaS Renewals
Learn More
Understand the Vendor's Pricing Structure
To negotiate favorable SaaS fees, it helps to begin with an understanding of your vendor's pricing structure. The main five pricing structures you'll encounter are:
User-Based Pricing:

The most common pricing model. You pay for a set number of licenses at price-per-headcount. Licenses tend to get cheaper with more headcount.

Consumption Pricing:

You pay for the consumption of the product. You're charged based on license usage, based on different metrics like the number of transactions or hours of usage. Can involve overage fees.

Platform Fees:

Flat rate for the platform. You can negotiate percentage prices of platform elements for optimization.

Tiered Pricing:

Increased price based on added features and licenses (e.g., Zoom).

Freemium Model:

Access software for free with limited features/allowances. Option to upgrade to paid version (e.g., Canva).
Each pricing structure has different elements you can push for optimization within. So, you need to familiarize yourself with a vendor's structure before going to the negotiation table. There's no point in preparing to argue license/headcount price when your vendor has a platform fee structure.
Be Cognizant of What's Happening in the Market
As a negotiator, you need to keep your finger on the pulse of the SaaS market. Keep track of trends in company spending, contract prices, or big vendor movements. If your company uses an app, you should know the broad strokes of what's going on with that app.
Here are a few trends to be aware of:
SaaS Spend Growth
Gartner foresees SaaS spend continuing to grow by 12-20% annually. This trend will be reflected in your company, and being aware of it helps you modulate your goals for optimization and savings.
Rising Vendor Prices
Chances are your budget is staying flat or may even be reduced going into next year. Meanwhile, SaaS vendors continue to raise prices across the board, making renewals more challenging than ever before. 
Procurement pro Dylan Margonari shared his observations on price increase on SaaSMe Unfiltered.
"Since I've been [in Procurement], if a 5% to 7% [increase] was common, now we're seeing upwards of 15%, even higher than that, across the board." 
Prices are rising, and you can only do so much to combat that.
New Vendor Pricing Models or Restructuring
Instead of raising prices, some vendors are restructuring their pricing and coming out with new models. 
Margonari has found this common with data housing vendors, in which they are adding consumption rates on top of their traditional per-user rates. 
Nothing else changes. No new services are rendered and there's no contractual change. Vendors are just charging more for the same. 
If that wasn't jaw-dropping enough, the real "mouth-to-the-floor" part is that vendors are rarely giving more than 60-day warnings to companies about these restructures. "Does 60 days give you enough time to digest a 25%, 50% increase and prepare for that?"
If one of your vendors has done this, chances are there are others. Look into your other providers to understand if or how their models have changed. Next time, hopefully, you're not caught off guard if your vendor hits you with a curveball like that.
Know Your Organization's Needs
Understanding your organization's needs is required to effectively negotiate SaaS fees. And that starts with complete visibility into your SaaS stack. 
It often comes down to licensing and consumption. Both are challenging to get right and can have a huge impact on pricing.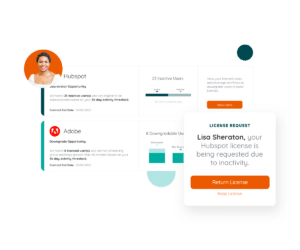 Getting the appropriate amount of licenses is challenging, because many organizations don't realize the rampant underutilization in their midst. Zylo data finds that only 55% of licenses in a company's SaaS stack are used at all, on average. 
When you understand the application's usage, you can get a more realistic quantity of licenses. More often than not, you're able to scale back, which can help you optimize your SaaS spend.
This is especially integral for tiered and user-based pricing models. Knowing the appropriate number of licenses prevents you from wasting time negotiating lower prices for too many or too few licenses. 
Keep in mind, pricing can change based on whether you meet certain thresholds, so knowing what those thresholds are can help. Just because you decrease the number of licenses doesn't always mean you will save money. 
Meanwhile, for consumption or usage-based pricing, examine what units were actually consumed during the contract period. Did you stay within your contracted amount or did you have overages?
Benchmark Prices
Price benchmarking is critical to understanding if your vendor's proposed pricing aligns with what other, similar organizations are paying. It allows you to measure the deals you should be shooting for, and determine which ones may be out of reach.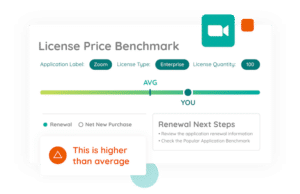 Keith Sarbaugh, CIO at Zoetis, has found benchmarking to be a critical step before going into negotiations. 
"Coming to the table with data about what we are actually using and having some idea of the pricing we're being charged is in the ballpark for a deal of this magnitude," he shared on the SaaSMe Unfiltered podcast, "I think really gives us a credible place to start in those engagements with the vendors themselves." 
Benchmarking has allowed Sarbaugh to negotiate stronger and unlock better savings for the organization.
Follow Negotiation Best Practices
As with all negotiations, there are certain practices you should know to achieve the best results. When it comes specifically to negotiating SaaS fees, pay attention to these five best practices:
Prepare in advance.

You always want to be prepared for a negotiation. Look over your contact and review key terms like renewal date, pricing, licensing/consumption quantities, price caps and auto-renewal clauses.

Partner with internal stakeholders.

To understand your company's needs, turn to your internal stakeholders or application owners. Knowing their budget, needs, and use cases can prepare you for what you are and aren't willing to sacrifice.

Build rapport and partnership with vendors.

At the end of a negotiation, everyone should walk away with a win. You'll likely be negotiating with the same vendors for years, so building rapport with them can go a long way.

Communicate the path to execution.

Telling your vendor upfront about your process, budget, and other parameters can help align goals and expedite the negotiation process.

Be proactive with renewals.

 Make sure you plan ahead with renewals. Know what you'll need to discuss at the next renewal so you can remind yourself of how to prepare for each negotiation.
Negotiate More Favorable SaaS Fees with Support from Negotiation Experts
Negotiation takes a lot of work. And you can't manage the hundreds of applications yourself. Leaving it up to the organization is a recipe for chaos.
Not to mention, many organizations don't have a sense for how their pricing compares to the market.
Combine the lack of dedicated resources and data, and you're likely leaving a ton of money on the table at negotiation.
If this sounds familiar, it might be time to bring in a dedicated procurement resource.
Enter Zylo's SaaS Negotiator. Having a procurement partner that's an extension of your team is critical for renewals, not to mention negotiating favorable SaaS fees. From time savings to cost reduction, it's a critical function and piece of your SaaS management strategy.
Marigold, a global martech pioneer with the industry's more comprehensive Relationship Marketing solution, uses Zylo's negotiation services.
Having an expert who "understands these tools, understands negotiation, and can engage on our behalf as a member of our team" has been invaluable.

– Karen Hodson, Global Procurement & Real Estate Officer
To learn how we can help you slash costs and prep time to maximize negotiation efficiency, book a demo with us today.