Knowing the details of your SaaS agreement, contract, or purchase order offers incredible value for managing software, its users, and its costs.
For business leaders concerned about the cost of SaaS or cloud-based subscription software (Gartner predicts more than $171 billion will be spent on SaaS in total in 2022), it's incumbent to define the total cost of ownership for software. This definition requires an accurate understanding and accounting of the software across three distinct phases of its lifecycle.
First, it's essential to understand all of the application's components – including the purchased product, services, features and licenses, and their costs – as described in the original SaaS purchase agreement or contract. Second, the actual deployment and utilization of the application components in the current state. And lastly, the current state of spending for the tool.
By tracking these three distinct phases, software asset managers and other IT professionals can piece together a holistic and accurate total cost of ownership for SaaS applications.
However, for many organizations, the inability to access the metadata stored in SaaS agreements prevents completing the first step towards understanding ownership costs.
The Issue with SaaS Agreements
Discoverability represents the first issue with managing SaaS contract content. As line of business spending on technology is predicted to overtake IT budget-sourced spending, original contracts or purchase agreements for SaaS applications can be hidden in departmental silos, such as shared drives.
Gartner reports that shadow IT accounts for up to 40% of technology spending, which stands to reason that software asset managers may only have access to 60% of all SaaS contracts or agreements within use in their organization's tech stack.
RELATED: How the Zylo Discovery Engine Accurately Detects Shadow IT and SaaS 
Even storing SaaS agreements in a contract lifecycle management (CLM) system such as SpringCM or Docusign or cloud-based storage such as Box or Dropbox, these systems typically act as a simple document repository –the meaningful content needed to create informed decisions remains hidden within the contract itself or in associated order forms.
The Ideal State for SaaS Agreements
In a perfect world, IT leaders and software asset managers would have information contained in SaaS agreements readily available and viewable at a moment's notice within an established, active SaaS system of record.
If and when line-item details about an application's renewal date, products, features, services, or the number of licenses were needed to inform decision-making, they could be retrieved without the need to scour a contract PDF line by line.
This accessible content would serve to help IT and business leaders remain informed of agreement terms, which then could be compared to the current state of the application's deployment (including utilization of products, services, and features) and its current cost.
With these three elements in place (agreement content, application features and utilization, and cost), an accurate picture of the total cost of SaaS application ownership could be constructed.
This holistic ownership picture would allow accurate tracking of any SaaS application and account for month-to-month, annual, and multi-year contracts.
It would also include the ability to accurately document the wide variety of products and SKUs found in most large enterprise agreements. Consumption-based metrics such as storage thresholds, contact list sizes, or envelopes could be added on a custom basis to ensure accounting for SaaS applications of all types.
Lastly, contract start and end dates or renewal date would be displayed and easily accessible, including alerts and notifications for upcoming SaaS renewals to ensure that surprise automatic renewals and unplanned spending were prevented.
Introducing New Contract Management Features in Zylo
With the new contract functionality in Zylo, the ideal state of SaaS application contracts is now a reality.
Now, for every Saas application, Zylo users can add key agreement details and content to ensure an accurate depiction of the original contract, which can be compared to its current state within the organization.
After reviewing a SaaS application agreement, users can enter the contract's pertinent details in Zylo, ensuring that each application's details for costs, usage, and ownership also include essential contract information.
Accessibility to this information removes the need to locate original contract details within the contract itself – bridging the gap between the content of the document and the real-time status of the application within the tech stack.
This complete view from contract to current creates the ability to quickly calculate the total cost of ownership or compare individual components of a contract's order form to actual usage.
Displaying Critical SaaS Agreement Details Where and When Needed
The new contract functionality creates fields in each SaaS application in Zylo for contract attributes such as the following:
Contract start and end date – List the beginning and end date for each application's contract term.
Notification period – Clearly displaying the number of days required to provide notice of contract termination to SaaS vendors or suppliers empowers IT leaders, application owners, and stakeholders to plan for upcoming renewals proactively. This feature builds from existing renewal calendar features already available within the Zylo SaaS management platform.
Total contract value – This includes the full cost of all products, features, and services purchased (automatically summed from line-item documentation).
Total number of licenses – All licenses purchased within the contract, allowing specific license types (e.g., basic and premium licenses) and features to be documented.
Additionally, the new features to better manage contracts in Zylo create the ability to document line-item details for multiple individual products under a single SaaS application contract (for example, a mission-critical enterprise-wide CRM with its application ecosystem).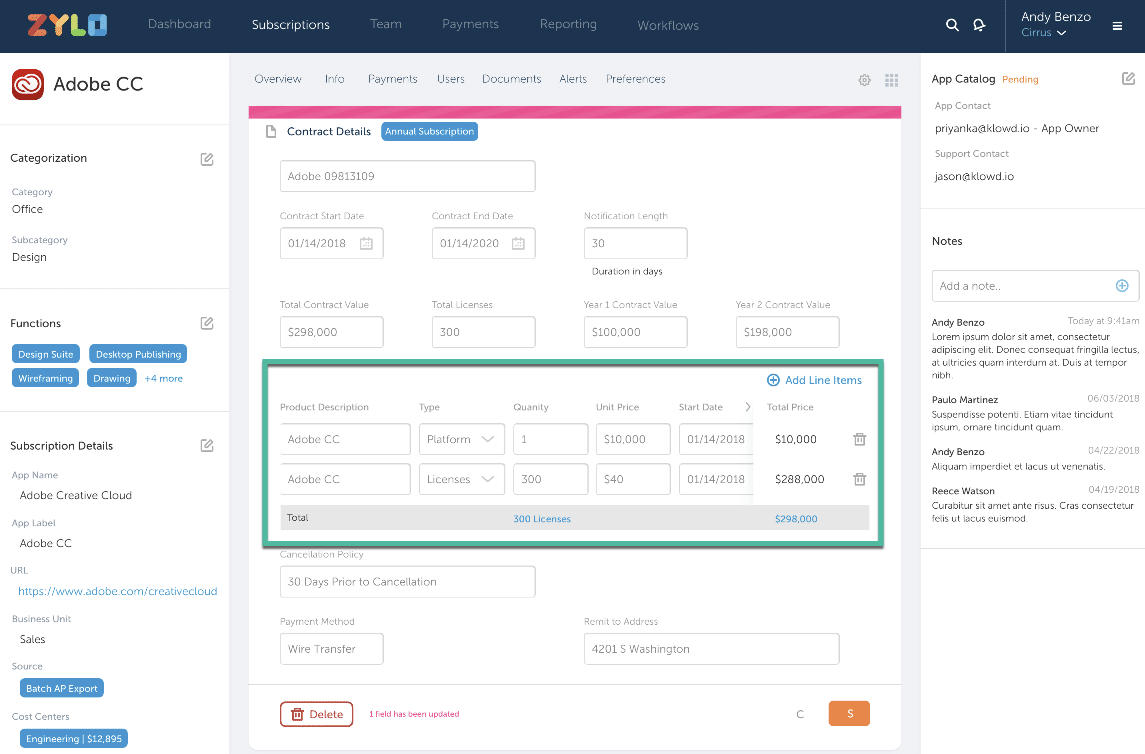 This contract management functionality creates the ability to zoom in on specific, granular feature product type, making it possible to understand all components that contribute to top-line spending for each overarching application.
Product description – Describes the services, items, or SKUs for each line-item purchase.
Type – Document specific categories such as platform, services, or consumption metric.
Start and end dates – Specifically list each start and dates for add-on products or features.
Quantity – The amount for each line item that is purchased.
Unit price – The price for each unit for the life of the agreement.
Total price – Quantity x unit price.
Improved Contract Management Leads to Effective SaaS Management
Effective SaaS Management within an organization requires the ability to accurately account for all critical application details found within SaaS agreements, contracts, and order forms.
Frequently, these details can be hidden deep within the original contracts or agreements signed at the time of purchase.
Additionally, these contracts do not reside within a system of record that makes this critical information easily accessible.
With the new contract features, Zylo users gain the ability to quickly surface and evaluate key SaaS agreement details, empowering them to make strategic decisions about technology with more information and greater accuracy.