Optimizing, Planning, and Governing SaaS Applications
Without an effective SaaS management program that involves a SaaS Management Lifecycle to account for both short-term needs and longer-term goals, many organizations will experience uncontrolled costs and increased risks. This post is part of a two-part series exploring how Zylo's SaaS Management Lifecycle framework enables organizations to reduce costs, mitigate risks, and other critical actions for effective SaaS management.
RELATED: Part 1: Why Building a SaaS Management Lifecycle Matters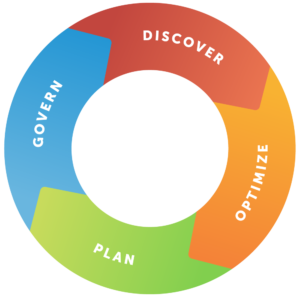 The Zylo SaaS Management Lifecycle
Optimize
Identify ways to control SaaS spend and increase efficiencies
According to Zylo data, it costs about $4,600 per employee per year to provide SaaS tools and services needed to be effective at their job. However, with a reliable SaaS management program in place, organizations can quickly reduce costs, both short term and long term.
Reduce underutilization of SaaS licenses
According to Zylo's SaaS Management Index, our data shows that 44% of all SaaS licenses go unused in a 30-day period, meaning that more than $2,000 each employee's SaaS spend is potentially wasted. Effective SaaS license management represents an opportunity to reduce costs and increase value.
When an underutilized application is discovered, decision-making can begin about its go-forward status. With a holistic system of record that encompasses all SaaS inventory, it's possible to compare the under-utilized application against similar tools in the environment that may provide better value in terms of utilization effectiveness.
Similarly, an underutilized SaaS license can be traced back to its assignee, who can then be queried about their need (or lack of need) for the license. If the license is genuinely unnecessary, it can be deployed to another user or eliminated to reduce costs.
Consolidate duplicated SaaS applications, overlapping functionality
According to Zylo data, up to 12% of all SaaS applications in a large organization are the result of duplicated purchases. For example, a Marketing team requires a project management application and acquires an application like Asana. In another part of the organization, and unbeknownst to Marketing, an HR team also needs a collaboration tool and also purchases Asana.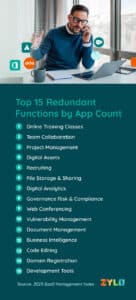 This scenario can be problematic for a few reasons. One, these teams are not combining their purchasing power. SaaS products typically cost less per user as more users are added.
Most Common Categories for Overlapping Applications:
Online Training Classes
Digital Assets
Team Collaboration
Project Management
Recruiting
Overlapping functionality represents another cost optimization opportunity frequently missed without an effective SaaS management program. Unlike duplicated applications, overlapping functionality among SaaS applications typically occurs when more than one tool is purchased to perform the same function within an organization.
To reduce costs when overlaps are identified, a technology manager should identify the functional overlap, then and propose standardizing both teams (or the entire organization), on a single tool. This standardization on a single tool would consolidate maximum purchase power and ensure uniform functionality and access to data across all teams.
However, note that teams and individuals may establish different requirements for tools, and legitimate reasons may exist for having a variety of tools to complete the same function.
Prevent  shadow IT to reduce cost and risk
Reducing shadow IT and preventing inefficient SaaS purchases can be accomplished by rethinking the SaaS acquisition process. One in six employees in a typical large organization has purchased a SaaS application using expense reimbursement, according to Zylo data.
One of the ways organizations have stymied this activity and its resulting contribution to shadow IT growth is by prohibiting expense reimbursement for SaaS applications or defining expense reimbursement thresholds.
Create a SaaS application approval process
Another avenue to prevent rogue spending is the establishment of an approval process for any new SaaS application. One such option is a software review board that must green-light any new tool acquisition.  Instead of an outright purchase, a team or employee submits a request to purchase an application and defines its use case.
The review board, composed of stakeholders from teams such as Legal, Finance, IT, IT Security, Sourcing/Procurement, reviews each request and checks the request against the current inventory of in-use applications.This process may take more time but can prevent unnecessary spending and risks in the future.
Plan
Forecast future SaaS spend with utilization data
One side effect of SaaS creating shadow IT within organizations is that it impedes the ability for CIOs and CFOS to forecast future spend accurately. Without a continually updated view of all apps across the organization – IT managed, department managed, and individually purchased- forecasting spend is nearly impossible.
However, a discovery process that continually updates and identifies utilization data and stores it systematically unlocks the ability to forecast future SaaS spend based on historical data and usage trends.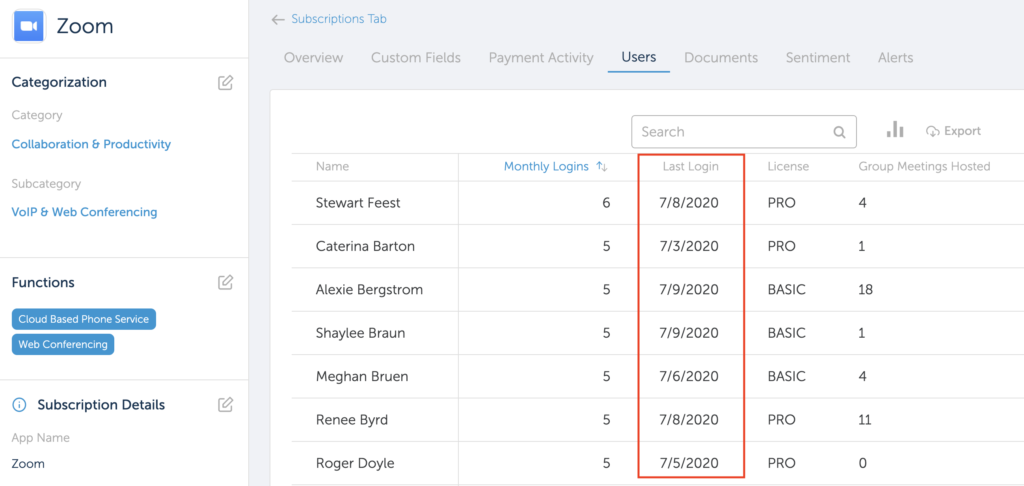 By continually monitoring utilization metrics such as recent logins, license types,
and consumption metrics, technology leaders can forecast spending with greater accuracy. 
Proactively manage renewals with data-driven insights
Reactive renewals can impact the bottom line by not providing technology managing teams with adequate time to prepare for an upcoming renewal.
Zylo data shows that large organizations experience one SaaS renewal every business day. An essential objective of any SaaS management program is to capture all information about agreement renewal dates and notification periods (the original agreement or purchase contract is the best source) and document this information into a SaaS renewal calendar.
With a SaaS renewal calendar in place, technology managers can work with business units, teams, or employees to proactively plan renewals, including the creation of automatic alerts for upcoming notification periods and renewal dates.
With sufficient early warning, these groups can partner with technology managers (and other stakeholders) to evaluate current utilization, spending, and other characteristics for a given application, then make an informed decision regarding renewal or non-renewal. If the data supports the decision to renew, the company can also negotiate better terms with SaaS vendors based on utilization.
Govern
Establish a process to manage SaaS apps actively
As stated earlier, one reason SaaS applications create uncontrolled costs and increased risks is the lack of framework or process for governing SaaS in larger organizations. The SaaS Management Lifecycle helps each organization create a plan that reflects their unique business needs and priorities.
No two business or technology environments are alike. That said, SaaS governance models can be adapted to fit individual needs. One such model is a tiered approach to managing SaaS that distributes management throughout the organization.
Levels of Governance with Distributed SaaS Management
IT Managed Applications – IT managed SaaS applications represent tools and services essential for keeping a business in operation. These mission-critical tools typically require more complex configuration and support, as well as more robust security requirements.
SaaS applications that are widely deployed throughout the organization, such as office tool suites such as Microsoft 365 or Google Suite, also typically remain under IT's direct day-to-day control. Often, these applications are managed within the IT budget.
IT Supported Applications – The next layer of governance focuses on applications that IT can or will support in terms of initial implementation, issue troubleshooting, and other tasks. However, the day-to-day control remains the responsibility of the business unit, team, or employee deemed the owner of the application.
By supporting these applications, but not directly managing them, the IT team can focus its finite time and resources on mission-critical applications. While IT supports these applications, their budget generally comes from a Line of Business. They are sometimes referred to as Line of Business applications..
In this scenario, all applications must remain visible to the IT team via a robust continual discovery process, as well as any new applications entering the environment. If and when applications are discovered or enter the system, they undergo vetting and review to ensure that they receive an appropriate amount of governance.
Unmanaged Applications – The last level of distributed management for SaaS includes applications that are neither directly managed nor supported by the IT team. These applications are typically tools for smaller teams or individual employees.
Unmanaged applications fall into two major categories:
Shadow IT, when IT has not approved the application for security, compliance, or risk, and the cost of the application is often expensed by individuals.
Approved applications, which have been vetted for information security, but are not managed or funded by IT. Spend for these applications may fall under Line of Business budgets or maybe expensed by individuals.
As with applications that receive IT support but not direct management, it's critical that IT retains visibility and documentation on unmanaged applications, including initial vetting, spending, or security review, so that these applications do not contribute to increased spending or risk associated with shadow IT.
With a distributed management approach for SaaS, IT (or the technology managing team) can provide business units, teams, and employees freedom within a framework that allows the business to adopt new tools and technologies quickly while balancing requirements for spending control and risk management.
As with other portions of SaaS Management Lifecycle, establishing distributed management requires a robust discovery process, a tested method for onboarding new applications (such as a software review and approval process), and ongoing monitoring to ensure all applications receive an appropriate level of management.
Create a self-service SaaS application catalog
Innovative organizations that have deployed SaaS management have benefited not only from bringing transparency and accountability to their SaaS inventory, but also by creating new approaches to preventing shadow IT, controlling costs, and reducing risks.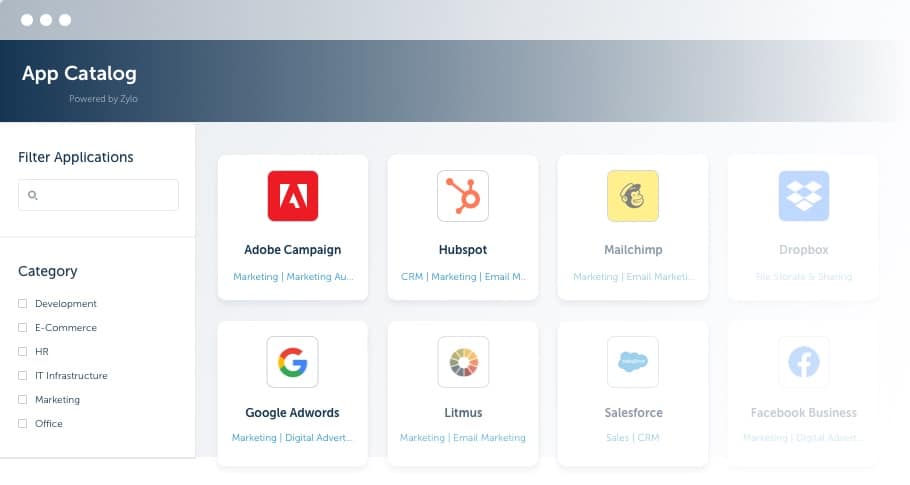 A SaaS application catalog enables employees to find the tools they need without resorting to shadow IT, preventing unnecessary costs and risks.
Learn more about the Zylo App Catalog.
These benefits are multiplied when technology managing teams can make the available catalog of SaaS applications available to employees and other internal customers.
An application catalog not only consolidates and standardizes the SaaS application inventory, it represents the next phase of SaaS adoption, where organizations have the right tools at the ready, when teams and employees need them.
Now is the Time to Optimize, Plan, and Govern SaaS
SaaS will only continue to grow and displace traditional on-premise software and it's incumbent on CIOs and other technology leaders to address the challenge this evolution in software represents. Only with a strong process that emphasizes the discovery, optimization, planning, and governance needed for managing SaaS can businesses embrace the significant benefits of SaaS and mitigate the challenges it represents.
It's up to technology leaders to recognize the need for SaaS management and provide new avenues for business units, teams, and employees to consume and utilize SaaS – such as distributed management of SaaS and self-service application catalogs, or be relegated to a default posture of reaction, unmanaged risk, and unnecessary costs.
There's no question that reliance on SaaS will grow and displace on-prem software environments. However, without a solid framework for managing SaaS, the problems that SaaS applications create will also continue to grow. Unmanaged and uncontrolled, SaaS applications can create runaway spending and exposure to risk. However, by implementing a SaaS management practice that follows a lifecycle for identifying, optimizing, planning, and governing SaaS, organizations can reassert control and fully leverage SaaS.
With a SaaS Management Lifecycle as part of the SaaS management process, organizations can start managing SaaS applications more effectively immediately with discovery and optimization, and then move into evolving their organizations.
For more perspective on this topic, check out a webinar our CFO, Devin Burns, participated in, Keep 'IT' in the Budget: The SMB Guide to Tech Spend in 2021 featuring Betterment, MPOWER Financing, Fyllo, Zylo, and Electric.