When it comes to buying and managing SaaS, it's a whole different beast than traditional on-premise software. Too often SaaS spend is misclassified within expense and invoice systems, making traditional reporting methods both incomplete and cumbersome.
Those days are over. 
We're excited to unveil our new integration with Coupa Expense and Invoice! This integration certifies Zylo as Coupa Business Spend Management Platform Ready, making us the first pure-play SaaS management platform in the Coupa App Marketplace. 
Complete Financial Discovery
Zylo now offers our customers a new source for financial discovery, bringing full visibility into their SaaS portfolio. With the Zylo + Coupa Expense and Invoice Connector, organizations can easily find and classify SaaS purchases to optimize ongoing discovery, spend, and licenses, while mitigating risk.

Zylo's Discovery Engine powers 100% visibility, ongoing monitoring, and full optimization of SaaS applications. How does it work? The engine ingests and analyzes financial transaction data using a suite of patent-pending matching algorithms. Comparing and categorizing all financial transactions from Coupa Expense and Coupa Invoice against the Zybrary, Zylo's proprietary library comprising nearly 20,000 applications and related transaction information, Zylo identifies and uncovers all SaaS applications within your SaaS portfolio.

Benefits of Zylo's Coupa Integration
With the Zylo + Coupa Expense and Invoice Connector, businesses can now:
Gain visibility into software that is being purchased across the enterprise – even those applications not managed by IT.

See all SaaS applications alongside usage, spend, and contract details with frictionless, ongoing monitoring.

Surface and classify SaaS license purchases – whether IT-managed, line-of-business owned, or Shadow IT. Our Discovery Engine finds all your applications, even if they've been miscoded or improperly categorized in Coupa.

Automatically sync Zylo with Coupa Expense and Invoice for a secure and reliable data exchange.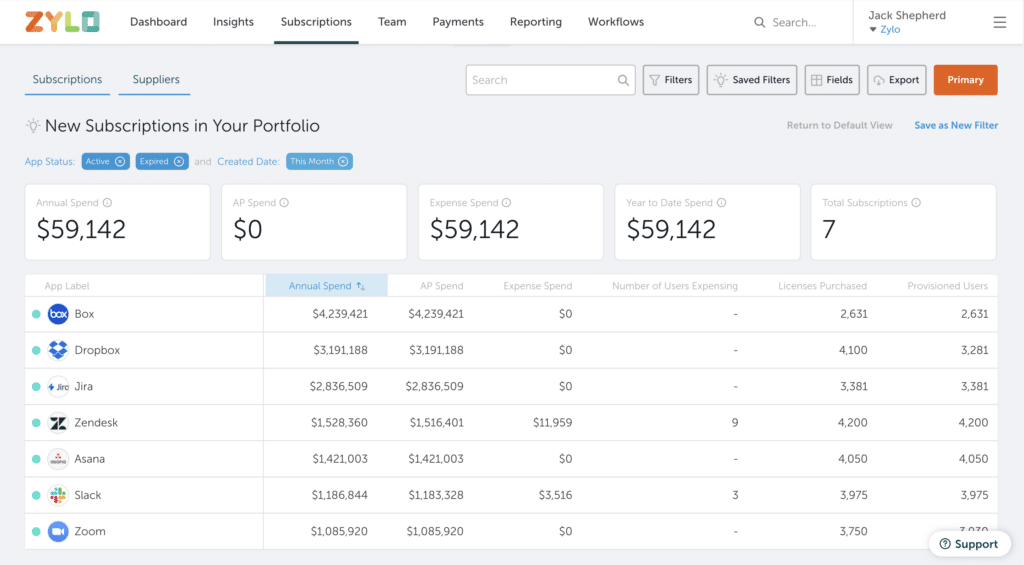 But that's not all…
Later this spring, we'll be taking our integration to the next level. With Zylo + Coupa Purchase Order Management, we further unify SaaS spend, utilization, and licensing data for greater SaaS visibility and more proactive spend management.
Want to learn more about how you can optimize ongoing discovery by connecting Coupa Expense and Invoice in Zylo? Schedule a demo or come see us in Las Vegas at Coupa Inspire, April 4-7th.