Last week, the Zylo team had the privilege of sponsoring Intacct's #IA16 Conference in Orlando, Florida. Intacct Advantage brought together customers and partners of Intacct, all attending with a goal of imagining the possibilities of ERP management, productivity, spend management and much more.
At Intacct Advantage, we learned that it's common for executives to have a false sense of security that their technology investments are understood and under control. But many financial executives in particular are aware that obtaining accurate visibility is challenging. In addition, the SaaS landscape is changing so rapidly that it's difficult to obtain a real-time view of what's happening across the organization.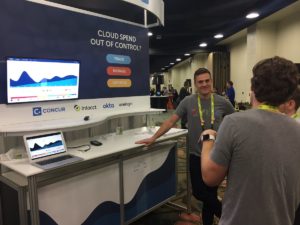 What else did we learn? The Zylo team took some notes from #IA16, and thought we'd pass them along to save you some hassle. Here are Zylo's top 3 takeaways from Intacct Advantage 2016:
1. Technology to Track Spend
As discussed at #IA16, there is a lot of technology available to track specific spend in the marketplace today, but SaaS has risen to the top and companies don't have a tool to manage its many aspects: spend, utilization, and employee sentiment. Without a proper handle on what SaaS applications are being used, and in what way they are being used, how can the executives, including finance teams, protect against potential security issues and ensure that all systems are interconnected so data is fully transparent across departments? In addition, executives also need real-time visibility in order to proactively roll one-off agreements into a master agreement so they can view spend and utilization in its entirety, identifying gaps and areas of over-spend.
2. IT Needs to Optimize SaaS
Although the finance department isn't responsible for managing SaaS, they can enable IT, procurement and budget owners to optimize SaaS by granting access to finance systems. There has been an incredible shift in the way software is purchased, which has changed the buying and selling process forever. Now, organizational department heads can evaluate software that their team needs, make budget decisions, maintain user licenses, purchase services and even work with vendors on integrations. Ultimately, they are responsible for the success (or failure) of SaaS in their own departments. With access to financial systems to track investments, IT and departmental decision makers can stay aligned on SaaS costs, utilization, and employee sentiment for each and every application being utilized.
3. Spend Management Possibilities
Many tech and finance consultants have built successful practice areas to manage spend, but SaaS has been a missing puzzle piece due to its complexity and ever-changing nature – until now. These consultants have the opportunity to build SaaS specific practice areas with Zylo's SaaS Optimization Platform, understanding how SaaS is being leveraged across organizations, gaining a real-time understanding of spend, utilization, and employee sentiment. Imagine how much more powerful those subscriptions could be and how much more secure the organization and its data would be if the power were fully unlocked for use not only by organizations, but by trusted advisors helping to guide technology and financial decisions?
Also at Advantage, Zylo announced its integration with Intacct, giving companies real-time visibility and insight into their cloud subscriptions. The integration brings Intacct's ERP and financial data together with Zylo's spend, utilization, and sentiment data enabling companies to track, manage and optimize their cloud investments across the enterprise in Zylo's platform. Companies can easily integrate financial data from Intacct into Zylo, aligning payment data to all other cloud subscription-based service information to uncover hidden subscription-based software expenditures and achieve full visibility.