The software landscape is evolving. More vendors are shifting to the cloud and SaaS has rapidly become a growing part of your software estate. Software Asset Management (SAM) leaders that adapt to this new reality have a golden opportunity to deliver significant value to their organizations. 
I recently sat down with SAM veteran Jim Hussey to discuss this very topic. He offered fantastic advice on how a SAM leader can expand their skill sets and evolve their career. Jim is also the author of Survival Guide to SaaS Optimization and founder of the Institute for the Advancement of SaaS Governance and Optimization Best Practices.
In this blog, we'll recap the webinar and hit on these key points: 
How the software landscape is changing

Ways you can start managing a more complex tech landscape

Four steps SAM leaders can take to make the most of this massive opportunity
Watch the webinar on-demand here.
How the Software Landscape is Changing
We know that the pandemic completely changed the way we work. The business office became our home office. And companies began to rely on technology to support their hybrid or remote workforce.
If you have a laptop and an internet connection, you can get work done. SaaS is really the core of that. It's become the digital workplace or headquarters for employees. And our stats from the 2022 SaaS Management Index back that up.
When it comes to SaaS spend and quantity of applications we found:
Small to mid-sized companies have 217 applications and spend $15.3 million on SaaS annually.

Enterprise companies have 330 applications and spend $42 million each year.

Large enterprises have 609 applications and spend upwards of $243.9 million a year.

On average, the average organization has 323 SaaS applications and spends $65 million a year on SaaS.

That's a ton of applications and money being spent on software to run your business. Where is it all coming from? 
It goes back to how SaaS is overtaking traditional software. Bessemer Venture Partners has projected that cloud will become the dominant delivery model for all software in the next three years. In addition, Gartner predicts that SaaS spend will grow 20% in 2022, or $171 billion globally. And they also expect that the top 20 software vendors will phase out perpetual licensing models in favor of SaaS models, increasing costs by about 35%.
How a SAM Leader Can Take the Driver's Seat
Suffice it to say, we're entering a new era of software asset management. How does a SAM leader and their team make an impact? 
Today, you have great insight into the largest portion of spend via the enterprise SaaS you work with: Office 365, Salesforce, Adobe, and ServiceNow. You're in an excellent position to establish that core foundation. It starts with talking with your internal constituents and looking at how to expand this and discover that long term. 
We know, according to the statistics, that there's a lot of SaaS applications out there. But until you understand your environment, it will be difficult to develop a comprehensive governance strategy, app catalog, things of that nature. 
As a SAM leader, you're in an excellent position to take the reins and lead the discussion. To do that, you need to start talking about SaaS and become an expert in it. You need to be able to talk with others across the organization to hammer that central discussion around the alignment of SAM and SaaS.
When it comes to alignment between SAM and SaaS, look to these focus areas:
Cost optimization

Risk and compliance

Value
Software asset management is looking at things like license compliance, audits, governance policies, and measuring provisioned licenses. 
In contrast, SaaS Management looks at underutilized licensing, shadow IT, enterprise architecture, empowering employees, and driving cost savings and adoption.
While they're different things, it's all driving back to that key alignment in those core focus areas. 
Once there's alignment, that's when a SAM leader can step in with data and drive intelligence. Those who understand the value of this data, convert it to actionable intelligence. Getting that data in front of executives will help you achieve optimization and put the required risk measures in place.
Why Now is the Time for a SAM Leader to Take on SaaS
Enterprises can benefit greatly from a SaaS mindset. But what gets an executive to recognize the issue and want to take it head on?
Most often, it's the risk associated with the unknown in your ecosystem. That risk could do real damage to your organization. It could be reputational, operational, or others. 
Taking it head on means:
Measuring the risk

Knowing what's in your ecosystem

Understanding how those apps got there

Putting SaaS governance in place

Creating an app catalog that meets everyone's needs
At Zylo, we like to call that Freedom within a Framework. It's doing SaaS governance in a way where risk is identified, measured, and monitored – and employees have flexibility to choose their own apps. 
2022 SaaS Trends for Software Asset Managers
Learn More
The SaaS Management Survival Guide for the Next-Gen SAM Leader
Software asset professionals have a tremendous opportunity to become the voice around SaaS. That means getting out of your comfort zone, delivering value, collaborating, and working with the business.
SAM and SaaS are blending. It's all about developing strategies for the organization to remain nimble, reduce risk, and empower employees. The individuals who balance it best can shift from IT ops into that more strategic role.
Below are four steps you can take to make the most of this opportunity and take the next step in your career. 
Step One: Gain Visibility through SaaS Discovery
As we mentioned before, it's important to first understand what is in your environment today. You cannot develop policies or make recommendations if you don't have a handle on it. 
But word of caution, make certain not to get cornered and just talk about the discovered applications. Talk about all of your SaaS. 
Once you've gone through SaaS discovery and presented the data, questions will naturally pop up. "How did this happen? What do we need to get our arms around it? Where do we have too much overlap? What's missing? Where are the gaps?" 
Zylo research finds that organizations underestimate the number of applications they have by two to three times. When you use a SaaS or software asset management tool, it's often a very eye-opening stat.
That's why it's so important to understand what you have, categorize them, understand their functionality, and who is responsible for them. Then, go through a prioritization exercise to determine how you'll tackle it and in what timeframe.
If you're a regulated entity, regulators are going to expect you to know all third parties in your environment. Next, they're going to expect you to have evidence that shows you've done appropriate due diligence to confirm viability. Finally, they'll expect to see an exit plan in the event these SaaS apps just don't make it. 
Many people within your organization will benefit from SaaS discovery. So, step one, absolutely understand what's in your environment so you can best manage and make recommendations. 
Step Two: Rationalize Your Applications
We talk a lot about rationalizing. But it's all too often that we leave those conversations with blank stares. Recommendations are made, but no one takes action upon it.
As a SAM leader, you'll likely be facilitating this conversation with your team. We recommend bringing all the key stakeholders together: InfoSec compliance, third party risk, sourcing, and vendor management.
Looking at all the applications in each of the functions or categories, a natural separation is going to occur. What you'll see is sanctioned, low-risk apps vs high risk apps. As a team, determine which apps you want to keep and which you want to remove.
This approach is a powerful way to gain the buy-in you need to take action. It's not just the SaaS or SAM practice making that recommendation. 
Ultimately, we find that there's going to be a majority of apps in certain areas. And then there's going to be specific areas that are missed. This is where it's good to include line of business owners or individuals into your discussions. Their unique point of view allows them to recommend applications to the business and help create a more comprehensive catalog.
Again, this is why software rationalization, or consolidation, is so vital. Here you go through discovery, find it all, and understand what you're looking at. Then, the next step is to streamline that down. Get the reins around and put some controls in place to know:
Do I really need all these tools? 

What tools do I actually need that are compliant with what the business requires? 

Do all these people really need access to all these tools? Or is there a way to streamline all that down? 
It's not an easy process. You can't snap your fingers and – poof! – you're rationalized. Oftentimes, it's a multi-year effort to get it where you want it. In addition, you also must factor in change management and aligning to contract terms. 
Step Three: Create an Application Catalog
Once you have visibility and rationalize your portfolio, the next step is to create an application catalog. An app catalog creates a middle ground that meets the needs of your innovative employees and supports your internal processes.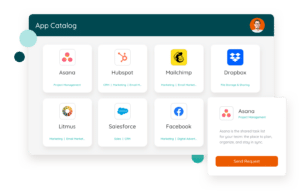 Historically, on the SAM side, you have the so-called pre-approved packages. Anyone who orders inconsistent with that gets a flag typically through the ITSM platform. 
Alternatively, you can use single sign on (SSO) like Okta or others to provide them. You provide employees the core (e.g., Salesforce, Office 365) but also offer other choices grouped into the categories, such as their department or role. 
This is where organizations are all heading – to be able to give that flexibility. 
Certainly, there will be employees who say, "I have an application that's better and would prefer to use this." That's where having an exception process that's clear and easy for individuals to follow comes in handy. 
In addition, a catalog is helpful for those in regulated industries like banking and healthcare. It fulfills all the requirements for an audit. The last thing you want is someone to knock on your door and say, "We need evidence to support the submission we put into this regulator." And you go white in the face because you know you don't have it. This is a chance to make sure you're doing that while also supporting the innovation that you want within the organization.
Step Four: Shift Your Mindset
As with many things, shifting your mindset can help you bridge the gap between SAM and SaaS. Think about it differently.
For instance, collaborating with business units is a great way to build rapport, understand needs, and get the SaaS conversation started across the organization. 
Don't get so wrapped up in your analysis and pie charts and miss out on this opportunity.
Position yourself as a facilitator. As a SAM leader, you're working to make things better for everyone, not be the SaaS police. Taking this approach is a great way to build trust and achieve your goals.
We know SaaS is an unstoppable force. Take the time necessary to get your arms around it. Put the right controls in place to leverage it in the best way possible, encourage innovation, and minimize risk. 
About the Institute for the Advancement of SaaS Governance and Optimization Best Practices
The Institute for the Advancement of SaaS Governance and Optimization Best Practices is a not for profit endeavor to provide the SaaS management community independent and objective content by which SaaS management professionals can achieve greater operational success.