It's no secret that SaaS portfolios are large – and growing. Today, the average organization has 291 SaaS applications, with an average of six new apps added every 30 days. 
With a large volume of apps comes frequent renewals. And oftentimes, these renewals cause quite a bit of chaos – and leave organizations spending more than they should be.
Proactive renewal management is key. But how exactly do you approach it? 
Chad Hinen, Zylo's Services Director, hosted a masterclass to explore the importance of programmatic SaaS renewal management – and a three part approach to get you there. Here are the key takeaways from the masterclass. 
You Need a Programmatic Approach to SaaS Renewal Management
Before diving into the process for proactively managing SaaS renewals, Chad first set the stage by exploring why a programmatic approach to SaaS renewal management is key.
In theory, managing SaaS renewals might seem simple and straightforward. But the reality is, it's often far from that.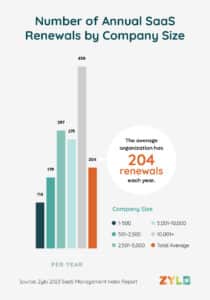 One of the key challenges is volume. Because SaaS portfolios are so large, SaaS renewals are a common occurrence. In fact, the average organization experiences 204 SaaS renewals each year – which equates to about one per business day. 
Each renewal has a lot of moving parts – including working with internal stakeholders, decision-making, and negotiating with vendors. Managing all of those moving parts takes time – and a lot of it.
To further complicate matters, SaaS, unlike on-premise software, is purchased throughout the organization. As Chad put it, "everyone is a SaaS buyer at this point." Without full visibility, organizations don't even know these apps exist. That makes it impossible to anticipate and plan for their renewal.
All too often, these factors lead to chaos. 
"It's incredibly challenging for IT procurement professionals to be able to manage and thrive in that environment," said Chad. Instead, they're just catching things as they come to them and having to scramble at the last second."
When it comes to renewals and negotiations, it's not surprising that many companies fall short. Typically, it boils down to two things: 
A lack of resources

A lack of data
But organizations can't afford to continue taking an ad hoc approach. 
Across the board, companies overpay on their licenses by 15%. Overspending is problematic in the best of times. But in an economic downturn, it's especially problematic. "Cost savings are a priority at most organizations right now," said Chad. 
Now, more than ever, it's imperative to take a programmatic approach to SaaS renewals. By doing so, you can get the best products at the best price for your team – while saving time and money along the way. 
Chad said, "Cost savings has a direct impact on your company's bottom line. Proactively managing renewals is absolutely a way to make a difference in your business, how they operate, and their bottom line."
There are 3 Parts of Programmatic SaaS Renewals Management
Sure, proactive SaaS renewal management is important. But what exactly goes into programmatic SaaS renewals management? 
There are three parts, which Chad explored in detail. 
Part 1: Planning
The success of any program requires careful planning. Renewals management is no different. 
According to Chad, there are three key elements for renewal and negotiation planning.
1) Visibility
Gaining full visibility into all SaaS – and how it's being used – is foundational. After all, you can't proactively plan for a renewal for an application you don't know exists. 
You must gain full visibility into: 
Consumption vs entitlements

Usage rates

Renewal dates

Contract details

Consolidation opportunities

Redundancy review
"You need to know what you have, who's using it, who's not using it, what they need," said Chad. "Then, you're able to plan and see where there are opportunities to consolidate with a vendor to reduce redundancy – things like that."
2) Collaboration
SaaS is purchased throughout the organization. As such, collaboration is an important part of renewal planning. 
Collaboration helps you understand:
Current vs projected adoption

End user sentiment

Must-haves vs nice to haves 

Vendor relationship context

Desired outcomes
"This information is so important for negotiations," said Chad. "Not having this information upfront is extremely painful when you're trying to close out negotiations in a timely manner."
3) Benchmarking 
Price benchmarks help you understand what you should be paying for an application. However, it's also important to have access to market intelligence, as well as highly adopted solutions by category. 
"Having that information is going to be key to getting the optimal SaaS investments in place," said Chad. 
The Right SaaS Management Platform is Essential
Planning is imperative to SaaS renewals management. According to Chad, "one thing that makes planning easier is having a SaaS Management platform."
A dedicated SaaS Management platform sheds light on all SaaS throughout the organization. It also serves as the single source of SaaS truth, including:
Renewal calendar and alerts

Cost of ownership

Consumption and adoption visibility

View of redundancy

Benchmarking data
Part 2: Process
Taking an ad hoc approach to renewals isn't effective. Instead, programmatic renewal management requires you to have a solid process in place. That process should specify what actions are to be taken at specific times. 
Of course, all businesses are different, and there's no one-size-fits all process for managing renewals. However, Chad shared a general structure to serve as a starting point. 
120 Days Out
Redundancy review

Stakeholder collaboration

Consumption and adoption analysis

Market benchmarking
90 Days Out
Consolidation strategy determined

License workflow – reclaim unused licenses

Price benchmarking

Negotiation strategy development

Vendor engagement 
Part 3: Execution
Once you have your plan and processes in place, it's time to execute. How can you do that?
There are certain levers at your disposal, which include: 
Leveraging full spend

Consolidation/co-terming

Multi-year agreements

Fiscal timing

Budgets
Chad also shared some effective strategies, including:
Competitive review

Executive escalation

Value-add concessions

Ghosting

Partnerships
Chad reminded attendees that proactive planning and having processes in place allows businesses to have more time to tap into these strategies – and have success with them. 
"If we're planning ahead, if we're working ahead, if we're communicating with the vendor 90 days ahead of that renewal, we've got some flexibility and we've got some time," he said. "We're not up against a time constraint that this has to be done next week and we have more leverage." 
It's Time to Change Your Approach to SaaS Renewal Management
Renewals provide a golden opportunity for you to negotiate your SaaS contracts. But oftentimes, organizations strike out on those opportunities.
Now's the time to start taking a programmatic approach to SaaS renewals. By doing so, you'll cut costs and risk – while still ensuring your teams have the tools they need to get work done. 
Interested in digging more into these insights? Watch the full renewals masterclass on demand today. Or, visit our SaaS Renewal Management Resource Center for more.