It's a special time of year for those of us at Zylo – the annual SaaS Management Index. 
Every year, we share the trends we've identified in the SaaS space. And as the enterprise leader in SaaS management, we're in a unique position to do so. 
With billions in SaaS spend and millions of SaaS licenses under management, Zylo's Discovery Engine collects and assesses an unprecedented amount of data on SaaS applications and the associated spend. What's more, this data spans SaaS spend, licenses, and usage over the last six years which saw an unprecedented rise in SaaS solutions. 
The SaaS Management Index leverages this unrivaled data set to provide an analysis of SaaS trends and insights. And rather than keeping that information to ourselves, we choose to share it. That's what the index is all about – providing businesses with key data points to identify powerful insights and optimize their SaaS portfolios. 
So, without further ado, let's take a look at three key takeaways from the 2023 SaaS Management Index. 
Takeaway #1: Application Quantity and Spend are on the Decline
If you're at all familiar with what we do here at Zylo, you know we like to talk about the proliferation of SaaS. The rise of SaaS crosses industries. It dominates the tech stack. And that trend is only expected to continue. 
However, among Zylo customers, we saw a 4% decline in portfolio size and a 10% decline in spend. Today's average organization has around 291 applications and $50M in annual SaaS spend. That's no small amount, but why are we seeing this decline?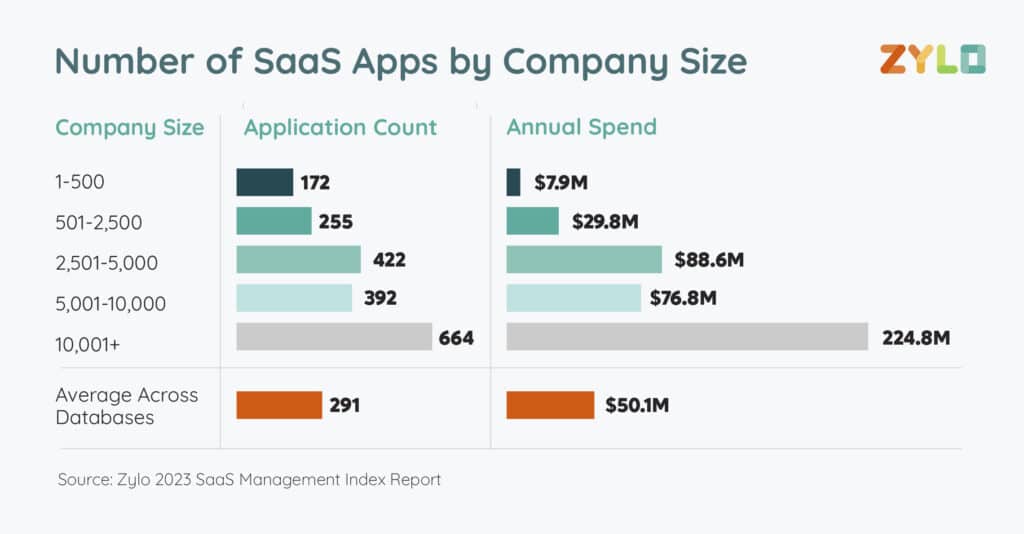 The answer is rather simple. This decline is in organizations actively examining their SaaS portfolio. Zylo customers are prioritizing SaaS optimization. 
"We're seeing our customers reach a level of maturity where they're back in control," said Ben Pippenger, resident SaaS expert and Zylo Co-Founder. "Because they have a system in place, they've been able to get what they need to understand what's happening from a SaaS perspective in their environment."
And that means identifying the applications that are working and cutting the dead weight. 
Today's market environment is pushing most organizations to cut costs and reduce operating expenses where they can. They're focusing on business fundamentals rather than the growth at all costs we've seen in previous years. And they're finding that savings in software.
Software represents the largest expense behind headcount for most organizations. That means it's the first place to look to drive meaningful cost savings outcomes. What we've found in this year's index is that it remains true today – and remains a massive opportunity. 
Takeaway #2: License Waste Runs Rampant
With our next takeaway, you'll see exactly why there's such a massive opportunity for cost savings in SaaS management. License waste remains rampant across businesses. 
"Companies that get their arms around SaaS are going to be at a strategic advantage," said Pippenger.
The average organization is only using 56% of its SaaS licenses. 56%! That's hardly over half. The other 44% is completely wasted. Although this decline may seem marginal from the respective 60% and 40% rates we saw in 2022, it remains a sizeable source of wasted spend all the same. 
That's why utilization-based license optimization continues to represent a truly massive opportunity to reduce cost – especially for large enterprises whose SaaS spend stands far above the average $50M. 
"Literally, dollars are just being wasted," said Pippenger. "You're buying stuff that's just sitting on the shelf and no one's even using it." 
And it's true. Wasted licenses are wasted money. We recommend a utilization rate of at least 90-95%. And takes improving utilization and increasing adoption. 
But how? Well, rarely utilized applications are the best place to start and present the easiest opportunities to reduce costs. 
Takeaway #3: SaaS Renewals Remain Key to Saving Money
The 2023 SaaS Management Index found the average organization experiences 204 annual SaaS renewals. With 260 business days in a year, that comes out to roughly one renewal per day.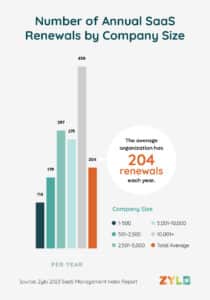 But renewals aren't the default – not always. With companies cracking down on their SaaS budgets to decrease unnecessary app spend and quantity, it's no surprise that 30% of SaaS applications simply aren't being renewed.
"Renewal is the only time where you can change what you're buying, have some influence over the price you're paying," said Pippenger, "as well as the terms of the agreement and how you're working with that particular supplier. It's a critical part of the life cycle, and it's where cost savings become a reality."
This shift comes as companies shift away from default renewals. Rather, they're leveraging renewal time to do cost and usage analysis. If an application doesn't pass this phase, it's simply jettisoned at renewal. So, companies keep what they need and cut the fat where they can.
"That's where the rubber meets the road when it comes to optimization across every single application," said Cory Wheeler, Co-founder and Chief Customer Officer at Zylo. "It's that one big event. The most value comes at renewal. To be able to realize those cost savings, mitigate the risk and adjust your license needs." 
And there's an important note to remember here. You need that ability to adjust licensing.
"Organizations should also be conscious and cautious about signing up to longer-term agreements without the ability to adjust their licensing at least annually," said Pippenger. "This will generally help with cost avoidance, not spending on licenses you don't need."
SaaS Management Remains the King of Cost Savings
Data doesn't lie. Although we've seen a decline in average SaaS quantity and spend, the waste remains. In fact, as we've seen here, waste is on the rise by at least 4%. And when you're spending $50M a year on SaaS, 4% is no small change. 
Now is the time to take control of your SaaS portfolio, not to just save money this year, but to optimize it for years to come. And that takes visibility. It takes control of your renewals. It takes effective SaaS management. 
"The biggest thing a SaaS management program does," said Pippenger, "is it puts you in the driver's seat. You get full centralized visibility to everything that the business owns. What it does. Who owns it. What your spending risks associated with the risk profile of that specific publisher are. And of course, how it's being used. It enables companies to be proactive."
To learn more about the current state of SaaS, download the report or listen to our fireside chat for more commentary about our findings.