SaaS presents both an opportunity and a challenge for growing companies. On one hand, running with SaaS solutions means you add flexibility, fast functionality, and robust integrations to your tech stack. On the other hand, SaaS can quickly get out of control. Between adding and removing seats, tracking renewal dates, and IT losing control of which tools are used in the organization, the sprawl can lead to headaches—especially if you're not proactively monitoring your SaaS reporting metrics.
You can't track everything manually, of course. When it comes to SaaS Management, it's important to understand which metrics to use to measure the effectiveness of your strategy. But remember that SaaS Management isn't "one and done"—it's an ongoing process that requires you to continually monitor and optimize your SaaS.
This article covers the most important SaaS reporting metrics you should continually monitor, what those metrics may mean for your business, red flags to look out for, and indications it's time to make a change in your SaaS tools.
The 4 Reporting Metrics SaaS Managers Should Care About Most
SaaS Management is about optimizing your tech stack by identifying duplicate solutions, reducing costs by assessing usage and, at the same time, ensuring your organization has access to the tools they need.
That's a nearly impossible task without continually monitoring how your SaaS tools are being used—and how much they cost the company.
Consider what we've written previously on the topic: "Organizations that don't constantly monitor their SaaS tech stacks are spending more by not getting discounted enterprise deals, have overlapping and often unnecessary technologies, see a spike in underutilized licenses, increase their security risks, and have a difficult time budgeting for future projections."
Read More: Why It's Important to Constantly Monitor Your SaaS Apps
There are plenty of benchmarks to consider, but we see four reporting metrics as particularly important for SaaS managers:
Total SaaS spend
Number of applications
SaaS utilization
Number of renewals on the horizon
These 4 metrics are important to glean during SaaS discovery and will give you the "big picture" of your organization's landscape. Not to mention, they'll set you up for making more informed decisions.
Total SaaS Spend
Instead of jumping right into the weeds, consider reviewing your total SaaS spend on a regular basis. This number, particularly in a dashboard format, allows you to see trends and changes over time.
Are you spending more or less? Is it in line with the budget you laid out at the beginning of the year? Are you happy with the amount you're spending, or do you think you could optimize a bit more?
SaaS reporting can also help you get a handle on seasonal or even fluke-like jumps in SaaS spending. For example, Zylo found that the average company's SaaS spend jumped by 26% in the early days of the COVID-19 pandemic. Combine that with the fact that Bessemer Venture Partners predicts the majority of software to be cloud-based by 2025, and we're looking at a half-decade of rapid change.
Number of Applications
Similar to total SaaS spend, keeping tabs on the number of applications used within your organization gives you a baseline stat. From there, you can optimize accordingly.
The number may surprise you; most IT leaders underestimate the number of applications they use by 2-3 times. Yet, Zylo found that the average organization holds 291 applications within its digital footprint.
The "Goldilocks" number will depend entirely on the size of your organization and your IT strategy, but we won't beat around the bush: most companies have plenty of room to improve. And the only way you can optimize the applications you do have within your tech stack is to first know how many you have in any given month.
SaaS Utilization
Another cloud reporting metric to keep tabs on is SaaS utilization. This is where you can dig into the weeds and start optimizing how many SaaS tools your organization has in place.
It starts with a simple question that may be difficult to answer without the right SaaS Management platform: how utilized are your applications? If your teams aren't using tools you're paying for, you're wasting money—plain and simple.
For example, do you have Zoom seats you're not using? Do your teams heavily use one project management app but stay off a different one that somehow ended up in your stack?
We recommend aiming for 90% utilization or higher; this allows for some padding with your number of licenses while still ensuring you're getting value out of what you're paying for.
Number of Renewals on the Horizon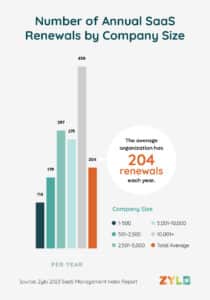 SaaS renewals catch us all by surprise—who hasn't gotten an unexpected charge on their credit card for that Headspace trial or Canva account they forgot all about? According to Zylo's 2023 SaaS Management Index, the average organization experiences 204 SaaS renewals a year, which equates to nearly 20 each month — or nearly 1 renewal every business day.
Proactively keeping track of when your company's SaaS renewals are coming up puts control back in your hands. More specifically, knowing which SaaS tools are up for renewal in the next 3 months will help you prioritize your SaaS Management decisions.
Is that collaboration tool worth keeping after renewal, on top of Slack? It gives you the time you need to collect feedback from the time, weigh your options, and make an informed decision.
Reporting on SaaS is Important, But Don't Forget to Track Your Outcomes
Once you've tackled SaaS optimization, it's important to track the results of your SaaS Management program.
The metrics you focus on (and the results you see) will vary depending on your organization and the initial goals you set out for the program, but a few examples include:
Cost savings and cost avoidance. How much budget did you save by rightsizing licenses and removing duplicate tools? How much did you save by getting more proactive with renewals?
Number of licenses reharvested and reclaimed. This number is typically the root cause of the savings you report on above.
Reduction in the number of SaaS applications. This gives you insight into just how efficient your program is. Coupa, for example, reduced their number apps even while their company size grew.
Number of apps put behind SSO/security software. SaaS Management isn't all about cost savings, and shadow IT is a real concern. Were you able to get some applications back under IT control?
While there are many reporting metrics you can use to measure the effectiveness of SaaS Management at your organization, we think these are the most important. By continually monitoring your SaaS, you'll be able to catch red flags and take action sooner.
Get full visibility into your SaaS. Schedule a demo today to see how Zylo can help you better monitor and manage SaaS for your business.