I started my career in SaaS about 20 years ago. Day one, I received my first login to Salesforce. I always joke that my life has been in the cloud ever since.
Now, I've seen a big SaaS transition over the past 18 months. We've never been more disconnected, physically. We're all distributed into our home offices, and have had to rely on technology to stay connected. On the other side of the coin, we've never been more connected from a digital experience perspective. And it's all been delivered through SaaS and cloud software. That's the world we're in today.
I'm excited. After five years of working with customers, building technology, developing expertise around SaaS management—this is big moment for us to come together and think about this entire industry.
That's why I sat down with Byron Deeter, Partner at Bessemer Venture Partners—to hear what they're seeing in the cloud market. Bessemer Venture Partners has been responsible for about one in three cloud IPOs in recent years—including Shopify, Twilio, DocuSign, and Toast. 
They've seen firsthand what's happening in this market and the power of this transformation. Here, we share some of the key takeaways from Byron's session at our 2021 SaaSMe event—including the three major reasons cloud will continue to grow at a rapid pace. 
You can also watch the full session below. And, be sure to sign up for the upcoming SaaSMe Virtual here.
Cloud will become the majority of all software in the next 3 years
The pandemic accelerated shifts we were already seeing in 2019 and prior. For example, look at the shift in the top 5 public cloud companies from 2020 to 2021.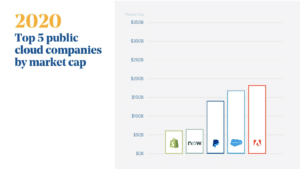 Bessemer's report breaks down the reasons for the shift: 
"First, Paypal shifted from third place to the largest market capitalization, which was driven by the rise in e-commerce and the increase in digital payments including a QR code system for contactless payments in physical stores. Second, Shopify nearly tripled in market capitalization as small businesses sought to move their business online to continue engaging with their current customers and attract new ones. And last but not least, Zoom replaced ServiceNow in the top five."
That last shift likely needs no explanation. But the rearranging of the top 5 public cloud companies is just one example of how cloud companies are taking over. 
"For years, investors talked about the internet revolution and the emergence of Facebook, Apple, Amazon, Netflix, and Google as the flag bearers of the new economy," Bessemer says in the report. "We submit that as their growth rates slow and the trends of internet and mobile mature, there is a transition regarding the new growth drivers within technology: the cloud leaders." 
One piece of hard proof: Byron shared that their new bucket of stocks (MT SAAS, consisting of Microsoft, Twilio, Salesforce, Amazon, Adobe and Shopify) outperformed the growth of FAANG. It wasn't even close: MT SAAS had an 800% ROI compared to FAANG's 330%.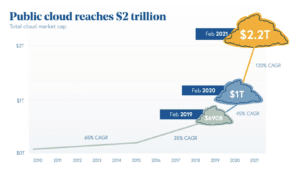 "These public market milestones point to a powerful trend underway: cloud's acceleration is permanent and COVID-19 more than doubled the rate of digital transformation across different vertical industries, impacting people's everyday lives," the Bessemer report concludes. 
Within the next three years, Byron and the other Bessemer partners expect that cloud will become the dominant delivery model for all software.
Cloud is the next pillar of technology, taking hold and increasing the rate of innovation
It's not all about market cap. Companies are able to innovate faster, leading to faster growth. 
"We're seeing the rate and pace of innovation accelerating," Byron told us. In his first IPO as an investor, it took the company 13 years to go from $1M in ARR to $100M in ARR. In a more recent example, Canva just announced that they're on track to pass $1B in ARR this year—that's just three years from when they crossed the $100M mark.
"You see this staggering rate of activity and adoption," Byron said. "That shows what's ahead in terms of potential for companies." 
"Simply put, cloud computing is increasingly consuming software, hardware, and services. Therefore, it is the most exciting mega-trend in technology, making it one of the most compelling themes impacting global GDP over the coming years."

— Bessemer Venture Partners
This will impact decisions in SaaS Management, according to Byron. From unbundling the office to figuring out how to allow AI support in decision-making and communication, "you're going to see the most innovation you've ever seen in your professional context," Byron said. 
"We're seeing this across collaborative virtual rooms, project management, certainly the world of calendaring and collaboration and events," Byron told us in the session. "More and more specialty products are coming to bear. They can integrate with and support your existing tools, but do it in a modern cloud- enabled world."
This will be a key area of innovation for business leaders, from IT to HR to sales and marketing. 


Cloud has enabled great products to win
The dramatic increase in cloud and SaaS companies has had another benefit, the way Byron and Bessemer Venture Partners see it: companies are building better products, and better products are winning.
"The best products are finally winning," Byron told us. "To me, that is a great thing. You can do so much online discovery and evaluation, and then you can do benchmarking to see what's working. With partners like Zylo, you could actually figure out the right pricing and licensing and management of all of your SaaS and cloud products."
Yes, saled-led will still have a place. But product-led growth, usage-based pricing and cloud marketplaces are taking a bigger role. "This is a great sign for the industry and where we're headed," Byron said.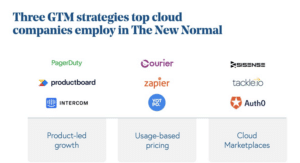 In the report from Bessemer, the venture partners go into more detail surrounding the benefits of product-led, usage-based pricing, and cloud marketplaces in turn. 
They point to Intercom as a best-in-class example of a product-led growth and sales motion: "There is minimal friction to get started, the team has been structured internally to have project managers working closely with customer support, marketing and sales, and finally, Intercom focused on building a product that could scale as their customers grew upmarket." 
In fact, they report that the cumulative market cap for product-led companies has grown by more than 100x in the last six years.
Usage-based pricing also goes hand-in-hand with product-led growth. The pricing model "minimizes the friction of getting started by allowing the customer to start at a low cost and only pay more as they receive more value," the report concludes. 
This leads to more flexibility, which in turn leads to better net dollar retention (roughly ten percentage points higher than traditional pricing models, according to Bessemer's research). 
This leaves room for exploring other channels like cloud marketplaces. Bessemer has seen sales cycle times decrease by nearly 50%, and they predict that software vendors will generate over $3B in revenue through this channel in 2021. (Not to mention they expect it to grow 10x in the next few years.) 
Taken all together, this explosion of cloud and SaaS offerings spells out a clear story: according to Byron and other partners, the traditional sales and marketing funnel. Instead, it's about building up cycles of champions with better products, accessible pricing, and new channels. 
Watch Byron's session and the rest of the SaaSMe sessions at https://zylo.com/saasme.