In the past, on-premises software was the default. But increasingly, organizations across all sectors are transitioning from traditional, on-premises software to cloud-based solutions. 
Government entities are no exception. 
This June, significant changes went into effect that'll change the way governments and higher educational institutions must track and report their SaaS investments. Read on for a summary of these changes – as well as what you need to do to comply. 
What is GASB 96?
The Governmental Accounting Standards Board (GASB for short) is an independent, non-political organization formed in 1984. GASB develops accounting and financial reporting standards for U.S. state and local governments, as well as public colleges and universities, that follow Generally Accepted Accounting Principles (GAAP).
GASB recognizes the governments' shift to the cloud. As such, they recently released GASB 96, which sets forth a new standard for how governments and public higher education track and report their subscription-based information technology arrangements (SBITAs), including:
Software as a service (SaaS)

Platform as a service (PaaS)

Infrastructure as a service (IaaS)
Essentially, this new standard requires organizations to have a full, comprehensive inventory of SaaS and other Cloud-based assets. You must know the details of all your apps – regardless of who purchased the app and how it was purchased. 
GASB 96 went into effect on June 15, 2022. That means government entities and universities with fiscal years starting after that date need to start reporting with this new standard. Check out the full summary statement here.
Now's the time to ensure you're in compliance with this new standard. 
Full SaaS Visibility is Foundational to GASB 96 Compliance
Government and higher education must take a full inventory of all SaaS within the organization. But oftentimes, this is easier said than done. 
For starters, organizations often have large, ever-evolving SaaS portfolios. Our 2023 SaaS Management Index found that the average organization has 291 SaaS applications in their portfolio – with an average of 6 apps added each month.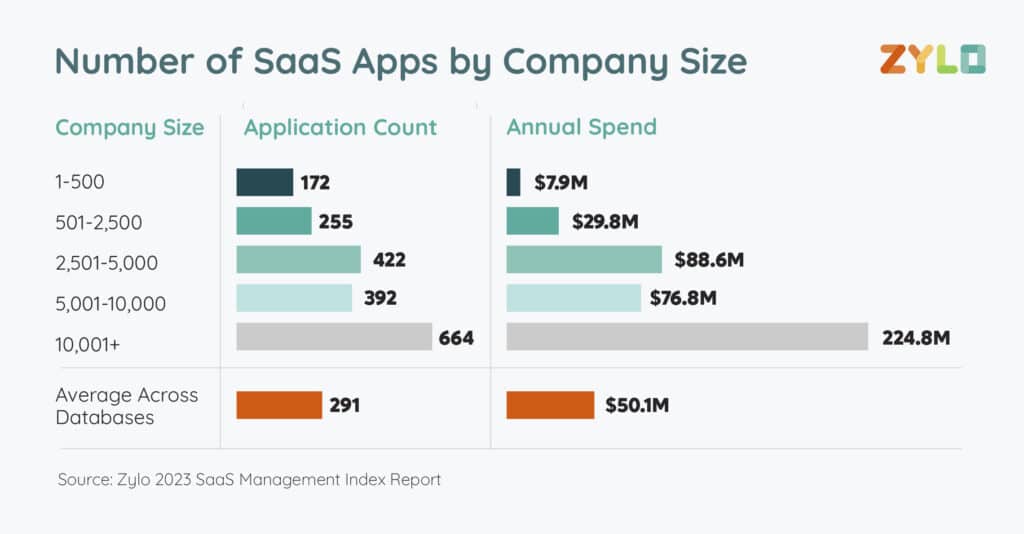 To further complicate matters, SaaS is decentralized at many state and local governments and public colleges and universities. Rather than funneling purchases through the IT team, SaaS is purchased by business units and individuals. In other words, just about everyone within the organization is a SaaS buyer. 
The decentralized nature of SaaS means you likely have unknown SaaS lurking throughout your organization. That makes it difficult – if not impossible – to abide by these new GASB 96 standards. You can't track and report on an app if you don't know it exists!
In addition, more than half (51%) of SaaS purchases are miscoded. In other words, a SaaS subscription purchase might be coded as something other than software. So when you're taking inventory of SaaS, this app won't even be on your radar. 
The bottom line is, hunting down all the details of every SaaS application can seem like a wild goose chase – with plenty of room for error.  As such, accurate, compliant SaaS reporting requires a dedicated SaaS Management platform. 
Empowering Government Organizations with a Single Source of SaaS Truth
A SaaS Management platform like Zylo sheds light on all SaaS lurking throughout the organization. That means, as a government organization or educational institution, you can have a clear, accurate picture of all SaaS – whether it's purchased by IT, a business unit, or an individual. Zylo can even find those pesky apps that have been miscoded.
As we mentioned earlier, SaaS portfolios are always changing – with apps entering and leaving the ecosystem on a regular basis. With Zylo, government and educational institutions are empowered to identify new SaaS on an ongoing basis. 
A SaaS Management platform serves as a single, real-time source of truth for all key SaaS details. That includes: 
Contact start and end dates

Purchase amounts

Purchase Orders
With the right SaaS Management platform, you'll always have the information you need to follow new reporting standards – right at your fingertips.  
Going Beyond Compliance
Abiding by GASB 96 is imperative. With a tool like Zylo, you have access to a single system of record that makes it easy to access the details you need to follow this new standard.
But for state and local governments and public colleges and universities, the value of a dedicated SaaS management platform goes beyond compliance.
Governments have a duty to ensure they're spending taxpayer dollars wisely. Sure, the right SaaS is essential to a well-run government organization. But the reality is, SaaS portfolios are often rife with inefficiencies and waste. 
Our 2023 SaaS Management Index found that the average organization wastes $17M in unused SaaS licenses every year. That's not to mention the cost of other common inefficiencies, including duplicative and redundant applications – and auto-renewing applications without the data to back it up. 
Accessing your SaaS data is key to GASB 96 compliance. But the real magic happens when you start tapping into this wealth of data to optimize your licenses, drive efficiency, and realize cost savings. 
Learn More
If you're wondering how other government entities or universities are reporting GASB 96, take the City of Aurora, CO for example. Check out their story here, and how Larry Hibbs, Technical Program Manager, is using a SaaS management platform to make the process easier.
Ready to see firsthand how Zylo can help your government organization meet GASB 96 standards – and empower you to boost efficiency and cost savings? Schedule your live, personalized demo today.