It's already August (how?!) and here at Zylo, we've been busy soaking up the Summer of SaaS. From launching the SaaSMe Unfiltered podcast to expanding powerful partnerships, it's been a good one so far. But summer is still heating up, and nothing is cooler than Zylo's latest product innovations. Read what's new for the Zylo Summer 2022 Product Release below.
Accelerate Insights and Decision-Making with Interactive Visual Reporting
From the Dashboard to the Subscriptions, Team, and Payments tabs, we've added new Visual Reporting across all your favorite parts of Zylo. Understand what's happening in your SaaS stack at a glance, so you can extract insights in an instant and make faster business decisions. Visual Reporting works with Zylo Filters, so your charts will update in real time based on the filters you apply. 
Now, you have all this powerful SaaS data and visualizations to go with them. What about sharing it with stakeholders? We're so glad you asked. Zylo's charts and the data behind them are all downloadable, so you can quickly add them directly to your presentations or build out your own tailored charts.
Unlock Earlier, More Proactive Visibility with Purchase Order Management for Coupa
Where does your payment data currently live? And your purchase orders? What is your process for tracking POs for your SaaS tools? If you're like most companies, you jump from system to system to collect relevant information. Wouldn't it be simpler if all SaaS spend data was in one place? 
Since day one, Zylo customers have relied on our platform to show them what they are currently spending on SaaS. Now, we're taking SaaS spend management to the next level with Purchase Order Management for Coupa. 
Zylo's integration with Coupa's Purchase Order Management Software unifies all your SaaS-related spend data in one place, unlocking an unprecedented forward-look at SaaS spend. Purchase Order Management for Coupa provides organizations with visibility into SaaS purchases as early as several months before their payment hits, empowering them to take a more proactive approach to their SaaS spend management. 
Combined with our new visual reporting, you can visually monitor your purchase orders and see how your spend is tracking. Compare your approved spend to how much you've spent against that and how much remains unused.
How does this work in the real world? Using Zylo's visualizations you can see when you're approaching PO closure. Maybe you use this insight to take action and kick off a workflow in Zylo and reclaim unused licenses to save on costs. Oppositely, maybe you have remaining money you have been approved to spend and want to try and re-allocate those dollars.
Price Benchmarks… Now with More Cents
Consumption-based pricing is on the rise. It only makes cents that you are able to benchmark your consumption apps in a meaningful way. Now, you can benchmark your consumption applications with an even higher degree of granularity when you input cents on Zylo's Price Benchmarks. Users can now add up to five decimal points to produce the most meaningful price benchmark. 


See SaaS Spend Aligned with Your Fiscal Year
Zylo Fiscal Spend Reporting lets you view SaaS spend data according to your organization's fiscal year, in addition to a rolling 12-month view. Filter and present your SaaS Management financial data in the time frames that make sense for your business, with quarterly, year-to-date, and annual views.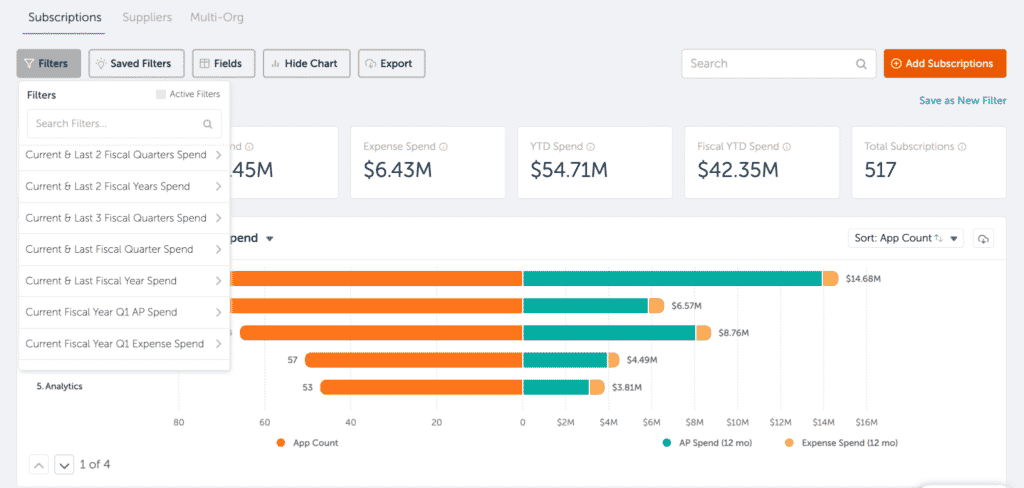 Zylo Summer 2022 Product Release, Maximizing Your SaaS Investments
Ready to learn more about how these updates can help maximize your SaaS investments? If you're an existing Zylo customer, contact your SaaS consultant with any questions. If you're not a current customer, schedule a demo today to see Zylo in action and learn how these product enhancements can help you take your SaaS Management and Optimization to the next level. 
Coming August 2022… Optimize Costs, Drive Efficiency, and Get More Mileage Out of Your SaaS Licenses 
Unlock the power of your Okta environment and optimize licensing across hundreds of tools with data-driven recommendations from Zylo. Okta Actions with Deprovisioning automatically deprovisions licenses for any application behind Okta SSO based on Zylo's real-time usage data.