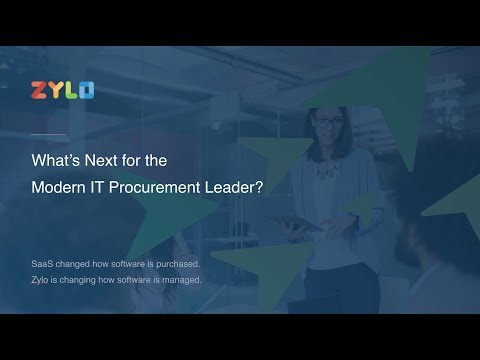 The subscription economy has forever changed modern IT Procurement (for the better), creating new opportunities to drive transparency and value.
Now, modern IT Procurement leaders must level-up their technical and leadership skills to derive value from the enterprise's ever-growing SaaS stack. For the majority of companies, every employee can now act as a software purchaser. It truly is a democratized and decentralized category.
This decentralization represents an opportunity for Procurement to take a leading role and drive value across the enterprise.
To discuss how that process takes place, Cory Wheeler, a veteran of Procurement and Zylo co-founder, spoke with Maria Centeno, the head of procurement for Zuora, and Siddharth Ramesh, manager of corporate procurement at VSP Global.
Leading in Modern IT Procurement
Maria Centeno has more than a dozen years' experience leading modern Procurement roles, including notables such as eBay, Salesforce, and most recently, Zuora.
Her team is small and within a fast-growing tech organization, but they're responsible for all procurement, including sourcing, territory management, and enforcement.
The benefits of running a lean team with broad responsibility is its highly visible role with company leadership. "We're a very visible group, but we are also a very, very busy group," Centeno said.
Siddharth Ramesh manages strategic sourcing for all technology and services at VSP Global, one of the largest insurance companies in the world with 90 million members.
VSP has created a global footprint with a diverse range of offerings to health providers, members, and consumers that includes insurance and related services, software, and eye care products.
This diversification led to the recent shift of VSP's Procurement team moving towards a centralized operation that serves many business units.
Empowering Employees to Navigate SaaS Application Acquisition
"We're a fast-growing company with ambitious goals in terms of revenue growth," Centeno said. "So we have to keep that balance between governance and cost containment and letting our teams do their jobs."
However, she noted that providing flexibility for employees to purchase SaaS based on their needs can lead to cost containment issues.
"SaaS offers a lot of opportunities to make purchase easy," Centeno said. "The proliferation of applications brings us to the unfortunate situation where employees are buying the same thing over and over," Centeno said.
In close association with duplicate spending on SaaS applications, Procurement must also provide leadership to help teams identify redundant or overlapping functionality amongst SaaS products, as well as prevent multi-sourced spending.
SaaS products' ease of acquisition can also introduce risk to enterprise organizations, as users approve simple click-through agreements or use tools or applications without proper vetting.
Tackling IT Security Challenges and Risk
As a Procurement leader in healthcare, Ramesh noted that managing and protecting data represents a critical challenge at VSP.
"Data is very critical for us," Ramesh said. "Because we are in the healthcare space, we are subject to federal and state regulations around how we manage data for our 90 million members. We need to make sure that when we deploy a cloud solution, it goes through a rigorous and collaborative vetting process."
However, similar to Centeno's challenges, striking the appropriate balance is vital. The goal is not to add bureaucratic red tape that increases delays and decreases time to value, but instead to provide each solution the due diligence it needs to meet or exceed regulatory expectations.
Moreover, wrangling collaboration across all stakeholders in an organization requires effort. Ramesh noted that the review process includes approval with representatives from business stakeholders, legal, information security, finance, compliance and privacy, and others. "That is a big challenge," Ramesh said.
Continual Monitoring, Vetting Contracts & Ensuring Privacy
A challenge specific to SaaS procurement is the continual effort required for acquired applications. Post initial vetting, SaaS applications actively used in the tech stack require constant monitoring because market or security environment conditions change frequently.
Another factor Ramesh noted as necessary for the procurement of SaaS within his organization: Compliance with consumer privacy regulations.
To avoid potential blind spots, Ramesh and his team review all contractual terms and conditions to ensure they meet regulations such as GDPR. Other regulations such as the upcoming rollout of the California Consumer Privacy Act, are also considered.
"These acts force us to look closely at all the T&C's that govern data and how data is handled and transacted when it sits in a cloud application," Ramesh said.
This governance focus must also extend beyond the application itself. Review teams must also protect consumer privacy in tangential third-party data transactions and business associations.
A Flexible Model for SaaS acquisition: Employees as SaaS Consumers
Beyond the procurement frameworks required for due diligence, Centeno applies a novel concept to SaaS governance: Treat employees as consumers.
To create governance, many companies attempt to use training. However, Centeno said the broad spectrum of highly specific SaaS solutions hinders this approach.
"You think initially about training the people related to your product, engineering department, or infrastructure, " Centeno said. "But then if you think about the spectrum of solutions out there, you have to think about [training for] every single employee."
Highly specialized SaaS is available everywhere: Whether it's sales teams using CRM platforms to marketing teams using marketing analytics tools . Even specialists such as event marketer and receptionists have specific role-based SaaS tools at their disposal.
This widespread adoption and specialization means it's virtually impossible for Procurement to develop training for every tool. Instead, Centeno focuses on Procurement's role in reducing failure points and mitigating defects. By focusing on these goals, her team can introduce processes that address all areas of the company.
"We want to solve problems without overwhelming employees with information or decisions," Centeno said. "These employees – they are our customers. We have to treat them with respect and consideration to fulfill the mission of procurement."
Decentralized SaaS Demands New Procurement Leadership
Centeno and Ramesh agree: SaaS represents a category where Procurement leaders should exercise caution to avoid focusing solely on cost-cutting. The focus should be to produce collaborative actions and positive dialogue about which solutions make the most sense.
To answer this challenge, Ramesh highlighted his team has assumed hybrid roles. First, of gatekeeper, performing all checks and vetting on a requested solution. Then, as enabler, ensuring that Procurement doesn't block employees from accessing tools they need to get their jobs done.
At a minimum, this means:
Ensuring that the business stakeholder has a valid use case for each solution
Creating a collaborative partnership to complete all necessary sourcing review, including vetting for security, data, and compliance safeguards
Working with stakeholders to complete SaaS application acquisition and deployment successfully to deliver the right value
The Future of Modern IT Procurement Leadership
"One thing we are focusing on is figuring out how to deploy a supplier risk management framework," Ramesh said.
He believes that formalizing that process will help VSP better manage all supplier relationships. This effort includes cloud and "as a service" solutions, including software, infrastructure, and platform (SaaS, IaaS, and Paas).
Providing supplier risk management frameworks make it possible for stakeholders to measure and evaluate suppliers on their terms.
Ramesh said this helps move Procurement away from a model where they wholly own categories like software. Rather, Procurement becomes a source for evaluating how tools work as a business solution.
Centeno envisions Procurement as a leader for providing tools for evaluation, assessment, and planning for SaaS. Ultimately this work would enable teams to move away from reactive SaaS planning or budgeting.