SaaS absolutely skyrocketed during the pandemic. As businesses went remote, companies needed remote solutions. For most, this came in the form of expanding their SaaS suite to provide their workforce with all the tools it needed. 
Today, the pandemic is growing farther and farther away in our collective rearview. However, the effects remain. SaaS now makes up an extraordinary portion of the average organization's tech stack.
Now is the time to come to terms with these effects and adjust accordingly to the world today.

The uncertain and tumultuous economic environment that we're seeing now demands organizations to look at their budgets with more scrutiny.  Everyone is looking to save money and reduce operating expenses where they can. 
And that's where the pandemic-fueled explosion of SaaS comes into play. Software is now the ideal place to start optimizing for value and cost savings with effective SaaS management. 
Reason #1: Massive Growth Leads to Massive Waste
It is difficult to understate the growth of SaaS. As we just mentioned, SaaS adoption skyrocketed during the pandemic. But let's put that into perspective with the cold, hard numbers.
In 2008, Gartner reported that worldwide SaaS revenue was approximately $6.4 billion. This year, that spending is projected to reach a staggering $195 billion. In 15 years, that represents a growth of nearly 3,000%. 
However, in this growth, we find a problem. The average organization only utilizes 56% of their SaaS licenses. The other 44% is left sitting on the shelf – completely wasted and ripe for optimization. Today, this ultimately equates to $17 million in annual waste from unused and underutilized software.

As waste is up from 40% last year, we can only expect this problem to worsen the longer it goes unaddressed.
Reason #2 The Problem is Only Going to Get Worse
SaaS is by no means finished growing. Gartner estimates that the rise in spending will increase by 15 to 20% each year through 2026. That means SaaS portfolios are going to continue growing and so will the problems that entails.
Without visibility into SaaS, the applications acquired by individual employees and lines of business will continue to fly under the radar of IT. And with an ever-growing SaaS portfolio, that means more shadow IT, more hidden risks, and more hidden expenses. What's more, should this trend continue, organizations across industries will see lower utilization rates and more wasted spending.  
And without a tool to help you identify your complete SaaS stack, it'll remain your biggest blind spot and largest source of waste.  
Reason #3: It's Your Biggest Cost Optimization Opportunity
The expense of SaaS is comparable to its growth we've seen over the last 15 years. Today, SaaS represents the average organization's second-largest operating expense after headcount. While this means SaaS is a massive source of cost, it's also a truly massive opportunity for optimization.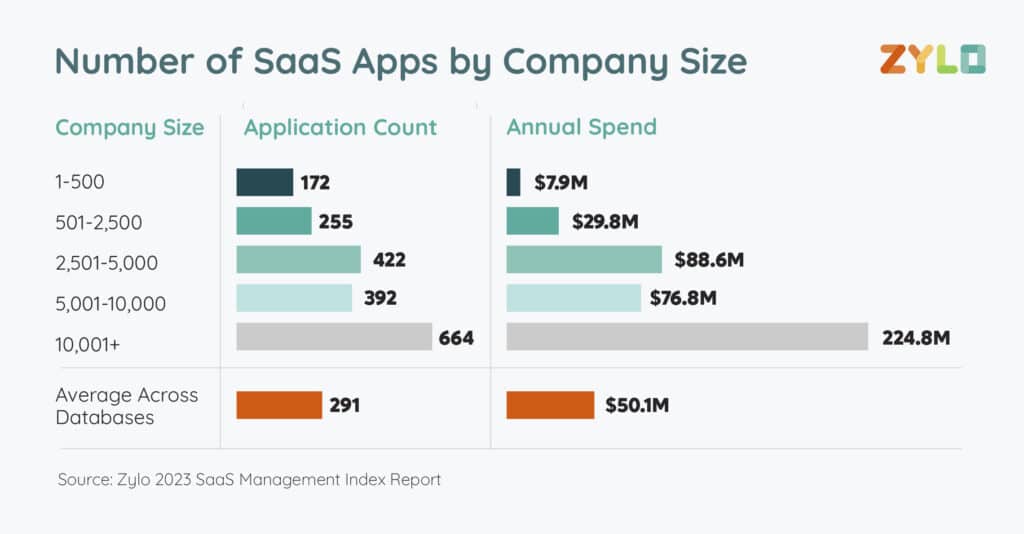 The average organization spends $50 million annually on SaaS alone. These are the same organizations seeing an average of $14 million in waste from their SaaS stack. As such, in a budget-conscious economic environment, reclaiming that $14 million isn't just nice to have, it's essential.
And this is especially true for large enterprises with 10,000+ employees that expense an average of $224 million on SaaS annually. 
It's important to not look at these costs at face value, but rather see them for what they are – opportunities to optimize with SaaS management.
These SaaS management opportunities include:

Visibility.

SaaS management provides full visibility

into all of your spending from accounts payable to purchase orders to expenses. You see everything going on in the stack.



Reclaiming licenses.

You'll find those pesky unused licenses and redeploy them where they're needed to avoid unnecessary costs.



Rightsizing.

Perhaps there's nowhere to redeploy those unused licenses and you find you have more than you need. A SaaS management program will find those licenses and prepare to eliminate them when it's time for renewal. No one should pay for what they don't need.



Rationalization. With so many employees and LOBs expensing SaaS across the organization, redundant and duplicate software is to be expected. SaaS management provides an opportunity to identify these subscriptions and determine where redundancy is necessary and where apps can be consolidated. 
All of which will help minimize waste and put every dollar invested into SaaS to work. 
Reason #4: Unknown Risk is Bad for Business
Managing SaaS is more than optimizing your spend. Although, that is a major component of it. SaaS management also protects your organization from unnecessary risks.
According to Gartner, companies not managing their SaaS are 5x more susceptible to cybersecurity incidents. That's not even to mention other risks such as non-compliance and budgetary overages that are common when the SaaS environment is left unmanaged.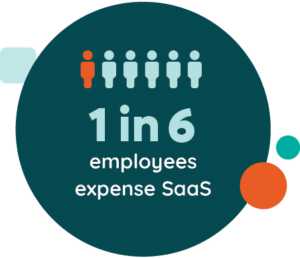 This is in part because one in six employees is expensing SaaS. That means many acquired applications are not being properly vetted and are running unbeknownst to IT and Finance. We call this shadow IT. Shadow IT exists in most companies today and in every company without a SaaS management program. And it's the greatest source of risk to modern organizations. 
However, an effective SaaS management program not only ensures that every SaaS application is known, but vetted as part of a larger corporate application strategy. 
The Time to Master Your SaaS is Now
When you're an IT or finance leader, you're well-positioned to take on the mission of SaaS management. And it isn't just an opportunity for your organization to save money. It's your opportunity to be the SaaS hero your company deserves. 
What's more, with SaaS adoption expected to continue growing with no end in sight, it's clear that SaaS management is no longer a luxury. It's critical business practice. If any organization expects to remain competitive in this new environment, they'll have to master their SaaS now.

Without SaaS management, your tech stack will continue to be a source of: wasted money, overspending, and increased risk to the organization as a whole. 
Waste.

According to the SaaS Management Index, $17 million in unused SaaS licenses are wasted every year.



Overspending.

According to Gartner, we can expect 25% of overspending or more on SaaS by 2026.



Risk.

According to Gartner, companies without SaaS management are 5x more susceptible to a cyber security incident. 
Power SaaS Management with Zylo
SaaS management is a daunting task without tools designed to tackle the job. Zylo offers a comprehensive, data-driven platform to discover, optimize and govern SaaS.
All of this is powered by an innovative Discovery Engine to uncover and track all of your SaaS applications, no matter how they were acquired. That means no more shadow IT, no more spreadsheets, and no more surprise renewals. 
If you're ready to change how you see SaaS, request a demo today.