CIOs, regardless of their industry or company size, have to juggle many competing priorities ranging from innovating on current technology, collaborating with technology stakeholders, balancing the IT budget, and perhaps most importantly, getting buy-in on important strategic projects.
According to the 2017 State of the CIO report, most CIOs have a tenure of just over 5 years in their current role. While that may seem like a short time period (and it is), a lot has happened in the technology world during that timeframe. Just in the past decade, there has been an explosion of cloud-based apps and SaaS solutions that seek to solve just about every problem an organization could face. As a result, 56% of organizations say their tech budgets are up over the last 5 years. And whose responsibility is it to oversee the entire tech stack and the associated tech budgets in an organization? The CIO's, of course.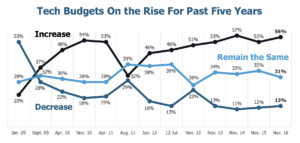 The Expectations of CIOs Are Increasing
As CIOs typically report to CEOs, there an obvious demand placed upon their shoulders to be increasingly more strategic—especially as organizations continue to invest in technology that promises to solve problems, make processes more efficient, and people more effective. According to the report, a few of the biggest expectations placed upon CIOs include:
Help reach specific goal for corporate revenue growth
Simplify IT
Lead a product innovation effort
Reduce IT spending
With technology investments and expectations increasing, CIOs need a way to have all IT-related information at their fingertips so they can not only strengthen the relationships with line-of-business owners, but make the best empowered decisions for the organization as a whole.
CIOs Need Ultimate Visibility Into Cloud Spend & Utilization
Due to their many benefits, cloud-based solutions are taking over the world of software, and it's up to CIOs and their IT teams to keep up. Not only do IT teams work with line-of-business owners to evaluate and ultimately purchase software, but now these SaaS solutions make it easier than ever for individual users to simply input their credit card information to make one-off purchases without IT (often referred to as Shadow IT).
With purchases being made across the organization without IT's involvement, CIOs have another issue on their hands: lack of visibility. This "operating in the dark" can cause them to make decisions without having all of the important information.
CIOs need a comprehensive view of organization-wide cloud subscription spend and utilization for both known & shadow-IT applications. What if they could achieve this level of visibility?
Spend Data: With information about how much the organization spends by incorporating both the organization's financial (accounting) system and the expense system, which includes expense reports from line-of-business owners and employees, CIOs can actually see how much they are paying for cloud apps.
Usage Data: Single sign-on login information paired with direct SaaS provider integrations can tell the whole story about how often each department, team, and individual actually uses the software.
Legacy Information: Most organizations still rely on some existing legacy platforms which contain information such as provider quotes and contracts and internal spreadsheets. CIOs can unlock that information to further their visibility into how past decisions about technology spend were made.