SaaS has experienced steady growth over the last decade. And then the COVID-19 pandemic kickstarted that growth as organizations scrambled to provide their employees with the SaaS tools they needed to remain connected and productive when working from home.
Cloud growth has accelerated and isn't expected to slow down anytime soon. Gartner predicts global SaaS spending will reach $591.8 billion in 2023 — which is a 20.7% increase from 2022.
RELATED: Download the SaaS Management Superhero Ebook 
And while we're seeing the explosive growth of SaaS continue, we're also seeing the continuation of another key SaaS-related trend. Decentralization of SaaS purchasing continues to be more and more common. Specifically, IT teams are controlling less and less of both SaaS spend and the quantity of apps within the organization.
Here at Zylo, we have unmatched visibility into SaaS use and spend. Our Discovery Engine has processed more than $1 trillion in spend, and nearly $30 billion in total SaaS spend in the past 12 months. We're constantly monitoring for key trends — and share those insights so businesses like yours can unlock the full power of your SaaS investments. Read on to see what we found — and what it means for your business.
IT Controls a Decreasing Amount of SaaS Quantity and Spend
When on premise software was king, software purchases were typically made by the IT team. But the rise of SaaS has caused a dramatic shift in who purchases and manages software.
By its nature, SaaS is easy to acquire; it's often as easy as supplying a credit card number. So it's not uncommon for applications to be purchased throughout a given organization. As such, IT controls a rapidly decreasing portion of SaaS spend and application quantity.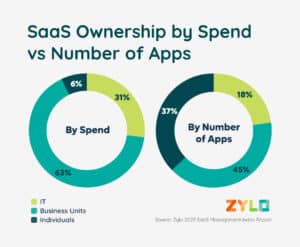 According to the SaaS Management Index, today IT owns 31% of SaaS spend and 18% of applications. And as this share of SaaS decreases, business units account for more SaaS spend and quantity than ever before. Today, business units own 63% of SaaS spend. SaaS applications purchased and expensed by individual employees are now at 6% of SaaS spend.
This shift in SaaS spend and ownership away from IT and to business units and individuals has been happening for some time. And it's not even necessarily a bad thing.
On one hand, it puts purchasing power directly into the hands of users – departments, teams and employees – to buy the technology and tools they need to be productive and effective. And many would argue that this increases organizational agility, allowing business units and employees to make faster technology decisions and introduce new innovation into their organizations.
On the flipside, this continued trend of decentralization does reduce the amount of IT oversight and governance of SaaS within an organization. And this poses all kinds of risks as unmonitored SaaS growth can lead to inefficient spend, unnecessary costs, and security and compliance risks.
The Role of IT is Evolving as SaaS Inventories Grow
So what does this mean for IT teams? In the wake of the pandemic, rise of remote work and the future of hybrid work, the right software has become essential to driving the effectiveness of both employees and the business.
But make no mistake: even as SaaS continues to grow, IT teams still have an important role to play in portfolio rationalization and ensuring application security and compliance.
We expect that this trend of SaaS decentralization will continue for many years, as business units and individuals make more purchasing decisions and continue to purchase and manage a greater share of an organization's SaaS portfolio.
IT teams and line of business (LOB) owners must start working together as partners. And IT teams must gain full visibility into all SaaS in use at an organization — as well as who purchased each application. Only then are they able to establish effective processes and policies and provide guidance on purchasing and managing SaaS applications.
SaaS Decentralization Makes Shadow IT a Growing Threat
As SaaS portfolios grow — and IT continues to manage less of it — organizations are at greater risk of Shadow IT. Essentially, Shadow IT refers to any software outside the ownership or control of centralized IT organizations.
Most SaaS applications can be easily purchased via credit card. So if a small team or employee needs fast access to a SaaS tool, it's not uncommon for them to circumvent established processes and procedures, opting instead to charge the purchase and submit it for reimbursement.
As a result, Shadow IT continues to grow both in terms of spend and quantity. In fact, Shadow IT spend has doubled year over year. And while Shadow IT – SaaS applications purchased by individual employees – represents just 7% of SaaS spend, it accounts for 37% of application quantity. And it brings with it outsized implications.
Applications purchased via IT typically go through a vetting process to ensure they're secure and compliant. However, applications purchased by employees on credit cards don't go through this process. These unvetted apps put the organization at risk for large, costly consequences. In the US, the average cost of a data breach is $9.44 billion, including mitigation efforts and lost business.
More than ever, organizations must make it a priority to discover all SaaS applications in use — and then work to eliminate Shadow IT. Only then will they be able to fully manage risk.
Curious what other SaaS spending and utilization trends we've identified? Take a look at our 2023 SaaS Management Index for insights.