There's not a company out there that's not buying, managing, and renewing SaaS products on a regular basis. Today, the average company juggles 291 SaaS applications (that means you're looking at about one renewal a day). And the SaaS market is only growing: Gartner found that companies spend about $167.1 billion on SaaS purchases in 2022. And it's expected to reach $195.2 billion in 2023.
With hundreds of contracts to manage, costs can quickly add up. Managing these costs can be a critical lever to ensure the company's monthly and annual profitability. Not to mention  ensure that SaaS buyers are getting the best products for the best price. 
How do you negotiate SaaS contracts to set yourself up for long-term success? First things, first: You must find all the SaaS tools that make up your stack. You can't negotiate contracts you don't know about. Once you have your system of record in place, you can take control of renewals, increase purchasing power, and identify opportunities for spend optimization. 
Here are five tips to help you secure favorable pricing and prevent you from paying too much.
Avoid the Auto-Renewal Trap 
Auto-renewals allow SaaS companies to automatically charge customers monthly or annually without having to repeat the sales process. And hear us say, these aren't all bad. Automatic renewals  offer the convenience of continued services and data for your organization's SaaS tools. Just imagine the panic when you are blocked from your CRM tool because you failed to renew.

However, this billing model often leads to friction between customers and companies, especially if a customer was intending to adjust, downgrade, or terminate the contract entirely. The majority of SaaS providers require notification if you don't plan to automatically renew your subscription or contract. This notification period can be as short as 15 days or as long as 90 days. 
This is where a SaaS management platform like Zylo comes into play. With hundreds of apps and renewal dates to keep track of, a system of record for your SaaS agreements can help you regain control and plan proactively, so you never miss the chance to terminate or renegotiate them. 
Leverage Your Usage Data
Understanding if and how your SaaS tools are being used is a critical step in planning your SaaS renewals. Take a look at how frequently users are logging into the application and how they are engaging with the tool. For instance, are they only using free features but have a paid license? Digging into this engagement information can help guide you in your renewal decisions. 
There are three common outcomes of a renewal:
You pay for new licenses that you don't need.

Without visibility into your application usage data, you may find yourself buying new licenses while the licenses you already have collect dust. Chances are employees have left the business or simply no longer need a license. Analyze your usage and reclaim those licenses prior to your renewal to prevent you from paying too much.

You buy less licenses.

Perhaps your data shows that you are only using 75% of your purchased licenses. At renewal time, you can rightsize your licenses and significantly reduce your costs. 

You don't renew at all.

When you dig into the data, there's a chance you find adoption of the tool is low. Take this time to think about whether this tool is delivering its intended business value, and if renewing it costs the company more than it adds. 
Use your usage data to make strategic renewal decisions. Pay for what you're using and never a dollar more.
Benchmark Your SaaS Costs
Benchmarking data is one of the most powerful tools you can have in your negotiation arsenal. 
SaaS benchmarking allows you to see how you compare to similar businesses in your industry in terms of cost for SaaS. Then, you can leverage those benchmarks in negotiations to ensure you're not paying more for the same applications as your peers.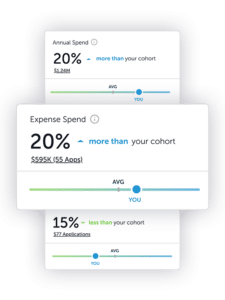 The reality is, the average company overspends 15% on their SaaS licenses. If you know your peers are paying less for the same product, say something. If a vendor won't budge on pricing, having the benchmark research on your side can help loosen them up and offer the same discounts your peers are getting. 
Zylo has the industry's most extensive experience in benchmarking baked into the platform. All  gained from managing more than $30B in SaaS spend. Price Benchmarks will tell you if you're paying too much, too little, or paying a fair price. So, you're never left wondering if you're overpaying. 
Use Your Logo Power
As SaaS vendors compete and build their position as a market leader, many have accelerators in place to motivate sales teams to close deals with well-known names. If you work for a company with great brand recognition, leveraging your logo power can get you a good discount. 
Oftentimes, vendors will sneak logo usage into the contract. Be on the lookout and ensure you're securing a discount for this. 
Stop Paying Too Much for SaaS by Partnering with Zylo Negotiation Experts
The average company has more than 200 renewals with approximately eight hours required to conduct each renewal. That means you're looking at 1,600 hours each year. To put this into perspective, a full time job is a little more than 2,000 hours.
A little help can go a long way. From intake to contract facilitation, Zylo's SaaS Negotiator Service specializes in day-to-day negotiations on behalf of our customers. The best part? We'll help with as much or as little of the process as you'd like. We get that, sometimes, you want to be the person negotiating the contracts and preserving the vendor relationship. We'll step in where you need us. 
Zylo combines the industry's most comprehensive dataset and experienced experts to get customers the best deal possible. Partnering with Zylo, SaaS buyers are able to navigate negotiations, renewals, and contracts with ease.
You can't manage your SaaS alone. Zylo can help you discover and buy new tools, save on SaaS, and improve your negotiation strategy. Schedule a demo today.