The role of IT Procurement is no longer a functional job whose role entails sending out lengthy RFPs. And that's not even to mention the never-ending chore of reviewing the responses before enforcing a decision. Over the past decade, the role is shifting to become one of the most strategic in the organization. The change is largely driven by SaaS and other cloud-based delivery models, which no longer require the same arduous process that used to take all of IT Procurement's time
SaaS certainly isn't a new concept. But it's only recently that IT Procurement teams are facing major challenges they must overcome, especially visibility.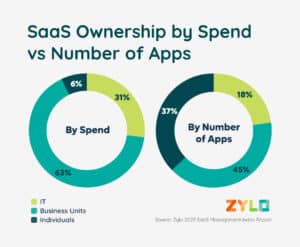 IT today only controls 31% of SaaS spend and 18% of application quantity. Line of business owners, on the other hand, control 69% of spend. This shift in control is expected to continue well into the future.
And despite this rapidly declining control over SaaS, IT still has a vital role to play in avoiding unnecessary costs and risks. This entails establishing SaaS governance policies without sacrificing the flexibility SaaS provides LoBs.
Coincidentally, these challenges can become major benefits with the right visibility, simplified departmental buying, empowered shadow IT, and seamless one-click subscriptions. The key, however, is non-negotiable. IT Procurement teams must have visibility into all aspects of the Cloud to keep their organization running smoothly – even excelling in this new era.
The Opportunity to Gain Visibility
The phrase "knowledge is power" relates well to IT Procurement's shift. Without data, it's impossible to make informed, strategic decisions to guide your organization.
But with visibility into aspects like SaaS spend across the organization (regardless of source), application utilization (or lack thereof), and how employees feel about the SaaS products, IT Procurement becomes empowered. Armed with data and visibility, the role can work out enterprise or group discounts. Or better yet, roll ad hoc subscriptions into a single master agreement to ensure dollars are not left on the table.
In the past, IT Procurement had to play the role of "bad cop". Teams avoided going through the processes due to the red tape, drawn-out RFPs, and so on. Today, Procurement teams can lay the proper groundwork across the organization and allow each department or individual to purchase the software that makes the most sense on their own terms and budget, while also giving visibility back to IT Procurement.
Procurement now has the opportunity to initiate the conversation and inform departments and business units about innovation happening across the enterprise. That's something that simply couldn't be achieved without a single source to manage cloud subscriptions.

A single source grants visibility into:

The Complete SaaS Portfolio

: Managing SaaS applications depends on identifying everything in the SaaS portfolio. That even includes applications that were previously acquired and operating under the proverbial radar.



SaaS Spend:

SaaS Management tools let you know how much you're spending and who is expensing SaaS in your organization, whether that be on the department or individual level. This grants insight into where your costs are coming from and if there's duplicative spending happening.



Utilization and Sentiment:

Employees work best with the tools they prefer. As such, it becomes necessary to know if they are using tools in the existing portfolio, why or why not, and identify where there's room for optimization.  
How a SaaS Management Tool Helps IT Procurement
To succeed in this new cloud-driven era, IT Procurement needs a way to fully understand their organization's spend, utilization, and employee sentiment as it relates to SaaS subscriptions. Simply put, the goal of Procurement is to understand all of IT, including SaaS, Cloud, and subscription software. Visibility and cost optimization are top of mind for IT Procurement leaders. 
And this is where Zylo can help. Zylo for Procurement helps: 
Reduce duplicate software and costs.

Take action on your redundant applications, duplicate subscriptions, and underused licenses. These items are wasting valuable spend best invested elsewhere and are ripe for optimization.



Understand user demand.

When you can understand, measure, and monitor software expense trends, you're able to make data-driven decisions to align procurement priorities according to user demand and behavior.



Renew with confidence.

It's hard to know if you should renew if you don't have the data to back it up. With the power of up-to-date user, portfolio, and

benchmark

data, Zylo allows you to handle SaaS at a massive scale. Know exactly when and why it's time to purchase, cancel, or renew an application.



Never miss a renewal.

Never be surprised by a renewal again. The average organization experiences a renewal almost every business day. Proactive alerts will help cover hundreds, even thousands, of SaaS renewal dates so that you can

operationalize your SaaS renewal management strategy.

Make time for strategy.

With so many SaaS applications to manage, it can be easy to get bogged down in the minutia of tactical contracting and purchasing activities. That's why Zylo's

SaaS Negotiator

service is here to help you save time and focus on the larger strategies.



Drive IT Procurement Strategy
For the first time ever, it's possible for IT Procurement to obtain 100% of licensing data and have visibility to put a strategy around it. At Zylo, we believe Cloud licensing can make IT Procurement strategic. SaaS management is a necessity for any procurement team that wants this SaaS visibility – to optimize investment and ultimately govern their tech stack.
Want to learn why? Check out our guide on why procurement needs SaaS management.