Managing SaaS-based licenses in enterprise environments can present a range of issues, especially when attempting to leverage maximum value for a SaaS license purchase. It can present IT managers and software procurement leaders a unique version of a Goldilocks problem.
If the organization purchases too many licenses, a significant quantity will go unprovisioned or unused and create wasted spend.
Purchase too few SaaS licenses and employees may not have the tools necessary to be effectively productive – or they may experience the inconvenience of having to share or reassign licenses frequently.
Saas License Purchasing: A Value-Improvement Opportunity Too Big to Pass Up
Optimizing SaaS license purchases represents an opportunity to improve overall software value. The 2018 BSA Global Software Survey found that organizations can attain as much as 30 percent savings in annual software costs by managing licenses via a robust optimization program. With the average total investment in software now reaching about $4,600 per employee or more, these savings can be quite significant.
How can an IT leader or software procurement professional optimize their SaaS license purchase process so that the amount purchased is the right amount for today's needs and tomorrow's?
To create maximum value for SaaS license purchases, follow these guiding questions:
Who Buys SaaS Licenses?
According to Zylo's latest SaaS Management Index report, one in six employees purchase SaaS applications on behalf of the company. Individually, easy access to SaaS tools can aid employee productivity.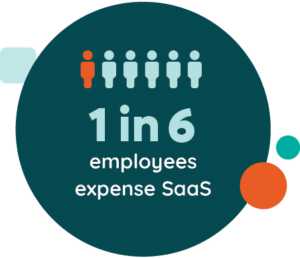 But when this purchasing trend scales across a large company, these one-off employee software purchases can create many issues.
First, they don't take advantage of the full purchasing power of the entire organization. That is, a software procurement team purchasing on behalf of tens, hundreds, or thousands of employees can secure much better terms and rates, thus improving value.
Secondly, individual employee purchases frequently occur through expense reimbursement. This purchase channel can introduce risk by circumventing security vetting or contract review that may take place with direct supplier purchases (such as through a procurement team).
RELATED: The Complete Guide to SaaS Vendor Management
By identifying all buyers currently purchasing software within the organization (and the total spent), technology managers can understand the scope of the need and develop an appropriate purchase plan for SaaS licenses.
Who Actively Uses SaaS Licenses?
The second factor that aids understanding of strategic SaaS license purchasing optimization is grasping the current state of license quantity, distribution, and utilization activity.
At a minimum, it's essential to identify the number of licenses in each of the following categories for every application:
Total quantity purchased
Total quantity provisioned to users
Amount utilized by users in the last 30 days.
If the scope or scale of your tech stack makes this exercise difficult, start by prioritizing a shortlist of the mission-critical applications or those that have the highest amount of spending.
Zylo data shows that in most organizations, only 60% of SaaS licenses see active use within a given 30-day period. This statistic underscores the fact that existing license value can be improved before purchasing new licenses by recycling or reassigning currently deployed licenses.
Without the full picture of SaaS license distribution in these categories, it can be challenging to predict a "right-sized" number of new licenses to purchase at the next contract negotiation or renewal.
How Many SaaS Licenses Will Be Needed Next Year?
Most organizations – and their software budgets – grow year over year. For example, Gartner projects enterprise SaaS spending will increase by 18% in 2023. For this reason, it makes sense to purchase more licenses than the actual current need as a buffer against future growth.
This license buffer can be especially valuable when purchasing mission-critical SaaS tools that command premium costs (for example, enterprise-wide CRMs). Pre-purchasing additional licenses as a hedge against future growth can save costs in the long run since bulk purchases and multi-year agreements can drive down the cost of individual licenses.
What's Lost if Licenses Are Not Pre-Purchased?
IT managers and software procurement professionals should examine what value may be lost if they do not negotiate an "all-in" multi-year purchase agreement. Due to causes such as lack of growth or budget scarcity, legitimate reasons exist for avoiding the purchase of additional license capacity.
It can be useful to complete a side-by-side cost comparison analysis to examine the cost of purchasing SaaS licenses on an as-needed basis versus securing upfront discounts with multi-year purchase agreements or bulk license purchases.
Another alternative to purchasing bulk licenses is locking in favorable pricing for "buy-as-you-go" licenses when creating a purchase agreement.
It's all but inevitable that modern businesses must purchase SaaS licenses as the digital era continues to advance, and cloud-based subscription software becomes the default choice. However, applying the answer to the guiding questions above can help IT managers and software procurement professionals gain maximum value from these must-have tools.