Understanding and assigning application ownership within your organization is a crucial part of managing SaaS subscriptions. Not to mention, having visibility into who is responsible for each application can help you to mitigate SaaS pain points, like SaaS sprawl and shadow IT.
Read on for best practices for assigning ownership of applications and explore how some of our customers are leveraging this function within their organizations.
Getting Started with a SaaS Strategy
When you're revolutionizing your organization's SaaS ownership spread, you need to have a plan. Sit down with your IT department and determine the benchmarks of visibility and optimization you want to shoot for, and 
1. Embrace SaaS as an Essential Component of Digital Transformation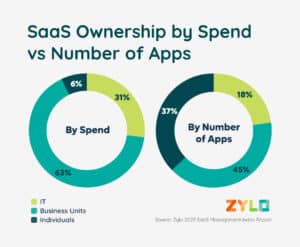 With SaaS playing an increasingly more prominent role in enterprise tech investment, the question of creating an enterprise-specific SaaS ownership strategy has never been more important.
More than 69% of business technology is currently purchased outside of IT. Executive leaders and IT teams responsible for driving enterprise policy should work collaboratively with lines of business to establish new strategic ground rules that enable flexibility within a governance framework. This helps lay the foundation for good SaaS management and governance.
2. Define a SaaS Strategy with Decentralized Ownership
Decentralized SaaS technology's rapid advance demands a new approach to its ownership. Whereas traditional on-premises management models are built around the provisioning and deployment of software via central IT teams, the adoption of SaaS places ownership and management in the hands of separate teams, departments, and even individual employees.
To harness the speed and agility of SaaS for business without creating undue risks for security, data, or budget compliance, IT leaders should own the overall enterprise SaaS governance strategy and monitor application inventories. Meanwhile, they should also allow lines of business to acquire and manage SaaS as needed within a best practices model. This gives LoBs the freedom to acquire what they need while giving leadership the visibility to properly manage SaaS applications.
3. Balance Governance with SaaS Agility
To maintain SaaS applications' unique effectiveness, don't seek to manage all purchased applications. Instead, create tiers of governance and control based on each application's cost and impact across the business. To maintain speed and agility, empower lines of business to responsibly take ownership of vetted technology investments appropriate to their role in the organization.
Then, prioritize the central management of large, sensitive, and strategic applications. One of the most effective tools tech leaders can deploy to avoid SaaS mismanagement is a central system of record that enables the assignment of SaaS ownership and appropriate roles to stakeholders, LoBs, and individual application users.
4. Types of Owners for SaaS Governance
There are three main types of owners you should organize your SaaS governance into:
Application Owners

oversee the administrative functions of the application.

Business Owners

typically manage vendor relationships. 

IT Owners

support the application and manage it throughout its lifecycle.
Depending on your organization, these may be separate roles or combined. Understanding these three types of ownership and aligning your strategy to these axes can be a game-changer. With these classifications, you can orient your SaaS management strategy and ownership with these categories in mind. 
Responsibilities of SaaS Ownership
There are three key responsibilities of SaaS ownership.
1. Collaborate on SaaS Goals
To support decentralized SaaS application ownership across the organization, IT teams and business owners must first agree on a source of truth for SaaS.
Zylo solves the macro-level issue of accurately inventorying an enterprise SaaS portfolio by discovering all SaaS applications purchased and implemented within the business. Then, it continually monitors and updates this system of record.
With a mutual understanding of the current state of SaaS inventory, your team can confidently collaborate on a strategic vision for optimizing the SaaS tech stack. The key here is communication and collaboration.
2. Define Owned SaaS Inventory Attributes
To bolster decision-making toward goals, SaaS business owners can supplement the system of record and the understanding of each application's strategic role in the organization by documenting the attributes of their respective owned SaaS inventory.
Application owners can attribute catalog information such as function types, cost centers, vendor notification periods, actual renewal dates, and projected spending, as well as data, security, and privacy compliance information.
With this information, leaders and business owners can identify governance and compliance exceptions, contain costs by eliminating redundant applications, work toward defining standard applications, and leverage enterprise license agreements where appropriate.
3. Manage SaaS Application Lifecycles
With management best practices and a system of record in place, application owners can assume responsibility for managing the life cycles of their owned SaaS inventory.
Owners retain ownership over purchasing and managing SaaS applications, but use IT-derived best practices for application vetting, onboarding tasks, ongoing measurement of user adoption and usage, and application renewals or off-boarding.
These best practices include discovering initial entry into the SaaS stack, storing contract documents and associated metadata, assigning user-appropriate roles or views for employee-level users, creating reporting around user adoption and sentiment, reprovisioning tools to manage licenses, and a renewal calendar for all applications.
Employee Purchasing Impacts SaaS Ownership and Management
In the grand scheme of planning an overall SaaS strategy, individual employees have little involvement. Yet, as individual buyers in organizations, employees' actions (or inactions) have a dramatic cumulative effect on the quantity and quality of SaaS in your inventory.
1. Give Employees the Big Picture
To be effective, a SaaS ownership strategy must acknowledge this effect and strive to train individual employees on SaaS purchase and adoption policies; compliance with security, privacy, and data standards; and overall stewardship of the technology.
Just as many organizations have placed rigorous controls to maintain cybersecurity hygiene among employees (training sessions on phishing attacks, etc.), promoting good software hygiene is equally important.
2. Ensure Responsible SaaS Ownership
Employees who purchase or manage SaaS applications on behalf of the business have an inherent responsibility to be a good steward of the technology investments they've made.
This includes acknowledging and understanding the risks even freeware or low-cost SaaS applications pose. For instance, when company or customer data is used within an application.
One approach to ensuring responsible SaaS ownership is building a vetting and review process to measure quality control for which new applications enter the overall SaaS inventory.
If and when employees propose a new application to purchase, IT can quickly review the current application inventory to prevent duplicative purchases and vet the application for financial, legal, data, or other compliance criteria, thereby incrementally creating a catalog of trusted applications.
3. Collect Employee Feedback to Inform SaaS Ownership Strategy
Individual employees can also positively influence SaaS ownership strategy by ensuring user adoption, sentiment, and usage information reaches LoB or business leaders. Enabling a continual dialog about what technology works—and what doesn't—can help prevent underutilization and contain costs.
The continued growth of SaaS tools and services with business technology environments represents several distinct and varied challenges. Chief among them is the primary question of ownership. However, with a detailed understanding of inventory, functionality, and spending, defining SaaS ownership can help leverage improved value from investments in SaaS tools.
Evolving Your SaaS Governance Framework for the Digital Workplace
Learn More
SaaS Ownership in Action
One of our enterprise customers has prioritized the assignment and tracking of SaaS owners. By having this data in Zylo, they have full visibility of all owners. Once that was set up, they empowered employee-owners to view Zylo and use its consultative resources to achieve maximum efficiency in ongoing management, optimization efforts, and renewals. These techniques work; you just have to know how to implement them.
To get started discovering your organization's SaaS environment and optimizing every dollar invested, book a free demo of Zylo's SaaS management platform.