For most businesses, software-as-a-service (SaaS) has quickly become a large (and growing) line item. Zylo benchmarks show that the average company maintains 291 SaaS applications. And on average, enterprise companies spend $4,600 per employee per year on SaaS. That adds up!
Of course, that spending isn't for naught. The right SaaS applications improve the efficiency and effectiveness of your employees – and your entire company.
But there's no denying that the growth of SaaS presents some unique challenges to Chief Information Officers (CIOs) and other application technology-focused executives. In this blog, we'll talk about why it's important for CIOs to adopt the practice of SaaS Management.
Warp Speed Evolution: How CIOs Must Adapt to Change
The rise in SaaS has changed the way most knowledge workers do their jobs.
There was once a time when these employees were required to perform their work on a bulky desktop computer, which was tied to a server in the basement of the company's headquarters. But that's no longer the case. Today, these employees can work (and innovate) from just about anywhere.
Then, Covid-19 hit, requiring businesses to hit the gas on their digital transformation to ensure remote employees could remain productive – even when working from home. At many organizations, CIOs were tasked with leading the charge toward fully remote work, which included (quickly) provisioning employees with the applications they needed to do their jobs – including web conferencing, identity management, and VPN applications.
This initial "tool up" is now two years in the past. But SaaS continues to present ongoing challenges for CIOs.
The next challenge for CIOs is to ensure their SaaS application portfolios and their enterprise IT architecture are as effective, optimized, secure, and innovative as possible. And it's not always easy.
Rapid Digital Transformation Has Made it Difficult to Measure ROI
In the midst of the COVID-19 pandemic, many organizations have experienced accelerated digital transformation. This is a good thing. But oftentimes, this transformation is accompanied by an explosion of new SaaS tools and applications. Case in point? Global SaaS spending hit $167 million in 2022 and is expected to grow 20% to $195 billion in 2023. Not to mention, Zylo customer data shows the average enterprise organization is now spending $50 million on SaaS annually.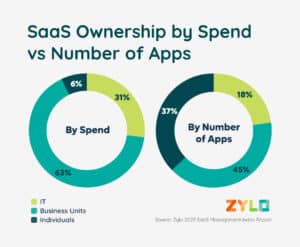 But here's the thing: IT is no longer solely responsible for software purchases and management. Instead, business units and employees are now responsible for 31% of spending – and 18% of application quantity.
The majority of SaaS purchases aren't funneled through the IT department, which means CIOs often lack central visibility into SaaS spending and utilization. And that makes it difficult – if not impossible – to understand ROI and streamline costs.
Great Employee Experience is Essential – But Often Difficult to Deliver
As SaaS has grown, so too have employees' expectations of immediate access to the tech they need or want. Employee experience must be a top priority of technology-focused executives.
But let's face it: it's not always easy to meet these heightened expectations.
If a tech process requires too many steps – or if it takes too long for an employee to get access to a SaaS application – there's a big risk they'll skirt around the established processes to get what they need. For example, let's say an employee needs access to Docusign – and they need it quickly. If your team doesn't grant them access fast enough, they're likely to create a rogue freemium account or even expense their own license.
But it can be difficult to understand how the current system fails and what to do to allow for better employee experiences. This is especially true when you lack visibility into your organization's entire SaaS portfolio.
Striking the Right Balance Between Business Innovation and Risk is Tricky
New, innovative SaaS tools and platforms are hitting the market all the time. And most likely, your employees are often eager to try out these new tools to see how they stack up against their current solutions.
That means SaaS products are continually entering and leaving active use at your organization. But there are security and compliance risks from unvetted applications.
When it comes to SaaS, CIOs are on the hook for managing risk, without slowing down the speed of innovation.
How SaaS Management Gives CIOs Insights into SaaS Spending, Security, and Inventory Rationalization
There's no doubt the rise of SaaS has caused some significant challenges for CIOs. But SaaS is here to stay. But the good news is, CIO SaaS management is proven to help you take control of SaaS chaos and leverage its advantages.
What is CIO SaaS Management?
SaaS is easy to acquire. And that means that in many organizations, it grows uncontrolled.
Essentially, SaaS management is a business practice that aims to reduce the uncontrolled costs and risks of SaaS growth. The practice of SaaS management involves monitoring and managing the complete lifecycle of your entire portfolio of SaaS applications, including purchasing, onboarding, licensing, renewals, and offboarding.
SaaS Management Provides CIOs with Full Visibility Into SaaS Portfolios
A key reason CIOs are adopting SaaS management is that this practice provides them with full visibility into their organizations' SaaS portfolios. This is especially important now, as organizations typically underestimate how many SaaS applications they have by two to three times.
But it's impossible to manage what you can't see!
With SaaS management, CIOs can always access key details for each SaaS application in use, including:
How much it costs
The category and functional use case for the application
Who bought and uses it
When the contract is up for renewal
How it's being used
These insights enablement CIOs to more easily:
Reduce the Risk of Unvetted Applications
Oftentimes, departments and individuals purchase their own SaaS tools – without the involvement of IT. But when there are unvetted applications in use, it puts the entire organization at risk.
By discovering all SaaS applications, CIOs can better manage risk by identifying security risks – and eliminating problematic tools.
Improve Employee Experience and Engagement
CIOS that practice SaaS management have access to a wealth of usage data about the applications in use at their organizations. Those insights (combined with feedback from employees) help CIOs understand which tools work – and which should be eliminated.
When CIOs have access to the right data and insights, they can ensure their teams are using only the most innovative (yet secure) SaaS applications that deliver a high ROI. And of course, providing employees with great tools and processes can dramatically improve both employee experience and employee engagement metrics.
Rationalize, Optimize, and Rightsize Application Portfolios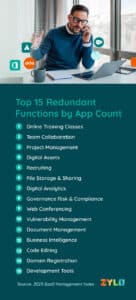 When you don't have visibility into all SaaS purchases, there's a good chance your organization is wasting money. For example, you might have 10 or more project applications with largely identical capabilities. Or you might have dozens of employees with premium Zoom licenses that could get by with a lower (or no) cost tier.
Once you've gained full visibility into your SaaS portfolio, though, it's a lot easier to perform application rationalization, using data to identify the applications that deliver the greatest ROI – and eliminating those that fall flat. For example, you can identify when there are redundant applications in use – and keep those that are most frequently used and loved by employees.
You might also uncover instances when the same application has been purchased multiple times throughout the organization. Or, you can identify employees that don't fully use their premium Zoom licenses – and assign those licenses to someone who will.
How CIOs Can Get Started with SaaS Management
SaaS management is an effective, proven way to ensure employees have the tools they need to do their jobs – while eliminating the unnecessary costs and risk of SaaS growth. So it's no wonder why a growing number of CIOs are adopting SaaS management strategies.
While SaaS management seems like a no-brainer, many IT leaders aren't sure where to start.
Establish a SaaS Management Framework
The first step is to establish a framework and flexible processes for identifying, optimizing, planning, and governing SaaS within your organization. Zylo's SaaS Management Lifecycle is a great place to start, as it was built based on our experience implementing SaaS at more than 100 companies. The four-phase Lifecycle can help you immediately address costs and risks, while also providing a plan for controlled, secure SaaS growth.
Partner with the Right SaaS Management Provider
While it's certainly possible to manually manage SaaS, it's not a practical approach for the majority of CIOs. Managing a large SaaS portfolio is time-consuming – especially at a time when the typical organization has nearly 700 SaaS applications. And because these applications enter and leave organizations on an ongoing basis, manual records become outdated quickly.
That's why many CIOs opt to use a SaaS discovery management solution like Zylo.
The right SaaS discovery management platform can help you overcome the key challenges of SaaS – while ensuring your employees always have the latest, greatest tools they need to succeed.
---
Ready to see how Zylo makes it easier for CIOs to manage SaaS? Get started with a demo of the leading SaaS management platform today.