Unless you're a Teams team or scrappy startup team using a free tool, we're willing to bet you've spent more than a few hours on Zoom this week. At risk of stating the obvious, we'll say this: Zoom user management is more important than ever.
With today's WFH and hybrid work reality and nearly every knowledge-worker-based business operating via Slack and Zoom rooms, the video conferencing tool has become an essential application for business continuity and productivity.
But its wide adoption also presents a unique challenge for IT leaders: keeping Zoom user management under control. Today, managing Zoom licenses is an essential task all on its own.
There's a good amount of flexibility in its Free plans and appealing features of Zoom meetings. This makes video conferencing ripe with unused and underutilized licenses – and a SaaS optimization opportunity.
If left unmanaged and unmonitored, Zoom costs can quickly add up — especially in organizations with hundreds or thousands of employees.
So how do you ensure that those Zoom meetings aren't detracting from your bottom line?
Zoom Role Management Basics
Before jumping into the actual administration of Zoom user management, let's cover the basics: what's included at various levels for the video conferencing application.
In short, Zoom offers a free plan, a Pro plan, and a Business plan*:
A free plan allows users to host up to 100 participants, hold group meetings for up to 40 minutes, and run unlimited one-on-one meetings.
The Pro plan ($149.90/year/user) increases the time limit to 30 hours for meetings, allows social media streaming and gives users 1GB of cloud recording per license.
Finally, the business plan ($199.90/year/user) ups the meeting limit to 300 participants and adds recording transcripts, managed domains and company branding to the mix.
*Zoom also offers a Zoom United Business plan, which pulls in its phone and chat features in addition to the video conferencing software.
Rightsizing Zoom User Licenses
Yes, Zoom has specific pricing tiers in place. But you shouldn't feel like you have to go a certain route just because your company is a certain size. You can make Zoom (or any other video conferencing application) work for you and your priorities.
One major example: throughout the COVID-19 pandemic, ViacomCBS actually cut its Zoom costs instead of increasing them. The company cut what it was spending Zoom licenses by 32% last year — all because of its priorities.
"From the top down, our CTO wants assets, both hardware and software, to be managed correctly, because he realizes that when we do this, we get our ROI," said James Moy, global senior director for technology asset management. "We became very aware that instead of cutting people, you can actually make large savings off software by managing what you spend on it without having to cut resources or lose jobs."
How did ViacomCBS make such a dramatic change in what it was spending on Zoom licenses?
By differentiating between Zoom user types and rightsizing its license based on (you guessed it) Zoom licensed users. Moy says they took a few steps to get to the 32% in savings:
Identified 289 pro users who were not using the paid accounts at all.
Uncovered 459 Zoom Pro users who were underutilizing the licenses — meaning they weren't holding meetings that were longer than 40 minutes.
Put up a 're-harvesting rule' that reallocated employees' Zoom licenses if it went unused for 90 days.
Altogether, the company harvested 5,500 licenses and saw huge savings in its Zoom user management.
Set Up Your Zoom Admin Dashboard
With an understanding of both Zoom license pricing and how you can proactively rightsize your Zoom licenses, you can use your Zoom admin dashboard to run Zoom user management on a regular basis.
In short, your Zoom admin dashboard gives you details on utilization, privacy, and performance across all your users.
You have two options on this front: the admin dashboard you get within your Zoom account, or a dashboard within Zylo that connects to all your other application management information.
Zylo's Zoom admin dashboard (which integrates directly with the video conferencing platform) makes it possible to view the same utilization, privacy and performance metrics found on the main admin dashboard from Zoom — but from within a SaaS management platform designed to help businesses reduce spending and risk.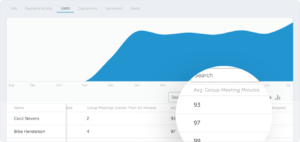 In a phrase, integrating Zylo with your Zoom admin dashboard means that you can review, update and communicate user management changes in a single workflow. Zylo's Zoom-specific license management workflow brings together the recommendations above into a more intuitive process:
Review underutilized and unused Zoom licenses, opening opportunities for downgrades and reallocation.
Communicate with your Zoom users (about approvals, denials and changes to the user account) directly from the same platform.
Confirm changes to individual user accounts from the Zylo license management dashboard — changes will appear in real-time.
This Zylo + Zoom integration identifies users, displays each user's respective license; and reveals Zoom-specific, difficult-to-find utilization information.
---
How are you managing your Zoom user licenses? Read more about Zoom license management with Zylo.