It's been another amazing (and crazy) couple of months at Zylo. We were named one of America's fastest growing companies by Inc. 5000, hosted a wildly successful SaaSMe (you can still join the afterparty), and had enlightening  in-person conversations around the challenges of managing SaaS at Gartner's IT Symposium and Okta Oktane. 
All the while, our product and engineering teams have been hard at work on building new features and functionality that make our customers' lives easier. Today, we're announcing the latest product updates. Keep reading to see what's new to Zylo's SaaS Management Platform and how these features can be used to help IT, Procurement, and Finance leaders more efficiently manage costs and mitigate risk. 
Never Ask "Who Owns This App?" Again
SaaS is owned by everyone across the business, from IT and department heads to team leads and individual employees. Ownership of these tools is of the utmost importance. Without it, adoption suffers, security risks linger, and renewals well, they renew, without any oversight. This results in unmitigated risks or wasted spending on unused SaaS and overpriced renewals.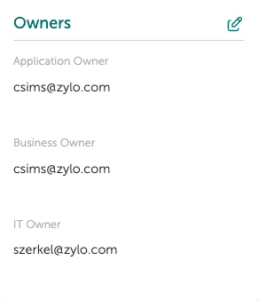 Never ask "Who owns this app?" again. Zylo has made it easier than ever to identify, assign, and manage ownership of your SaaS applications to make sure your SaaS management stays on track. App Owners lets you filter and search by application owner to ensure this information stays up-to-date.
As people change roles and leave jobs just about every day, it's never been more important to ensure SaaS ownership is managed. With App Owners, you can always know the go-to person to answer questions like:
Why are we using this application?

Why did expenses increase in July?

Should we renew this application?
Keep Your Budget on Track with App Budgets
Planning and budgeting season is well underway. Next up, budget tracking. For many application owners, this looks like exporting data and pulling it together in a spreadsheet to see how their spend is tracking against their budget. 
Say goodbye to spreadsheets. Zylo's App Budgets tracks your SaaS budgets at the application-level, comparing actual spend against your budget to see how your spend is pacing. All you have to do is import your budget into Zylo. 
Are you at risk of running over budget? Maybe you need to increase a purchase order because you're close to going over. Are there unused licenses to reallocate instead of buying more? When you know how much you have to spend, you can spend smarter.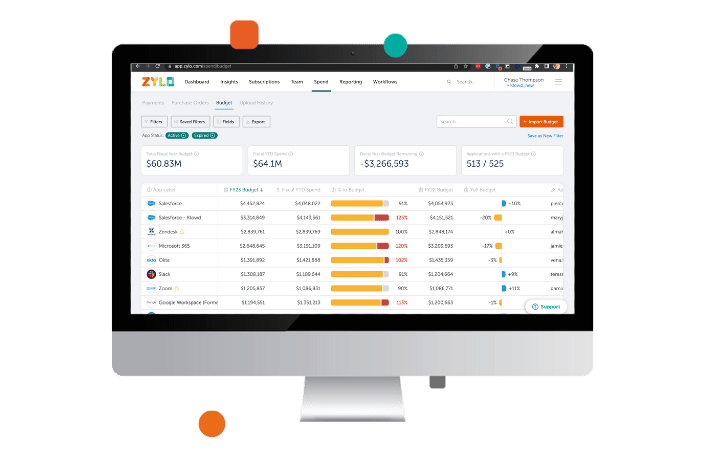 Understand the Risk Associated with Your SaaS Stack
In addition to cost and functionality, risk is an equally important factor when it comes to purchasing SaaS. IT teams need insight into the compliance certifications of each application in their SaaS stack to mitigate risk and ensure their security requirements are met. 
Security Detail brings to Zylo an application-level view of the most important security and compliance information to help you identify risk and make confident renewal and SaaS purchase decisions.  

This information is typically buried in SaaS vendors' websites. Finding, recording, and maintaining it can take hours.  Zylo's does the heavy-lifting for you and puts this information at your fingertips, so you don't have to go searching for it. The security certifications are surfaced right in Zylo's Subscriptions grid for viewing, reporting, filtering, and analysis, so you can: 
Ensure recently discovered applications meet your compliance requirements

Prepare for audits, like ISO or SOC2, and know which applications are not compliant

Know which apps are GDPR compliant if you're expanding your geographical footprint 
This Is Only the Beginning…
From Zylo Benchmarks to the Fall Release, we've delivered powerful innovations this year to help organizations transform the way they manage and optimize SaaS. But we're not stopping there. We can't wait for what's to come.
If you're an existing Zylo customer, the updates above are waiting for you in Zylo. Contact your SaaS consultant with any questions. If you're not a current customer, book a demo today to see Zylo in action and how it can help you control costs and manage risks across the business. With a little help from Zylo, you can finish the year strong and start 2023 with your best foot forward.