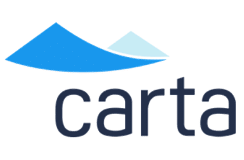 industry: Software
founded: 2012
headquarters: Palo Alto, Calif.
employees: 800
Key Outcomes

Full visibility into SaaS portfolio
Identified cost savings via utilization analysis & rightsizing
Improved renewal planning & negotiation
Established employee self-service for SaaS tools
Challenge 1
SaaS Visibility and Purchasing Hygiene
There are certain go-to tools you carry with you from one place of employment to another, because you know they've proven effective in previous roles. For Hugh Drinkwater, head of Procurement for Carta, Zylo is one of those tools.
Carta creates more owners. Its innovative cap table software enables private and public organizations to issue and track equity ownership amongst employees.
But even though he leads purchasing for all categories, Drinkwater says software is the largest and most impactful sourcing category at Carta. "Software is definitely one of the biggest categories in terms of expense – it's got the most suppliers and touches every single area of the company."
And not only has software become a mission-critical expense for nearly every modern business, the number of buyers has also increased due to the ease of acquisition. These trends shifted Procurement's role at Carta from that of the traditional single, centralized purchasing agent for the business to a curator, manager, and optimizer of purchases made company-wide.
"It's never been easier to acquire and purchase software as an employee: Swipe a credit card and you've got a subscription," Drinkwater says.
Without a comprehensive way to evaluate the organization's current inventory of SaaS applications and usage, Drinkwater knew it was nearly impossible to track SaaS applications across Carta's environment. Luckily, he experienced firsthand the benefits of deploying a SaaS Management solution, Zylo, prior to joining Carta.
"[At my previous company], we had a growing list of applications and it was very chaotic managing them and understanding who used them," Drinkwater says, adding that spreadsheet-driven tracking and analysis using data extracted from expense management systems became outdated quickly. "I looked into the capability of Zylo and I saw that it was not just a really good IT asset management tool, but also a great tool to help with software renewals and optimizing software expenditure and investments."
For Drinkwater, increasing SaaS visibility became a Procurement best practice during his tenure at a previous organization. "People bought whatever they wanted before the purchasing team arrived," he says. "And software didn't go through security review or get approved financially, so we had a huge proliferation of apps."
The visibility provided by a SaaS Management platform empowered his former employer to reduce wasteful spending by highlighting duplicate purchases and unneeded applications. It also made it possible to identify applications that hadn't undergone security or compliance reviews, which led to a stronger security posture overall.
He brought these best practices and their outcomes to Carta when he joined the organization in 2019.
Challenge 2
Identifying Opportunities to Reduce SaaS Spend
Using Zylo's direct integrations into essential business applications, the Carta team analyzed its core business applications to better understand how employees used them.
"We identified multiple opportunities with multiple apps where we could save money. Those direct integrations allow us to get a lot more in-depth data on how applications are being used, and eliminate licenses that were not being used or were underutilized," Drinkwater says. "Before, you had an idea of what was being underused, but you didn't have good, actionable data. Zylo enabled us to prioritize our optimization opportunities."
The Carta team utilized Zylo to discover the full breadth of its SaaS environment. Within weeks of deploying the SaaS Management platform, Carta's purchasing team had identified more than 200 unique SaaS applications within use throughout the business.
Following the initial discovery phase of deploying a SaaS Management framework, the Carta procurement team used Zylo to drill down into applications that presented significant cost-cutting opportunities.
For example, when the Procurement team evaluated its primary web conferencing application instances using a direct integration to Zylo, they found that about 25% of the licenses purchased had not been provisioned to users. Another 14% of the application's users had been provisioned with premium features, but never used them, creating the opportunity to downgrade their accounts with no loss of used features.
Combined, identifying under-utilization presented Carta with the opportunity to save about $18,000 on one web conference application alone. Using the Zylo License Workflow feature to reap these savings, the Procurement team has the ability to automatically email and receive responses from identified users with low utilization and pull back these licenses.
And the savings opportunities didn't end with video conferencing; examining utilization of specialty SaaS applications yielded cost savings, as well.
When the Procurement team analyzed user logins and utilization of their IT alerting and incident management platform, they discovered that 36% of provisioned users hadn't logged in more than 90 days. Rightsizing these licenses by returning them or renegotiating at renewal time presented Carta with the chance to save more than $15,000.
The same logic applied to its CRM, an essential SaaS application for any company with significant sales, marketing, and customer success operations. When the Procurement team examined Carta's CRM application instance, they found much lower underutilization rates. Only 3% of Carta's licensed CRM users showed no historical login activity or no logins in 60 days or more, but this represented an opportunity to save approximately $18,000 in unnecessary costs.
Challenge 3
Fueling Renewal Negotiations
Identifying rightsizing opportunities for SaaS applications leads directly to more informed negotiations at renewal time, Drinkwater says.
"Now we can approach our CFO and say, 'Look, we know in six months we're going to have a license optimization opportunity and we know exactly how much savings it's going to be before we even do it,'" he says. "Managing SaaS with Zylo has helped us plan for renewals and have a lot more ammunition going into those conversations with vendors."
With ample forewarning, that ammunition can include commissioning an RFP process to evaluate SaaS applications or vendors that provide the same or similar tool functions, ensuring that despite reducing license counts or features, pricing remains competitive.
Challenge 4
Ensuring SaaS Security and Compliance
The Procurement team at Carta was also enabled to introduce new policies and procedures for requesting and acquiring SaaS applications.
Carta created an ecosystem where employees are provided ownership to their SaaS applications access by deploying the Zylo App Catalog. This ensures that all employees can access and understand the full inventory of SaaS products available to them through existing purchases or agreements, preventing shadow IT outcomes such as duplicate purchases and redundant functionality.
"The App Catalog allows us to make the inventory available organization-wide and gives visibility into the apps we already have that can serve people's use cases," Drinkwater says. "For us, that means we're no longer getting bombarded with requests for apps we already had, or an app that has very similar functionality to another app – that's very useful from a visibility perspective and from a spend management perspective."
This new, more secure avenue of SaaS acquisition for Carta employees plus tangible cost savings make Zylo and SaaS Management a defensible repeat investment.
"The most meaningful thing for me is getting multiple returns on the investment and delighting our users with the App Catalog," Drinkwater says. "We've already identified the savings opportunities that completely repaid the license cost of the Zylo investment, so I'd say Zylo is a no-brainer."