Purchasing new software is often a cumbersome journey. First, you have to identify the prospective software. Then, you evaluate the benefits and costs of all your options. And, last, you need to get your CFO to say "yes." 
When it comes to a SaaS management platform (SMP), how do you prove that to your CFO and secure the necessary budget? You need to make a compelling business case to show why spending on this new software is beneficial and important.
Before we jump into building your business case, let's get inside the head of your CFO. What are they thinking about on a daily basis? Doing so will set the stage for success.
Get Inside Your CFO's Mind
Being a financially-minded individual, your CFO's love language – if you will – are facts and figures. But they're also a strategic leader who impacts all areas of the business.
There are five key challenges they're looking to solve:
Visibility and predictability.

You can't manage what you can't see, and CFOs understand this. Be emphatic about the visibility that a SaaS management platform would afford your company. Discuss the complexity of an invisible SaaS stack and how visibility is necessary for proper SaaS management. Then, you can hit on the budgetary predictability offered by the visibility of the SaaS stack.
Accuracy and control.

Since SaaS management platforms allow you to visualize your SaaS stack, it gives you far greater accuracy as to budgeting for SaaS and negotiating renewals. This accuracy, in turn, grants you better control over your SaaS stack and the spending present therein.
Value and efficiency.

SaaS management platforms can handle many aspects of SaaS management in a single application. A well-made, purpose-built SaaS management platform is one of the most valuable and efficient purchases your company can make, so emphasize that to your CFO!
Scalability.

SaaS management platforms scale to your SaaS stack so that they grow with your business and SaaS management needs. Most other SaaS management solutions don't have this scalability, or enterprise-readiness, so note the versatility and usefulness of a management platform.
Optimization.

CFOs care deeply about the bottom line. You want to highlight how a SaaS management platform is more immediately optimal than your current SaaS management system while also emphasizing how much long-term optimization it will enable.
Steps to Secure Budget from Your CFO
Once you understand what your CFO is constantly thinking about, you can begin to build your business case. Generally, you need to get the CFO to see things from your perspective. 
"It is important to educate the CFO on the magnitude of the problem and be very specific on the size of the opportunity," said Jason Leet, CFO at Zylo. "I think that will go a long way in getting the CFO's approval and support." 
Your business case should depict big-picture benefits with specific examples and data.
Step #1: Start with Desired Business Outcomes
A CFO has to think big picture and lay out priorities for budget spend. Your business case needs to show how a SaaS management platform supports and drives those business outcomes.
Depending on your organization, those outcomes could be anything from increasing revenues and improving customer satisfaction to driving innovation and/or reducing expenses and risk. 
For instance, if you're hoping to increase revenue, you can share how SaaS management helps you reduce operating expenses (OpEx). 
Our customer, Gibson Schnurr at Juni, said it perfectly on a recent podcast episode. "The more ability you have to optimize, make your solutions scalable, you're better off cutting some of your costs to increase your profit. And it's cheaper than increasing your profits by increasing your revenue. 
The cost of customer acquisition can be quite high versus the cost of optimizing your tech stack, and I think that's where you can really impact your bottom line."
In tandem, expect to explain what solution you have in place today and why it doesn't work. (To get you started here are some reasons why it's time to retire that spreadsheet.)
If you've already spent time and/or money on current solutions for SaaS management, your CFO might be loath to give you even more budget for something new. You need to outline the current system and highlight exactly why it isn't working.
Step #2: Understand Your SaaS Portfolio's Current State
To secure budget for a SMP, you need to highlight the current state of your SaaS stack and use that empirical data to highlight the problems to your CFO. 
You'll want to compile how many applications you have in your stack and how much you're spending on them. Those are the numbers that matter to your CFO. 
Get together all the data that you can – even if you know you may not be capturing all of it. That lack of visibility can be another point to emphasize.
Comparing what data you do have to benchmarks may highlight the gaps to your CFO. Some notable stats to emphasize are:
The average company has 291 applications and spends $50 million on SaaS annually. You can see how that pans out for different size organizations in the visual below. 

The individual employee is typically responsible for about 6% of an organization's SaaS by spend; however, that equates to 37% of application quantity. There's a big gap between what you know versus what you don't.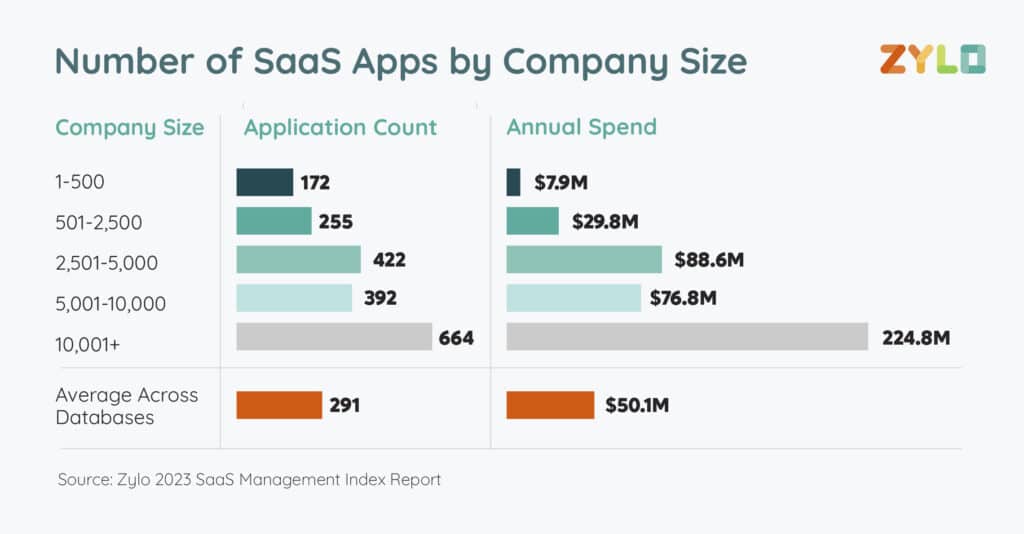 Step #3: Explain the Scale of the Problem
Use the data you've gathered – and the data you couldn't gather – to highlight that current SaaS management is a problem. And, if it's a problem now, it's only going to get worse. The longer you go without a SaaS management platform, the harder that lack of management becomes to address.
Gartner has shared pretty compelling data on how this issue is developing:
SaaS spending will grow 15-20% annually.

Organizations that fail to centrally manage SaaS life cycles will remain 5 times more susceptible to a cyber incident or data loss due to misconfiguration.

The organizations that fail to address this will overspend on SaaS by at least 25%.
Step #4: Compare Current State with Potential Futures
The next step to help you secure budget is to showcase all your options. Highlight the potential benefits of SaaS management platforms against the potential risks of running without them. Then, compare that with the current state of your SaaS management. Identify what processes and tools you're using today and why they don't work.
For many, the current state means using a spreadsheet to track and manage SaaS. These are impossible to keep up to date. 
Karen Hodson, the Global Procurement and Real Estate Officer at Marigold, explained, "The challenge is, inevitably, the moment you create those spreadsheets, they become outdated." 
Then, outline the potential future states or solutions and what outcomes you can expect from them. Last but not least, emphasize the risks of not taking those routes.
Step #5: Share the Expected Return and Time to Value
Quantify the value that a SaaS Management platform can help your organization achieve and then build a timeline for when that value will be realized. Specifically, help your CFO understand what you expect the payback period to be and outline the long-term benefits as well.

The larger your organization and the larger your SaaS portfolio – the larger your potential software savings and ROI. To give you an idea of your savings potential, consider the fact that the average organization today wastes 44% of their SaaS licenses. Here's what that looks like when you translate those numbers into spend:
1 – 500 employees: $1.7 Million 

501 – 2,500 employees: $7.8 Million 

2,501 – 5,000 employees: $21.8 Million 

5,001 – 10,000 employees: $32.8 Million

10,001+ employees: $87.9 Million
We've seen organizations save millions in just months. Here are a few examples: 
Versapay

identified that they were overspending on their SaaS by 30% and reduced software spend by 16% in the first 12 months

REA Group

identified more than $550,000 in potential savings across their top software applications.

Adobe

unlocked $60 million in cost savings and avoidance
See how other companies are using Zylo's SaaS management platform to achieve their business objectives.
Secure Budget for SaaS Management with a Better Business Case
SaaS management is a team sport. Position a management platform as an opportunity for Finance, and highlight the benefits your CFO would enable by approving a budget. 
Russell Lester, CFO at Versapay, has implemented a SaaS management platform at his current and last two companies. In his experience, "It's an opportunity for the finance team to be the hero to identify where there's leakage or wastage in the system."
See why other organizations use a SaaS management tool to drive business results. Schedule a demo with Zylo today.