If an organization fails to continue innovating with technology and halts conversations about new SaaS applications, how would it affect the company's future? Would it remain competitive? 
For most CEOs and C-Suite executives, subscription-based software has become irreplaceable and a fundamental part of their ability to connect with employees, customers, partners, vendors, prospective customers, and so on. By providing their teams with quick access to the tools they need to innovate, businesses scale faster. Without these technologies, an organization would lose its ability to compete in the market.
Similarly, once a company begins to invest in SaaS applications or subscription-based software of any kind, it becomes woven into the fabric of how the company conducts business. 
A software spend shift from a fixed capital expenditure (CapEx) — as was the case with on-prem tools — to an operational expense (OpEx) reveals this. It's largely due to the fluidity of SaaS acquisition. According to Zylo data, today's larger organizations maintain more than 600 applications and can see as many as 10 new SaaS tools enter their environment every 30 days. 
According to Gartner, "These trends are broadly illustrated by an increase in the ratio of OpEx in overall IT budgets, from 70% in 2014 to 77% in 2020. About half of IT and financial management leaders report their OpEx versus CapEx ratio significantly increased over the last three years with the use of public cloud."
With strong staying power, SaaS adoption continues to grow rapidly. Gartner forecasts end-user spending on SaaS to reach $176 billion in 2022, a 16% increase from 2021. To keep up, modern organizations must rethink IT budgets.
Subscription-Based Software Shifts Focus for IT Departments
While SaaS and subscription-based software is becoming more ingrained into every level of activity across their organization, IT departments face the largest impact. The CIO and IT teams decreasingly need to deploy software and manage services themselves for all on-prem software. The revolution of SaaS allows IT to focus on optimization and strategy, rather than the tactical nuances.
In addition, the rise of usage-based pricing models for SaaS saves dollars and equips IT departments with valuable data they didn't receive from on-prem software. Instead of paying a set cost — regardless if an employee ever uses the tool — organizations pay software companies by consumption. Data utilization metrics help to demonstrate a return on investment and clearly articulate the value of the SaaS tool or software, justifying spend and budget increase requests.
How Organizations Are Allocating IT Budgets
If SaaS has become irreplaceable to the enterprise organization, then how has it affected budget distribution and planning for C-Suite executives? How are they allocating their budgets differently to account for software and subscription-based growth — or are they?
Despite economic uncertainty, worldwide IT spending is projected to total $4.6 trillion in 2023, an increase of 5.5% from 2022, according to the latest forecast by Gartner.
"Macroeconomic headwinds are not slowing digital transformation," said John-David Lovelock, Distinguished VP Analyst at Gartner. "IT spending will remain strong, even as many countries are projected to have near-flat gross domestic product (GDP) growth and high inflation in 2023. Prioritization will be critical as CIOs look to optimize spend while using digital technology to transform the company's value proposition, revenue and client interactions."
As illustrated in the below chart, the highest growth categories projected for IT spend in 2023 are software and IT services, with 12.3% and 9.1%, respectively.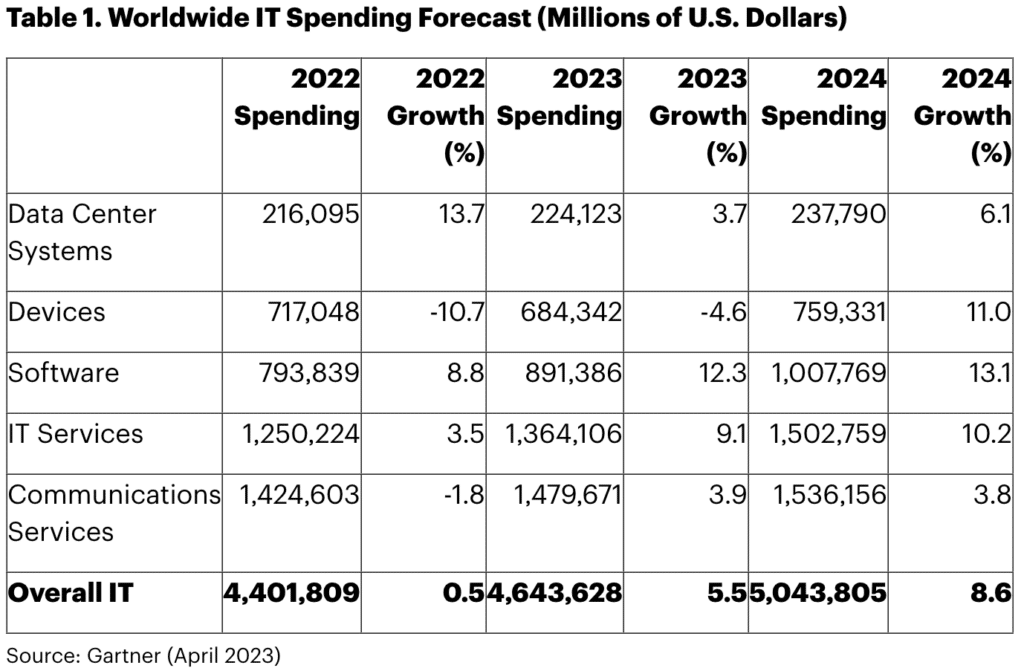 Put simply: SaaS has become irreplaceable for companies across all industries. In fact, CFOs and CIOs are allocating more budget than ever to subscription-based services. As we mentioned in a previous post, "SaaS costs are on the rise, and it's only going to continue growing as a line item in your company's budget.""
The Challenge of SaaS Growth
Zylo's 2023 SaaS Management Index found a 26% decrease in IT SaaS spend ownership and a 28% decrease in SaaS application ownership over the last three years. Business units now own 63% of SaaS spend, a 16% increase, and individual SaaS spend increased 50% — from 4 to 6% over that same time period. This decentralization of software forces IT departments to collaborate across the business on budgets.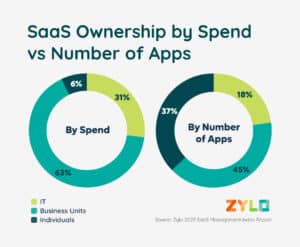 This becomes challenging when anyone in the organization can acquire tools with the digital swipe of a credit card. IT and finance teams may not even know their organization committed to spending a certain amount with a vendor until the invoice hits their desk. 
Zylo's new integration, Purchase Order Management for Coupa, solves this by providing visibility into spend before the invoice actually arrives. With insight into your upcoming obligations and unused spend, IT departments can proactively plan and manage their dollars. 
SaaS applications are irreplaceable to organizations and they continue to grow their inventories at incredible rates. The pace certainly hasn't slowed over the past decade, and won't be doing so anytime soon, as organizations rely on the "Subscription Economy" more than ever before — and for many positive reasons.
In the face of the positive changes and growth, CFOs, CIOs, and CEOs must ensure their organizations manage and optimize their subscription-based services in order to gain full visibility into utilization, spend, and feedback. It ensures their budgets provide the best impact to their bottom lines — especially as budgets are being closely monitored.
And while ownership is no longer solely in the hands of IT professionals, it still frequently falls upon IT to pinpoint each tool's cost, ownership, and effectiveness for the business as a whole, and forecast for the future.
How is your organization allocating IT budgets for SaaS spend — but more importantly, managing the outcomes? 
Want more? Learn how to create more accurate SaaS application budget forecasts.