With worldwide IT spending on the rise — projected to total $4.5 trillion in 2022, an increase of 3% from 2021 – IT leaders and CFOs face a monumental responsibility to accurately manage and allocate those funds. But rapid SaaS usage complicates the process by decentralizing software acquisition and ownership.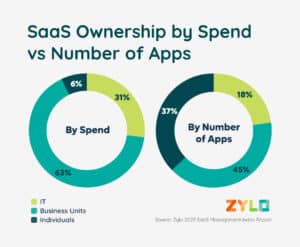 For example, Zylo's 2022 SaaS Management Index found a 26% decrease in IT SaaS spend ownership and a 28% decrease in SaaS application ownership over the last three years. Business units now own 63% of SaaS spend, a 16% increase, and individual SaaS spend increased 50% — from 4 to 6% over the same time period. Put simply: You can't budget for what you can't see.
This proved true for Versapay VP of IT and Internal Systems Ryan Johnson. 
"We were going into budget planning for 2022, and we believed we had an understanding of what the actual software budget needed to be based on what we thought we were consuming," Johnson says. "But then we brought in Zylo, and it ended up we were actually spending 30% more than we thought because of a lot of unaccounted spend happening throughout the organization."
Even if your company's SaaS application budget has been determined, re-examining SaaS application spending helps to reveal hidden cost containment and savings opportunities – improving budget forecasting accuracy.
How Versapay Leverages Zylo's Platform and Managed Services to Take Control of SaaS
Learn how Versapay's IT team taps into the Zylo platform and a dedicated SaaS management resource to optimize its SaaS portfolio and drive cost and time savings.
Learn More
SaaS Budget Forecast: Identify Current Spending Sources
In his guide to practical IT management in modern business, "Truth from the Trenches," seven-time CIO Mark Settle notes an obvious but often under-emphasized aspect of optimizing the financial management of technology. "Sound financial management ultimately relies on timely and accurate financial information," Settle wrote.
Creating an accurate understanding of the current state of affairs for SaaS-based software spending in your organization offers the first step toward accurately forecasting a SaaS application budget. In general, because they are easy to acquire, simple to deploy, and frequently utilized by users of all skill levels, SaaS applications quickly become hidden or obscured.
With that in mind, answering these three critical questions can determine the current state of spending:
Who:

Who owns the applications?

Where:

Where does spending occur?

When:

When does spending occur?
Identifying Application Spending Ownership
The IT department no longer solely owns technology spending for business tools and software. According to Zylo's 2022 SaaS Management Index, 82% of SaaS spend is owned outside of IT. Business units have more choices than ever for new business tools, as cloud-based software and SaaS have evolved and flourished as highly specialized verticals.
For example, consider the increasing myriad of marketing technology tools. In 2011, 150 digital tools were available to marketing leaders. Today, the number of tools available to marketers is nearly 10,000 applications. Specific tools for human resources, finance, and other business unit functions have followed similar trajectories.
But while ownership is no longer entirely in the hands of IT professionals, it's frequently IT's task to pinpoint each tool's cost, ownership, and effectiveness for the business as a whole.
Zylo's SaaS consultants recommend using financial transaction records as the source of truth for application ownership. For many organizations, this is the most universal form of record-keeping. The benefit is that nearly every application introduced to the organization is typically purchased, creating a paper trail. Sifting through large volumes of financial data may, however, prove daunting.
How to Discover Ownership
The average organization has 291 SaaS applications in its portfolio, making it nearly insurmountable to manually track contract, spend, user information, and renewal dates. 
A SaaS discovery and management tool such as Zylo's, which uses machine-learning algorithms to detect every instance of SaaS with nearly 100% accuracy, increasingly becomes necessary when attempting to extract SaaS transactions from large volumes of data.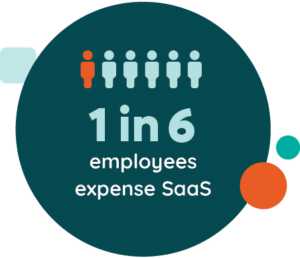 The process tracks application ownership down to the individual business unit and employee. While application purchases may be led by line of business leaders, employees also contribute.
A recent Zylo data study shows 15% of employees at the typical enterprise purchase SaaS applications on behalf of the company using expense reimbursement. As a result, many tools go underutilized or even outright abandoned – resulting in wasted spend.
Identifying Spending Channel Mix
For most businesses, it's no surprise most SaaS application spending falls into two categories: 
Direct supplier purchases

Purchases sourced from company credit cards and expense reimbursement
But when it comes to SaaS spending, what can be surprising is the number of applications acquired by employee-led spending, which is more than half, according to Zylo research.
While the transactions associated with employee-led software spending typically cost much less than transactions created by direct supplier purchasers — $570 on average for employee spending compared to more than $37,000 for an application that originates from a direct supplier purchase — understanding this mix proves crucial to planning future SaaS application spending and minimizing unplanned costs. Employee expense purchases are typically unforecasted events, so any effort to prevent or reduce them (when feasible) ensures a more accurate budget.
Document Spend Timing by Pinpointing SaaS Application Renewal Dates
The average organization undergoes at least one SaaS application renewal every day, according to a Zylo data study. Frequently, these renewals result from automatic renewal policies that may only be located in the original purchase agreement or contract. When undiscovered, unmanaged, and unplanned, automatic renewals wreak havoc on software and SaaS budgets.
The remedy: As mentioned above, it's first essential to discover every SaaS application or subscription currently in use within the organization. With a complete inventory, it's then possible to identify individual owners and scour purchase agreements (or other application details) to find renewal dates.
Adding renewal dates to a calendar and then proactively planning renewal strategy can help technology leaders and application owners avoid unplanned costs, which improves budget accuracy throughout the year.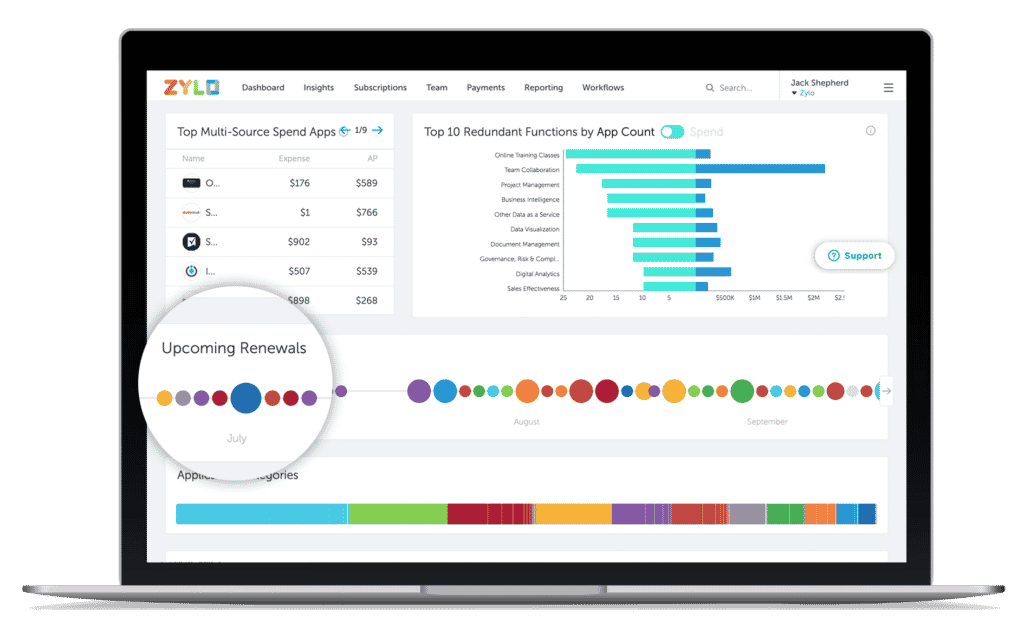 SaaS Budget Forecast: Determine Future Spending
The second step in determining your SaaS budget forecast is to think about your future spending. By 2026, Gartner predicts that SaaS spend will continue to grow by 15-20% annually. Organizations that fail to attain centralized visibility and coordinate SaaS life cycles will overspend on SaaS by at least 25%.
The 2022 SaaS Management Index, based on more than $30 billion in customer SaaS spending managed by Zylo's SaaS Management platform, showed a trend of lowered spend. While these are organizations who are actively managing software with the help of a SaaS management tool, it takes an ongoing effort to keep that spend at bay. Take your eyes off it, and you're likely to see chaos creek back in.
While every company's spending trajectory for cloud tools like SaaS will be unique, one constant holds true: Few if any companies will spend less year over year for cloud-based subscription software.
If the discovery process mentioned in the previous section can uncover financial data for software transactions over multiple years, charting a growth curve becomes more manageable.
If not, it may be tempting to forecast next year's budget based on a flat rate, such as the average 16% year-over-year increases noted above. However, consider the following cost-inflating factors to increase budget forecast accuracy:
Increased need for new applications, application quantity, or for increased headcount or new initiatives

Sunsetting or offboarding of existing tools

Renewals of mission-critical applications that command significant investments, especially following multi-year terms

Contractual price elevators or price increases for surpassing per-license or per-seat price brackets

Mergers or acquisitions
How the Zylo Discovery Engine Powers the Most Comprehensive SaaS Management Platform
Learn More
SaaS Budget Forecast: Increase Budget Accuracy with Savings
Accuracy is yet another key aspect to ensuring your SaaS budget forecast is helpful. Considering increased SaaS spending is virtually a given, optimizing and extending the value of currently deployed tools is a required exercise for budget forecasting. Ideally, while every business will experience a growth curve of increased spending, that growth curve can be flattened by identifying and managing previously unplanned or unmanaged spending.
Today's CIO strives to transform IT from a cost center to a revenue generator by maximizing SaaS investments to find savings.
"CIOs are helping drive innovation to break down silos across the organization and create new value streams," says IBM CIO Kathryn Guarini. "They serve as connectors across business functions and are engaging more with the CEO to develop technology strategies that drive agility and efficiency, and, ultimately, lead to business growth."
The distributed nature of SaaS applications and ownership can be problematic, but the same characteristics make it a target-rich environment for leveraging cost savings. Similar to strategic renewal planning, these cost savings and value optimization opportunities, once undertaken, can enable more accurate budget forecasting.
Here are a few – but not all – of the ways deploying a robust SaaS management strategy can lead to cost savings on current tools and more accurate forecasting:
Reduce Spending "Leakage" through Shadow IT Discovery
Discovering shadow IT and its sources (such as employee-led acquisition) helps evaluate spending sources and informs the creation of future software sourcing, acquisition, and deployment processes. For example, prohibiting employee expense reimbursement for software and creating a review board can effectively reduce unmanaged spending.
Standardize Widely Used Applications
Competition is a natural force in the organic evolution of the SaaS tool market, and users often have the luxury of choice among multiple applications to solve business problems. Specific verticals, such as web conferencing, productivity tools, and collaboration and messaging platforms, are exceptionally competitive. 
"When I've been a part of SaaS businesses and startup and scale-up organizations, you often have six or seven project management tools. You have four or five collaboration tools. You have Zoom, Slack, all these different solutions," says Chris Ortega, CEO at Fresh FP&A and Fractional CFO. "That's a greenfield opportunity that a lot of CFOs can get immediate cash flow impact and big wins that don't necessarily need a big swoop of cost-cutting measures around your people."
Consolidating this competition by standardizing around a single duly chosen application not only eliminates confusion and friction but can also lead to savings.
Seek Enterprise License Agreements
Once an application has been selected and subsequently standardized, existing disparate user licenses (such as those acquired under employee-led acquisition) should be consolidated under an enterprise license agreement (ELA).
ELAs are preferable because they leverage the purchasing power of the entire organization and enable discounts not available to individual end-user license agreements (such as multi-year agreements), which lead to reduced per-user costs.
An additional benefit from ELAs includes the ability to negotiate other contract terms, such as enhanced security or privacy terms.
Examine Utilization and Evaluate SaaS Application Standing
Examining end-user utilization frequently reveals cost savings. Under-utilization of provisioned licenses or seats diminishes application value that, once identified, can be recouped by pulling back provisioning and redeploying to users who are more likely to utilize the application. If under-utilization is widespread (i.e., a majority of users do not use it effectively), eliminating the application altogether (and therefore its cost) can yield savings.
Accurately examining the entire picture of SaaS application spending, including discovering sources of acquisitions, spending channel mix, and renewal planning, enables technology leaders to more accurately forecast spending and deliver cost savings.
These actions and more become available only when these leaders commit to enacting a robust SaaS Management strategy.
"Companies follow due diligence and process when looking at their revenue and people strategies," Ortega says. "You should take that same diligence into your operational SaaS spend, and partner with tools like Zylo to help you on that journey."