Cory, Vice President of Services at Zylo, comes from a heavy procurement background with positions held at Salesforce.com, Takeda Pharmaceuticals, and Bearing Point. Because Cory has seen the evolution in technology firsthand, he has a strong passion for enabling businesses to embrace SaaS instead of being left behind the old way of doing things.
In the last decade, executives of enterprise companies have had to shift their focus from purchasing and managing a handful of clunky and difficult on-premise software solutions to utilizing hundreds of agile and evolving SaaS solutions. In the past, an enterprise company would have a CRM, an ERP, several administrative tools, and maybe a small selection of marketing tools to aid the sales process. Now, though, enterprise organizations are purchasing and managing SaaS products that span every possible function across the business, from marketing to sales to finance to customer success and beyond. Even specific functions or roles within a small team have their own SaaS solutions. Take Sales Development Reps (SDRs), for instance, who use tailored top-of-the-funnel prospecting tools that integrate directly into the company's CRM. Even though this team is likely part of the broader sales team, the tools they find valuable are different from that of general sales tools.
For countless reasons, executives are spending more time and more budget than ever before on SaaS applications because they see how SaaS solutions can play a role across every function, improving efficiencies and effectiveness. Thanks to seamless integrations, easy implementation processes, protected and secure data, and not to mention no servers or infrastructure to worry about, SaaS growth is exploding faster than ever and won't be slowing anytime soon.
A few recent statistics published in a CIO.com article entitled, "CIOs Are Prioritizing Big Data Analytics, Cloud Computing And Security In 2016/2017 Budget Cycles" and abstracted from the latest Nomura Holdings CIO Survey, emphasizes that:
Public cloud adoption in predicted to attain the fastest growth rate, rising from 8% of consumption in 2014 to 19% in 2018.
SaaS deployments are expected to increase from 33% of applications deployments today to 56% of deployments over the next five years.
SaaS subscription spend is expected to be 15% greater than prior application software maintenance spend.
Senior IT leaders predict that the percentage of IT consumption on their internal infrastructure will fall from 67% to 42% from 2104 to 2018 as cloud adoption accelerates.
For the most part, organizations have learned how to manage SaaS applications. But as the landscape continues to grow and organizations add more and more subscriptions to their tech stacks, executives need a mindset shift. While the concept of purchasing SaaS software may seem similar to the traditional model on the surface, there are significant variances that executives need to understand — especially as SaaS will become even more woven into the fabric of business in the coming years.
Below are two major ways that executives should prepare to shift mindsets from that of buying and managing traditional on-premise software to getting the most from their SaaS tech stacks:
SaaS Will Be Purchased & Managed at the Departmental Level
A decade ago, executives would spent months — maybe even years — evaluating a new technology purchase. The RFP process would be incredibly granular, the sales cycle long, and the implementation process even longer. Software would need to be installed on each employee's computer, servers would be delivered and set up, and countless training sessions would occur in order to establish proper processes and to ensure every employee knew the ins and outs of the software. The process of buying on-premise software was a huge undertaking, and not one taken lightly. What happened if the software failed? What happened if user adoption was low or non existent? It would be deemed a failed project and VERY costly mistake.
In today's SaaS world, organizations are now pushing buying power to the departmental level, moving much of the evaluation process to team decision makers rather than the executive team or the IT team. If a department or a function within a department is in need of a new solution or wants to replace an existing solution, they can manage the process on their own with little headache and much less risk. If the SaaS system isn't adopted or doesn't deliver results, then the department simply rolls onto a new platform after their contract expires.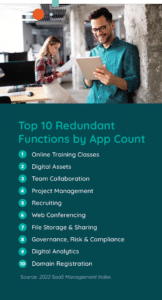 While moving the decision making process to the departmental level can take significant burden off of the executive team while empowering end users to choose the best solution, there can be some "gotchas" to be mindful of. For instance, if the sales team is purchasing a new CRM and the customer success team is selecting a customer success relationship platform but both softwares have similar capabilities, then the organization is paying for redundant features it doesn't necessarily need. Or, perhaps the marketing team has several automation solutions all capable of sending marketing emails to prospects and customers. Establishing processes and rules for which solution to use and when can be troublesome, not to mention costly.
And with the use of SaaS Management Software it's easier than ever to track which individuals and departments are leveraging different platforms. That makes it simple to track use, licenses, contracts and even software overlap.
IT's Function Will Continue to Shift From Buying Software to Managing SaaS
The IT department used to be neck deep in evaluating new software purchases, provisioning accounts, overseeing server installation, and so on. Their roles were very much focused around the technology itself, rather than internal processes and advocating for the internal users. But with the evolution of SaaS, the IT role is changing drastically. A recent Wired article entitled, "Three Important Ways SaaS and Cloud Are Changing IT's Role" explains the evolution like this:
"Instead of acquiring and operating on-site infrastructure and applications for the enterprise, IT professionals will be expected to coordinate business services for employees and end-users. Their role will be to ensure their 'customers' are getting the performance levels they need to speed communication, increase collaboration and accelerate individual and organizational productivity."
In addition to managing their "clients", IT departments will focus heavily on building processes between applications to ensure that each new system shares and receives the data it needs from other systems across the organization in order to be successful.
While this shift is a necessary one, it does pose risks to the organization as one single organization is no longer responsible for each individual application. As departments are buying and renewing solutions, employees are purchasing one-off apps on their credit cards, and data is shared freely between solutions and across teams, executives must keep a tight reign on overall SaaS costs, utilization across employees, and general feedback. This helps manage software spend across entire organizations within a single platform.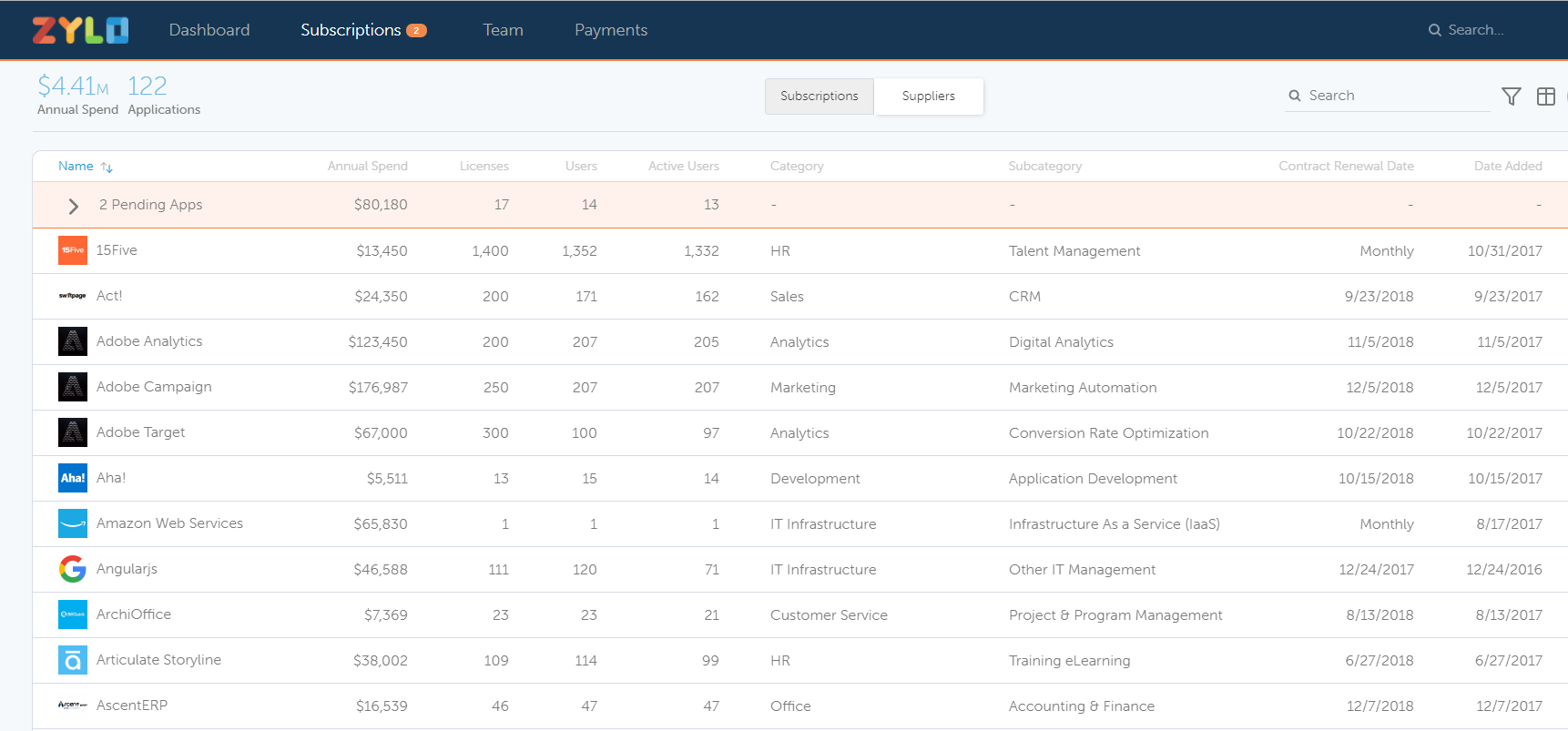 ---
With so many new subscription-based applications being added into a single organization on almost a daily basis, along with purchases and renewals being managed at the departmental level, executives need a new way to manage SaaS and gain complete visibility. Without insight into how SaaS applications are being used and how they are performing, how can executives ensure that their SaaS tech stack is what it needs to be — both now and in the future?
---
Zylo is the leading SaaS optimization platform that transforms how companies manage and optimize the vast and accelerating number of cloud-based applications organizations rely on today. The platform provides an online command center for all cloud-based software used across a company, giving an organization visibility into what software is used, how much is spent and how to optimize their cloud software investments.
Interested in unlocking the power of SaaS at your organization? Visit zylo.com to sign up for our newsletter or follow @getzylo on Twitter for more information.