As the leading platform for managing SaaS, Zylo has helped hundreds of businesses discover, manage, and optimize their SaaS application inventories. For many of these customers, the first order of business is identifying all of the SaaS applications currently maintained by its workforce.
As the acquisition of subscription-based software continues to become more decentralized, identifying SaaS that's been purchased or acquired via expense spending channels becomes even more important.
Expense spending only accounts for about 7% of total spending on SaaS applications,  but that spending creates the majority of SaaS inventory quantity.
For example, Zylo's annual benchmarks report for 2020 found that expense spending only accounts for about 7% of total spending on SaaS applications (the other 93% being purchased by accounts payable spending), but that expensed SaaS applications make up the majority of inventory quantity. Put simply, more applications are acquired from expense than accounts payable.
With that fact in mind, to help businesses better identify and understand their employees' expense spending habits on SaaS, Zylo's compiled this list of the top expensed SaaS applications.
To keep it simple, for the top five applications, we'll offer a short description of why these applications frequently appear on expense reports.
Top Expensed SaaS Applications
(by transaction volume)
Adobe (multiple products)
LinkedIn (multiple products)
Spotify
Dropbox
Equifax
Github
SurveyMonkey
Godaddy
Twilio
MailChimp

1. Adobe Products
Adobe's products, including Acrobat, Creative Cloud, or simply just "Adobe," appear multiple times in the actual top expensed SaaS applications list, so we've consolidated them as one item for the purpose of this post.
Acrobat, of course, is a must-have for almost any employee who needs to view or edit PDFs. Creative Cloud is an extraordinarily affordable suite of on-demand applications including Photoshop, InDesign, Illustrator, XD, Dreamweaver, and Premiere. At the time of writing, access to every SaaS application available under Creative Cloud costs just $52.99 a month. Other plans cost as little as $9.99 per month
That said, if your company employs a graphic designer, UX designer, video editor, or front-end developer, you're very likely to find Adobe Creative Cloud in your SaaS stack because these powerful tools are incredibly popular, very easy to afford, and very simple to download.

2. LinkedIn Products
If you're not using Linkedin for professional networking, sales intelligence, or talent acquisitions, you're in a very small minority. LinkedIn's bevy of products, including LinkedIn Premium, Linkedin Sales Navigator, and LinkedIn Talent, also appeared multiple times in the actual list of top expensed SaaS applications, so we've consolidated them as one item for the sake of brevity.
LinkedIn Premium offers members enhanced features like additional InMail messages, insights who's viewed your profile, and most notably for this list, access to LinkedIn Learning. While Premium may be primarily targeted towards job seekers, many employees may reimburse it as an expense related to professional development.
With pricing starting around $30 per month, LinkedIn Premium's relatively low cost makes it an extremely likely line item on any business' expense transaction report.
LinkedIn Sales Navigator, as the name suggests, is for sales pros who are seeking intelligence on their prospects. And LinkedIn Talent enables recruiters and talent acquisition pros to dive deeper into candidates' profiles and communicate more frequently via InMail. Given that LinkedIn hosts more than 750 million members, these sales and talent tools are must-haves for many organizations.
With all plans being billed monthly, it's extremely likely you'll find recurring expense reimbursements for Linkedin products.

3. Spotify
A music streaming service holds the Number Three position on our list, and we're honestly a bit surprised by this, too. But given Spotify's extreme popularity – it has more than 345 million users, including 155 million premium subscribers – maybe we shouldn't be surprised.
As for the business use case for using expense spending or expense reimbursement, there are a number of possibilities. Many tech-forward companies provide a monthly or annual technology stipend for their employees, providing them with the option to a predetermined amount on any kind of technology, including entertainment apps.
Other possibilities include businesses using the streaming service to play music in lobbies and workspaces or employees expensing Spotify as professional development resources (podcasts and other audio-based learning) or mental health resources (meditation audio streaming, for example).
Spotify will frequently appear in expense transactions due to its very affordable price, $9.99 per month, and its monthly billing cycles.

4. Dropbox
With the advent of cloud-based storage, business documents and other media no longer need to be physically stored on the user's device, and Dropbox is a leader in cloud-based storage and file management.
And because Dropbox's lowest pricing tier is a freemium offering, it's an extremely easy storage ecosystem to get started in. However, as the usage of Dropbox grows within a team or business unit, it's extremely easy to cross the freemium offering's storage maximum (2 GB at the time of writing) and enter the territory of Dropbox's paid offerings, which start at $9.99 per month.
If you've already committed to using the free offering and already rely on cloud storage for business functions, it's extremely easy to see why Dropbox's monthly charges appear frequently on expense transaction reports.
5. Equifax
While most people associate Equifax with its credit score reporting product (and an unfortunate 2017 data breach), Equifax also offers a large range of workforce solutions to enable HR and Accounting departments to stay in compliance with state and federal employment regulations.
From verifying job candidate credentials to automating the I-9 process to issuing tax documentation for individual employees, there are many products to take advantage of. Like many applications and services on this list, Equifax frequently appears on expense transaction reports due to its products' relative affordability – its I-9 service starts at $72 for example – and that billing occurs on a monthly basis.
What Can You Do About Frequently Expensed SaaS Applications?
At Zylo, we believe that effective SaaS management requires continual discovery, monitoring, and identification of new SaaS expense transactions. Its for that purpose that the Zylo Discovery Engine and SaaS management platform were built.
However, not every business is prepared to invest in SaaS management, so here are some ways to prevent expensed SaaS applications from costing your organization.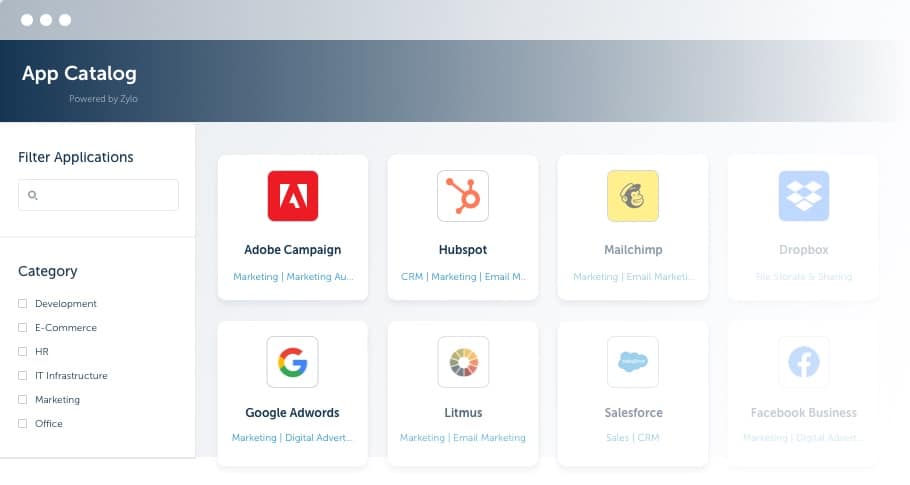 Zylo's App Catalog makes it easy for employees to quickly find the SaaS applications they need, which can reduce expense spending and shadow IT.
Create a software review and approval process – For many organizations, introducing more rigid governance around SaaS acquisition can prevent expense spending overruns. A software approval process can be as simple as a quick form submission requesting purchase of a new application or as collaborative as involving a cross-collaborative team that reviews each new application request (e.g., Procurement, IT, Legal, and Accounting).
While a software review board or process will inevitably slow down the acquisition process and restrict who may acquire software, many Zylo customers have found that effectively reduces shadow IT and expense spending.
Restrict expense reimbursement – Because SaaS is so affordable, some businesses have found that reducing the amount allowed for each reimbursement is an effective means to reduce unmanaged acquisition costs.
Create a catalog or list of approved SaaS applications – Many organizations want to ensure employees can access and acquire the tools they need to be effective, but to do so from a catalog or list of pre-approved or pre-vetted applications. Zylo's App Catalog, for example, makes it possible to see every SaaS application currently available by the organization, as well as easily contact the respective owner to request access.
---
Ready to discover and optimize your organization's SaaS? Get started by requesting a demo of Zylo today.