On July 24, 2018, TechPoint announced the Tech 25 Class of 2018, honoring exceptional performers and contributors in tech in Indiana. I am extraordinarily excited to share that our very own Thom McCorkle, Director, Customer Success, is included among the honorees.
Tech 25 Class of 2018
Tech 25 honors individuals nominated by their company as high performers, team players, and exemplary Indianapolis citizens. TechPoint recognizes Thom as a member of the Tech 25 Class of 2018, in the Tech Sales and Marketing category. Since joining Zylo in 2016, Thom's infectious energy and attitude, coupled with his technical expertise, has driven and revolutionized the customer success strategy at Zylo.
Thom is no stranger to the Indy tech environment. His career has taken him to Customer Success and Service roles at iGoDigital, ExactTarget, and Salesforce. Early in his career, Thom learned the inner workings of the martech landscape. This enabled him to quickly become a go-to internal resource for each company.
Thom has a curious and infectious personality, lending itself to an ever-evolving and growing industry. He takes projects head-on, drawing upon his previous experiences while still exploring new opportunities for growth. This ability has enabled him to shape high-level business strategy while seeing a project through to completion. A building block at each company, Thom continues to prove to be a key leader in every environment – including here at Zylo.
Thom Joined Zylo in 2016
In 2016, Thom decided to explore another area of Indy tech and joined the Zylo as a Customer Success Manager. His experience and collaborative customer approach were crucial in leveling up the customer success organization at Zylo. Not long after beginning his career at Zylo, Thom organically took ownership of the customer experience across the company.
Thom has managed the largest customer relationship projects at Zylo.  He built the entire customer platform in Salesforce, enabling seamless communication and providing key analytics. The Zylo Account Health model, designed by Thom, has provided informative feedback and feasible steps to drive value for customers. Thom's creation of Glimpse onboarding materials, a consultative report to new customers, has reshaped the customer's onboarding process and set the tone for driving further usage of Zylo.
Thom Quickly Proved his Value
Because of his ownership and expertise, Thom was promoted to Director, Customer Success for Zylo. This promotion was made to institutionalize Thom's strategic customer thinking and build a team to support Zylo's scale. Thom has equipped the growing team to expand the customer footprint and deliver documented ROI across Zylo's customer base. His team drives a customer-centric approach which results in achieving very high renewal rates.
Thom also brings vital technical and product expertise. This allows him to collaborate with Product and tackle technical issues beyond his role description. In turn, this provides customers with confidence in Zylo while limiting bottlenecks in freeing up support time from the technical team.
Thom is a building block at Zylo. He will continue to be a key leader in the company as Zylo becomes the Software Management solution for progressive IT and Finance organizations. His attitude and energy are infectious. Thom ensures that his positive outlook permeates his team, as well as the Zylo customer base.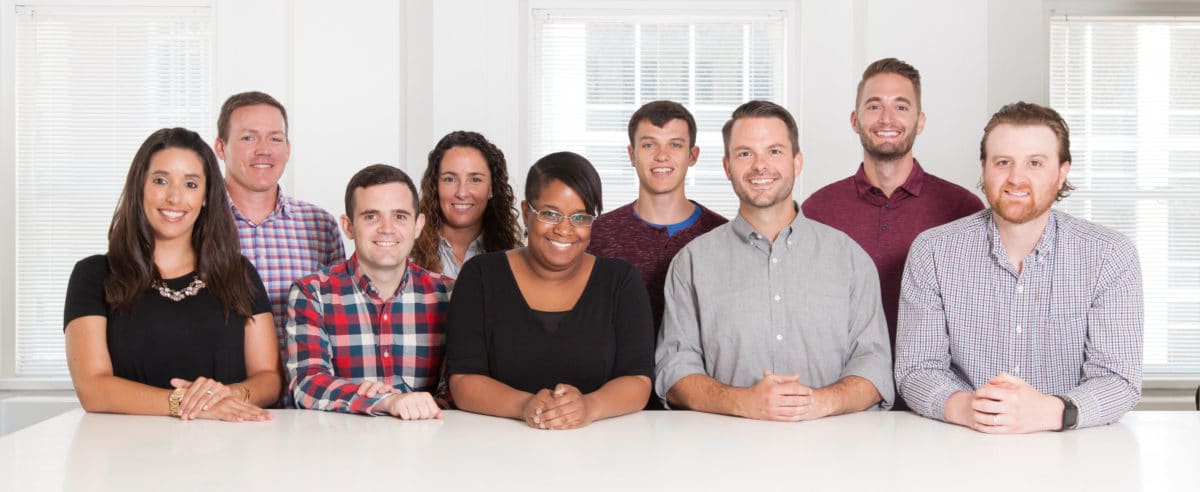 Thom (bottom right) serves as the Director of the Customer Success team.
Passionate about Indy, Thom Gives Back
In addition to his leadership at Zylo, Thom actively gives back to the Indianapolis community. He regularly participates in TechPoint Xtern Bootcamp panel discussions, educating young tech professionals by sharing his experiences in Indy tech.
As a passionate and active member of the Cultural Trail, Thom takes a vocal role in shaping the fundraising strategy. He also helps drives awareness in the community and develops plans for new improvements and services. As part of the Trail committee, he also played an active part in the Indy Bike Share process. Today, he continues to be passionate about future improvements to link the Indianapolis community together.
Thom incorporates his heart for the community within his role at Zylo. He continues to take an active and leadership role in the internal Zylo community events. Most recently, he helped organize serving at the Village of Merici in town, a residential supported living facility for adults with developmental disabilities.
Congratulations, Thom McCorkle. Your induction into the Tech 25 Class of 2018 is well-deserved.
Thom is a vital member of Zylo and will be a long-time Indianapolis tech leader. If the early returns of his impact on Zylo are any indication, the future of Indy tech is in good hands.