As organizations embrace SaaS to fuel digital transformation and the new way of working, we're witnessing historic rates of SaaS adoption. But as SaaS becomes a rapidly growing part of your software portfolio in 2022, using benchmarks will be of utmost importance. What metrics are you tracking to drive SaaS Management success?
I recently sat down with Ben Edwards, SaaS Director at Anglepoint, to discuss insights from Zylo's 2022 SaaS Management Index report and how you can use benchmarks to achieve your SaaS Management goals.
In this blog, we'll recap the webinar and hit on these key points: 
Why benchmarking is critical to SaaS Management success

How to use benchmarking data to drive your SaaS Management strategy

Which metrics to start tracking today
Watch the webinar on-demand here.
Why Benchmarking is Critical to SaaS Management Success in 2022
Why should you factor data your into your SaaS strategy? 
Let me just set the stage for a minute. SaaS today is on the cusp of taking over all software in the next couple years. 
With the acceleration of the digital workplace and as folks have transitioned to working from home, SaaS is where employees are going to get their work done. It plays a critical role in the employee experience – your employees' satisfaction with their jobs and how they get their work done.
Bessemer Venture Partners, the creator of the BVP Cloud Index on the NASDAQ, follows emerging cloud companies and public emerging cloud companies. They're predicting that cloud will become the dominant delivery model for all software in the next three years, for all software. 
In addition, Gartner is projecting that by the end of 2025, a majority of the top 20 software vendors will phase out the sale of new perpetual licenses. The new reality will be subscription-based, increasing costs by at least 35%. 
Another reason SaaS benchmarking is so important is the decentralization of how software is being bought and used. The explosion of SaaS has completely changed that. While IT was primarily the gatekeeper, bringing all new software and technology into an organization – we're seeing a continued trend of business units and employees purchasing more SaaS. 
Who should manage or be responsible for the SaaS within your business? We asked webinar attendees and found about 53% said IT, 37% said business units, zero said employees, and 10% said "other".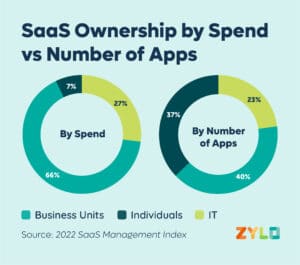 At Zylo, we sit on a lot of data. What we've seen is pretty eye opening. Since the pandemic, how software's being bought, the number of apps being bought, and total spend has become more decentralized. Here are our findings, based on our SaaS Management Index report.
IT manages 27% of SaaS spend, a 35% decrease year over year

Business units are managing 66% of that SaaS spend, a 22% increase

12% increase in the number of apps being bought by individual employees
More employees are buying apps than they ever have been before. When you think about the decentralization of purchasing, it's causing a great amount of SaaS sprawl. 
SaaS sprawl is a term that's gathering momentum in the industry. What does it mean and what are the implications? As the name suggests, it is a proliferation or a sprawl of new and often unknown apps across the estate. 
The inherent advantages of SaaS can also be its downfall in terms of management.
It's easy for anyone to purchase

There's very little audit activity from vendors

It's often easy to stand up

The employee experience is generally very good.
But in our world, it also leads to a myriad of potential problems, such as: 
Decentralized purchasing means it's hard to track who's buying what from where, how much you should be paying, and how much is unused.
There's also greater potential for security risks. For example, where's the data held?
Add to that the often poor quality of historic SaaS inventory sources, and you can end up with quite the headache.
How to Use Benchmarking Data to Drive Your 2022 SaaS Management Strategy
Benchmarking isn't a new thing. For years, organizations have compared their performance, costs, profitability, customer experience, employee engagement – you name it. If it can be measured and there's a competitive edge, it's natural to want to explore it.
What's new is the ability to benchmark specifically in the world of SaaS. There's so much noise, excitement, and uncertainty around SaaS. And many organizations are struggling with how to approach it. For instance, starting with a view of what good looks like can be a daunting task when you can't necessarily trust the data you're working from. 
Of course, this is where employing best-in-class tools like Zylo can give you that edge. Suddenly there's a huge amount of previously unavailable data at your fingertips.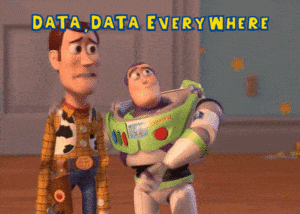 To make sense of data in this crazy world of SaaS and SaaS sprawl, you need to be able to weed through it and know what to do. So, what can SaaS benchmarks tell you?
We published the SaaS Management Index report to help organizations get a pulse on how SaaS is impacting organizations today. It's based on the most comprehensive data set in the industry – over five years of SaaS spend data, usage data, and more than $21 billion in SaaS spend.
The benchmarks we look at fall into three categories:
Portfolio benchmarks.

How much are you spending on SaaS? How do the number of applications in your environment, new applications entering their portfolio monthly, and employee expenses stack up? 

Popular applications.

What are the most popular applications across different categories of functionality levels?

Price benchmarks.

What are other organizations paying for software licenses?
Portfolio Benchmarks
Portfolio benchmarks are about digging into the number of applications at your organization. Often, it depends on the size of your organization and the total spend that's going toward those applications. This data is based on what we call our Zybrary – our library of applications. Today, it contains 20,000 individual apps, not suppliers. A supplier like Salesforce or Adobe could have a multitude of apps inside the Zybrary.
It's not surprising that as your business grows, you need more apps to run your business. But the number of apps often surprises people. We've typically found that organizations have about two to three times more than they think. 
For small organizations (1-1,000 employees), the average number of apps is about 217. 

Mid-market or small enterprise organizations have up to 330 applications. 

As you get to large enterprises, it's quite eye opening. Over 600 applications are being run to support those businesses. 

Overall, the average across all of our customers is 323 applications.
Popular Application Benchmarks
What's the hottest new app? What tools are my peers using and how do my apps stack up? What is the best app for collaboration, time tracking, etc.? Popular application benchmarks can help answer these questions. 
In fact, Zylo recently added Benchmarks to make this possible. It gives you the ability to look at a specific category of software, subcategory, or even functionality level and see what apps are popular, 
While an application may rank number one in popularity or be the cool new kid on the block, that doesn't mean it's always the right one for your organization. But it could point you in the right direction. 
The insights you get back in Zylo Benchmarks are based on the cohort your company's in – based on size. You can examine what the popular apps are for that time tracking or collaboration query. It allows you to drill into the apps, down to the category and functionality levels. And you can see what apps you already have too, and which of the top apps are al​​ready in your portfolio. 
It's a really powerful capability to help organizations validate what they bought. And if they're looking for something new, make some recommendations for apps they should be looking at. 
Price Benchmarks
Another metric to pay attention to is price. Like most organizations, you want to make sure you're getting a fair price. That it's what you should be paying based on what your buying and your specific organization. 
We find that on average, the average organization is overpaying 15% for SaaS licenses. The price benchmarking tool we have in Zylo allows you to estimate the cost of an application you want to buy. By inputting the license quantity and price, it lets you know if you're getting a good deal or not. Visually, it puts it on a scale with an indicator of if you're paying too much, paying too little, or paying a fair price. 
Knowing how your price compares gives you powerful leverage when it comes to negotiation and renewals. Everyone wants to know they're getting a good deal. You want to be able to show that. Those are all really good use cases for how benchmarks, and price benchmarks in particular, come into play. 
Make Informed Decisions Using Benchmarks
Benchmarks are a powerful tool to keep a high-level pulse on the health of your SaaS stack and your strategy, see where problems and opportunities lie, and garner insights to pivot your business as needed. 
Yes, it can feel daunting. But we're not here to give you cause for more headaches. 
The important thing is to not lose sight of software asset management best practices. People, process, and technology. We've all heard that before. You still need to know what you have, where it is, who's using it, where you're buying it from, and how much it's costing. This is all standard stuff. 
SaaS doesn't have to be scary. And it doesn't have to be complicated – at least in an ideal world. The beauty of SaaS benchmarking is in providing us the data to make confident, well-informed purchases and knowing that we're getting a good deal. 
See how a benchmarking tool can take the guesswork out of managing your SaaS in 2022 and beyond. Connect with one of our experts to schedule a Zylo Benchmarks demo and see it in action.
About Anglepoint
Anglepoint is one of Zylo's trusted managed services partners and a leader in Gartner's Magic Quadrant for SAM managed services. Ben Edwards is a SaaS director and a seasoned practitioner with more than a decade of experience, helping organizations navigate the new landscape of SaaS within the mindset of SAM.