High-growth companies require significant capital to fuel their operations and hit the next milestone. From growing teams to purchasing technology and infrastructure, scales-ups are always looking for solutions to extend their financial runway.
Employees of companies in scale-up mode often use their corporate credit cards to purchase the tools they need to do their jobs efficiently and effectively. Zylo data on employee spending shows 1 in 6 employees expenses SaaS. And without IT oversight for SaaS acquisition, hidden costs abound, caused by duplicate purchases, redundant apps, mischaracterized software, and unplanned renewals.
Today, the average organization spends $50 million annually on SaaS. Scale-ups looking to free up some cash should consider optimizing SaaS, then use the realized savings to reinvest in their growth. A SaaS Management tool provides real-time cost and utilization insights, so you can quickly make cost-cutting decisions without resorting to layoffs.  Follow these five steps to reduce SaaS spend.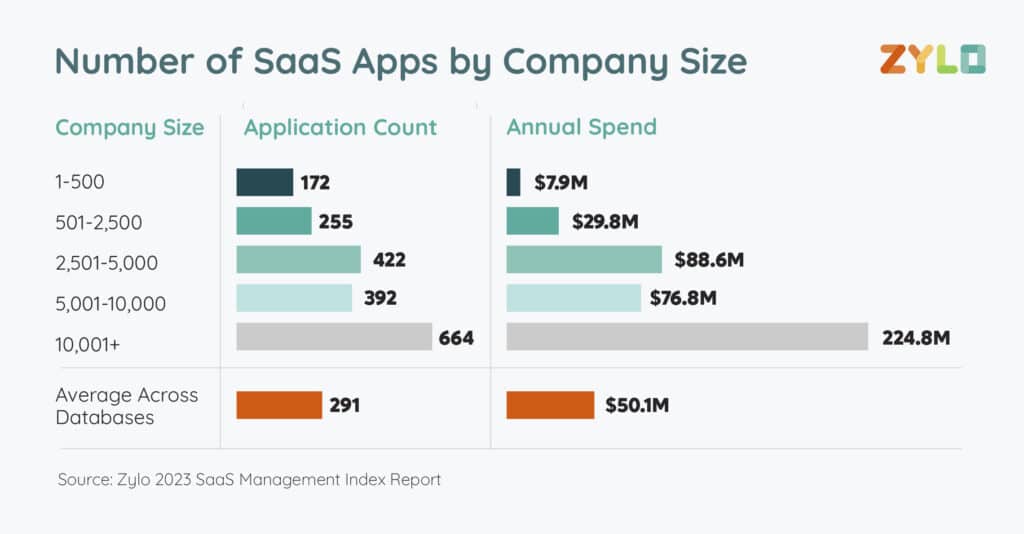 1. Gain SaaS Visibility
To optimize SaaS spend, high-growth companies first need complete visibility into their SaaS stack. The average organization's SaaS portfolio includes nearly 300 applications, yet IT leaders often underestimate the number by 2-3x. A SaaS Management tool like Zylo automates the SaaS discovery process, providing full visibility into all applications purchased across the organization, including tools expensed by employees or teams. 
2. Rein in Utilization
Once high-growth companies understand their complete inventory, they can achieve quick financial wins by reclaiming unused licenses or eliminating them altogether. 
Zylo Insights automates this process by analyzing your app stack and utilization records to provide personalized, actionable recommendations (including opportunities for license optimization and alerts of newly-discovered subscriptions, recently-expired contracts, and duplicate subscriptions) prioritized by greatest ROI. Users can then take action on the insights right from the dashboard. 
3. Consolidate Duplicate Purchases
Besides their ever-growing SaaS catalog, high-growth businesses often acquire smaller companies, and with those companies comes their own SaaS libraries. This often leads to duplicate applications. Through application rationalization — the process of determining which apps should remain in use, and which need replacement, consolidation, or retirement — high-growth companies can trim IT budgets. This process includes the following steps:
Identify your current SaaS portfolio, number of active licenses, subscription costs, lifecycle (contract length), and ownership.

Define the ROI of each application by examining cost, utilization, and the desired business outcome it produces for your company.

Discuss application value with the users to gain qualitative data.

Identify what you can eliminate, consolidate, or replace.
In addition to cost-savings, replacing outdated software offers tighter security and better usability. 
4. Eliminate Redundant Tools
In addition to duplicate applications, your company may have several tools with overlapping functions. Do you really need seven project management tools? Probably not, but it happens frequently. Consolidating duplicative applications not only saves money when you identify SaaS to sunset, it also enhances collaboration and innovation across teams. 
When considering which applications to keep, dive into utilization metrics and pay close attention to your team. They likely have a couple of go-to tools, and you want to empower your employees to use what makes them most effective.
5. Negotiate Better SaaS Contract Terms
A robust SaaS Management platform automates the tracking of real-time utilization metrics and keeps you informed of renewal dates. And entering renewal negotiations with key details like competitor pricing, benchmark data, usage metrics, and an understanding of your team's needs helps you get the most out of your SaaS investment.
Getting Started with SaaS Cost Optimization
With SaaS projected to outpace on-premise software over the next few years, now's the time for CFOs and IT leaders of high-growth companies to prioritize SaaS cost optimization. Every dollar counts in scale-up mode, and the more you can optimize your IT spend, the more cash you can reinvest into the business. 
How Coupa Leverages SaaS Management to Fuel Rapid Growth
Learn how Coupa's IT team drives spend optimization, governance, and employee effectiveness with the help of SaaS Management.
Learn More