Between a potential recession and rising inflation, it is no surprise that organizations are looking for ways to cut costs. The proliferation of SaaS in the last few years has led to sprawling costs, making it a natural place to start.
However, careless budget cuts to a company's SaaS portfolio have the potential for serious loss in effectiveness. What is a company to do then? How do you save on SaaS without losing utility?
The answer is to invest in a SaaS spend management platform with a proven high ROI: Zylo. 
More SaaS, Greater Spend
The rocketing growth of SaaS was only compounded by the pandemic.
Businesses needing to move to completely remote models looked for cloud-based solutions to make the change viable. Thus began the battle with application sprawl and the runaway costs of unmanaged SaaS portfolios. 
Zylo's Management Index found that today's organizations average 291 applications in their SaaS stack. For larger enterprises, this number jumps to a staggering 664. To put that in dollar amounts, that's $50 million in SaaS spending for your average organization and $224 million for a large organization.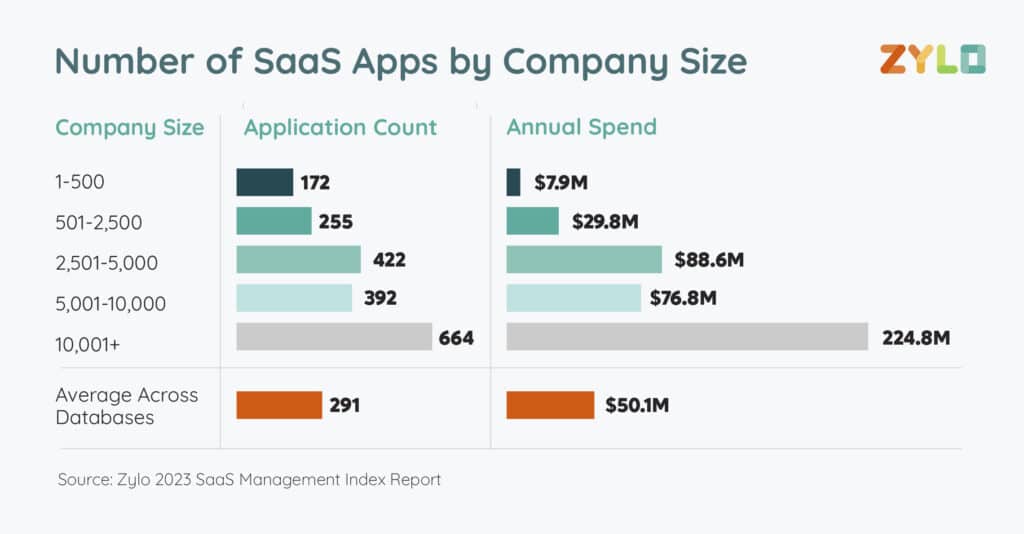 With those costs seconded only by headcount, SaaS spending has made itself a major concern for most organizations. That has led to what we call "the great rationalization." Organizations across industries are scrambling to track, justify, and optimize their SaaS stack. Which is a time-intensive task without assistance.
This great rationalization could not have come at a more appropriate time. Inflation and talks of a new recession have triggered many organizations to make budget cuts. SaaS portfolios are a natural place to start.
However, SaaS spending needs more than a budget cut. It needs ongoing management.
How a SaaS Spend Management Platform Saves You Money
The old saying goes, "spend money to make money." But, how about spending money to save money? Because that's exactly what you do when you invest in a SaaS spend management platform like Zylo. 
It all begins with discovery. Manual tracking is constantly outdated, prone to human error, and often fails to give a complete view of SaaS assets. A complete view is essential to begin the process of reigning in SaaS spending without compromising efficiency.
That's why SaaS management platforms like Zylo are necessary for finding SaaS applications wherever they lurk. Zylo pulls disparate data together from financial data, integrations, and single sign-on solutions. In an ongoing discovery process, it offers complete visibility of your SaaS portfolio. 
Organize
You cannot overstate the importance of visibility. You can't save money on things you don't know exist. Once you gain visibility of your SaaS assets, you can begin the important task of organizing. 
By organizing your SaaS, and establishing a complete SaaS system record, you gain an understanding of what is at your disposal.
This understanding comes with a complete picture of not only how many apps you have or what you're spending. You also gain insights into how they're utilized, and where there are redundancies or duplicate applications. 
As a result, you can identify the low-hanging fruit in your SaaS portfolio for easy wins. A complete, organized view tells you what costs you can recoup today. That equates to near-instant savings.
But we're not finished. 
Optimize
Zylo's SaaS management platform provides you with automatic and actionable insights. These include recommendations on how to rationalize and rightsize your application use across the organization. Whether it's identifying redundancies or inefficient seat counts, you're shown your options for quick savings. 
By rationalizing your SaaS portfolio, you identify where you can trim down apps. For example, there may be multiple applications running that serve similar functionality. Thus, effective SaaS management empowers you to consolidate your SaaS assets without sacrificing utility. 
What's more, optimization means rightsizing, or reclaiming unused or underutilized SaaS licenses. Knowing exact usage is a powerful tool when renewal comes around and allows you to negotiate a license tailored to your organization's usage.
A programmatic approach to optimization ensures you make smart, strategic investments that avoid sprawl and runaway costs. 
Orchestrate
SaaS management isn't a one-and-done solution. It's a programmatic approach. When integrated into the organization, it ensures the long-term health of your SaaS portfolio. 
This means establishing a governance framework that reigns in shadow IT, ensuring sustained visibility of SaaS assets. 
An established SaaS management program also prevents automatic renewals from surprising your organization. Even better, it arms you with the data to bring to the negotiation table when renewals do come around, ensuring you get better terms that fit your organization. 
Overall, an organization has reached the greatest level of SaaS management maturity at this point in the management lifecycle. A solidly established program will allow you to continuously reap the benefits of SaaS management, driving efficiency throughout your organization.

This means that not only have you established a system for reduced spending, but you are now continuously maximizing the utility of your available assets. 
How Zylo Has Helped Real Companies
How Coupa Leveraged SaaS Management for Rapid Growth
Coupa was experiencing remarkable growth as they acquired new companies. However, as they grew, so did their SaaS portfolio with each acquired company. At its peak, Coupa had 600 SaaS applications, which became a strain.
With Zylo, Coupa's IT and Procurement were able to work together to reduce their number of SaaS applications to 400. For the remaining SaaS applications, Coupa leveraged usage data from Zylo in their negotiations with SaaS providers to save 20% on their renewal and reduce the cost per user by 9-30%
All the while, their company quadrupled in size, working with a smaller SaaS portfolio with greater effectiveness. 
Showpad Saved and Consolidated Their Global SaaS Portfolio
Showpad is another company that relies heavily on SaaS solutions to keep its global staff of 450 employees connected. This alongside an explosion in company growth, caused them to struggle with Sprawl.
The SaaS environment proved too erratic to effectively manage manually. So, they turned to Zylo for help. 
Within a week, Showpad began avoiding unnecessary renewals for unused applications. Then, with help, they began leveraging their usage data to negotiate cheaper renewal contracts for applications they did use.
Through rightsizing and proactive renewal management, Zylo helped Showpad save €500,000 in SaaS spending. 
Genesys Optimized for Cost Savings
Genesys operates in more than 100 countries with more than 5,000 employees. Naturally, this lead to the SaaS sprawl that occurs across such widespread organizations. That is why CIO Pranab Sinha naturally identified centralizing IT as a potential means to improve cost efficiency. 
"These are hidden problems that I think every company has," said Sinha. "Zylo is exposing the things that people need to know about."
With Zylo, Genesys began rationalizing and standardizing its SaaS assets, consolidating more than 10 applications in the first six months and reduced licensing costs for widely deployed SaaS applications by 12% or more. 
Confidently Tackle Budget Cuts with a SaaS Spend Management Platform
All of these companies found that they were in severe need of a SaaS spend management platform to help solve for sprawl and rampant inefficiencies. Without one, organizations struggle to create a single, manageable view of their ever changing SaaS portfolios. 
By using a SaaS spend management platform, you gain confidence knowing exactly what you're spending and how to reduce costs. Schedule a demo with us today and see how we can help your organization manage your SaaS assets, and save on your budget without sacrificing utility.