With software-as-a-service (SaaS) now a nearly $200-billion industry, savvy organizations proactively implement SaaS management best practices to identify and eliminate duplicate subscriptions, mitigate security risks, and most importantly—control software costs.
Think of SaaS spend management as a sub-discipline of SaaS management overall, one that's concerned with identifying costs, increasing savings where possible, and maximizing value for your SaaS applications.
If you're looking to take control of your SaaS spend and potentially save significant cash, consider the following strategies to optimize SaaS spend management.
How to Optimize SaaS Spend Management
1. Identify All Spending Sources and Attribute Ownership
Begin the SaaS spend optimization process by discovering your complete SaaS inventory. While there are multiple avenues to identify SaaS applications, Zylo recommends financial discovery, as it offers a clear path to "follow the money."
Robust SaaS management platforms, such as Zylo, integrate directly into spend management platforms and enterprise resource planning (ERP) and expense software like Netsuite, SAP Concur, Expensify, and more. With Zylo's Discovery Engine, you can also import flat-file spreadsheets to identify SaaS spending.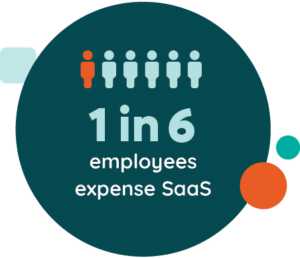 Pro Tip: Make sure to examine both your direct supplier spend (accounts payable) and expense spending (company cards, procurement cards, and expense reimbursements).
Because SaaS tools are typically inexpensive and easy to acquire, individual employees or teams often purchase SaaS—unbeknownst to centralized IT teams. In fact, Zylo's 2023 SaaS Management Index report found one in six employees now expense SaaS applications. While expense spending accounts for a tiny sliver of overall SaaS spending (just 6%), it generates more than half of all SaaS application inventory.
More SaaS applications increase the risk for wasted spend, including:

Duplicated, unconsolidated subscriptions from employees buying individual subscriptions, rather than the business purchasing multiple licenses at a lower price.
Redundant SaaS applications that fulfill the same function.
Poorly utilized applications.
Increased potential for missed automatic renewals.

More SaaS applications purchased from expense accounts increases the risk of non-compliance, as these purchases bypass IT and InfoSec safeguards.
2. Identify Your Most-Expensive SaaS Applications
Focus on the applications and tools that make up the largest amount of your overall SaaS spend. These applications offer the best chance for significant financial savings. Examine whether the applications are part of a centrally managed plan, or expensed by an individual employee or team.
3. Search for Rightsizing Opportunities
After determining your most expensive SaaS tools, look for rightsizing opportunities. Put simply, rightsizing involves matching up licenses and features with the most appropriate number of employees.
In a typical month, about 44% of SaaS licenses go unused, which creates a huge amount of wasted spend. It's also a key indicator for rightsizing opportunities.
Consider the following questions for rightsizing SaaS tools:
Does the current list of licensed users include any former employees? Or employees who no longer use the software? If so, eliminate or reprovision those seats.
Does every employee need the application features they currently have? For example, Zoom's premium license enables users to meet for more than 40 minutes at a cost of $15 a month per employee. However, if your premium users consistently meet for under 40 minutes, consider moving them to a basic free plan to reduce your SaaS spend. In 2020, ViacomCBS cut its annual Zoom expenditure by more than 32% by downgrading and removing underutilized Zoom licenses
4. Look for Redundant SaaS Applications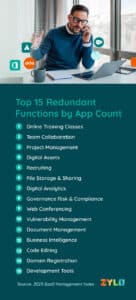 While many organizations utilize multiple types of applications that fulfill the same primary function—your marketing and software development teams probably need very different project management applications—too many redundant applications cause excessive costs. For example, one Zylo customer discovered 48 different project management applications.
Group your redundant applications and analyze utilization data. Also, make sure to gather team and user feedback to help determine which applications offer the highest utility.
You'll likely find opportunities to standardize on a smaller set of SaaS applications. It's also a prime opportunity to eliminate any non-approved applications. Just ensure you communicate the changes to all employees who use the impacted software.
5. Consolidate Duplicated SaaS Subscriptions
Just as teams purchase redundant applications, multiple employees and teams often purchase duplicate subscriptions to the same application. And sometimes employees purchase applications that the business already pays for and centrally manages.
Duplicate SaaS subscriptions increase costs because the per-user price for a single subscription purchase on the open market usually runs significantly higher than what a business or organization can negotiate with its increased buying power.
If you identify duplicate licenses, use the opportunity to consolidate or eliminate them entirely.
Pro Tip: Some SaaS applications require contractual agreements, so you may need to wait for the renewal period before making changes.
Also be aware of auto renewals. Without proactive SaaS management, organizations often miss the opportunity to negotiate a lower price or better features. Consider using Zylo's SaaS Renewal Calendar to keep tabs on all software subscriptions and never overpay for an unnecessary auto renewal.
Ready to discover and optimize your organization's SaaS spend? Get started by requesting a demo of Zylo today.