SaaS benchmarking is an increasingly important element to any SaaS management strategy. With the average large organization paying for more than 600 SaaS tools, benchmarking metrics are instrumental to understand the state of your SaaS stack, inform decision-making, and improve efficiency. 
Zylo puts this data at your fingertips, anytime you need it. Zylo's Portfolio, Popular Application, and Price Benchmarks give you easy-to-understand, actionable data to support your SaaS strategy, renewals, and decision-making. Using anonymized data from the industry's largest customer base and our Zybrary™ of over 20,000 applications, Zylo generates the industry's most accurate SaaS benchmarks.
"With Zylo Benchmarks I can quickly determine if we are overpaying for SaaS licenses and easily research which vendors we should be looking at for any new tools. In a nutshell, I now have the power to get the best tools at the best price." – Andy Dunne, VP Business Analytics at Eight Eleven Group
Keep reading for five ways IT, Procurement, and Finance teams can use Zylo Benchmarks to boost efficiency and lower their SaaS spend.
#1 Negotiate Lower Pricing on Renewals and Net New Purchases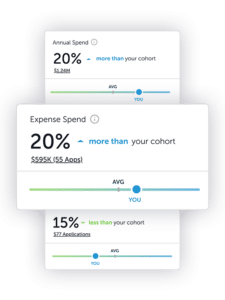 Are you getting a fair price on SaaS licenses? The reality is, the average organization is overpaying on licensing by 15%. With hundreds of applications in your SaaS stack, negotiating your contracts could drive significant savings for your organization.
However, negotiating better contracts is dependent on good data. With Zylo's Price Benchmarks, you can access this data on-demand. To see how your pricing compares, simply enter your quote from the vendor and Zylo will let you know if you're paying a higher than, close to, or lower than average unit price for that given license quantity. Then, leverage your benchmarks to increase negotiation power to reduce your spend with the vendor.
#2 Find the Best Tool in a Fraction of the Time
Say you're looking for a virtual whiteboard tool. What do other companies use? With so many options when it comes to SaaS solutions, how can you determine which are worth evaluating?
Narrow down in your search in a matter of seconds using Popular Applications Benchmarks. It identifies the top applications organizations similar to yours are using by category, subcategory, and functionality. In this example, Popular Applications Benchmark will tell you the top virtual whiteboard tools used by companies in your cohort, so you don't have to sift through thousands of websites.

#3 Prioritize Application Consolidation
Duplicative applications are common across organizations of all sizes. Chances are, you have multiple applications in your SaaS stack with overlapping functionality. So, if you have 20 project management tools across the organization, how do you know which to keep and which to deprecate?
Using Popular Applications, you can see the top applications within a specific category, subcategory, or functionality and which of those applications are already in your organization. This allows you to prioritize your consolidation efforts and ensure you have the best tool – or tools – for the job. 
Let's put this into practice. With Popular Applications Benchmarks, I can see that five of my project management tools are ranked within the top applications, while the other 15 are not. This allows me to prioritize which applications I cancel. 


#4 Support Budget Planning Efforts
Budgeting for SaaS is a complex task, often made more daunting by headcount changes or flat budgets. You can use Price Benchmarks to support budget planning by running quantity and cost scenarios, drilling down into prices by application and license types. 
Perhaps your company's sales organization is doubling next year. As such, you will likely need to purchase additional licenses for tools like your CRM. Leverage Price Benchmarks to run your anticipated license needs against your current or quoted prices to help plan your budget. 

#5 Compare Your SaaS Sprawl, Stack, and Spend
As SaaS adoption continues to grow, CIOs and CFOs alike want to know how their SaaS stack compares against other organizations. And not just at a high level. How does the number of total applications compare to organizations like ours? Do other companies expense as much SaaS through expense reports as we do? 
Use Portfolio Benchmarks to compare your annual spend, new applications, total number of applications, and amount of spend through expense reports against your peers. You're able to filter by category, subcategory, and even drill down into functionality per application. ​​
For example, you might want to know if your marketing team's tech stack is in line with the rest of your peers or if it is under-developed. Under-investing in marketing technology can put your company at competitive risk. Portfolio Benchmarks can help you uncover gaps.

Give Your Business the Benchmark Boost It Needs
Even the most proficient IT, Procurement, and Finance professionals can do better with real data. By tapping into Zylo's expertise and the Zybrary – the world's smartest and most complete AI-powered library of SaaS applications, usage, adoption, spend, and more – they are best prepared to get their jobs done.
As Adobe CIO and Zylo customer Cindy Stoddard said, "Benchmarking is a powerful tool to drive your SaaS strategy. As a CIO, I'm always trying to balance how I equip my teams with the best tools, while ensuring we're making smart investments. Zylo Benchmarks is a powerful tool that will help technology leaders achieve that elusive balance."
Ready to see how Zylo Benchmarks can give you the data to run a best-in-class SaaS management program? If you're an existing Zylo customer, reach out to your SaaS consultant to learn more. If you're not a current customer, schedule a demo today to see Zylo Benchmarks in action.