From juggling SaaS tools to wrangling your software budget, smarter IT vendor management for SaaS is a top priority for companies today. Here's how to make it happen.
If you're responsible for managing your company's SaaS vendors, you probably have a lot on your plate. This is especially true, considering that 58% of companies plan on significantly upping their tech spend throughout 2020.
Bigger budgets and the flood of new SaaS tools translate into tough decisions and questions. For starters:
Which tools are your top priorities and must-haves?
Are any vendors on the chopping block this year?
How much of your SaaS budget is going to waste?
As noted in our guide to SaaS licenses, failure to rein in software usage can create a drag on both your bottom line and employees' ability to get stuff done.
That's precisely why companies today need to rethink their approach to SaaS and IT vendor management. Here are nine tips to help keep your tech budget in check and negotiate better deals from IT vendors in the long-term.
9 Tips for Smarter IT Vendor Management
1. Keep an eye on the details of your contract
This might seem like a no-brainer, but it's the perfect place to start. Sure, there's plenty of fine print crammed into any given SaaS contract. For the sake of negotiation and renewal, however, these are the key details you should know:
Start and end date: logging the length of your contract (think: annual, multi-year, month-to-month) helps you avoid renewals for unnecessary or outdated tech
Required renewal notification timing: Having your SaaS renewal notifications automated, you give yourself ample time to assess whether or not you want to continue working with a vendor
Required notification method: From emails and calls to in-app notifications and beyond, you should be aware of how you'll be asked to renew a contract
Line-items, license quantities, and entitlements: Knowing these details will help determine whether or not you're getting what you pay for in terms (think: specific features or software bundles)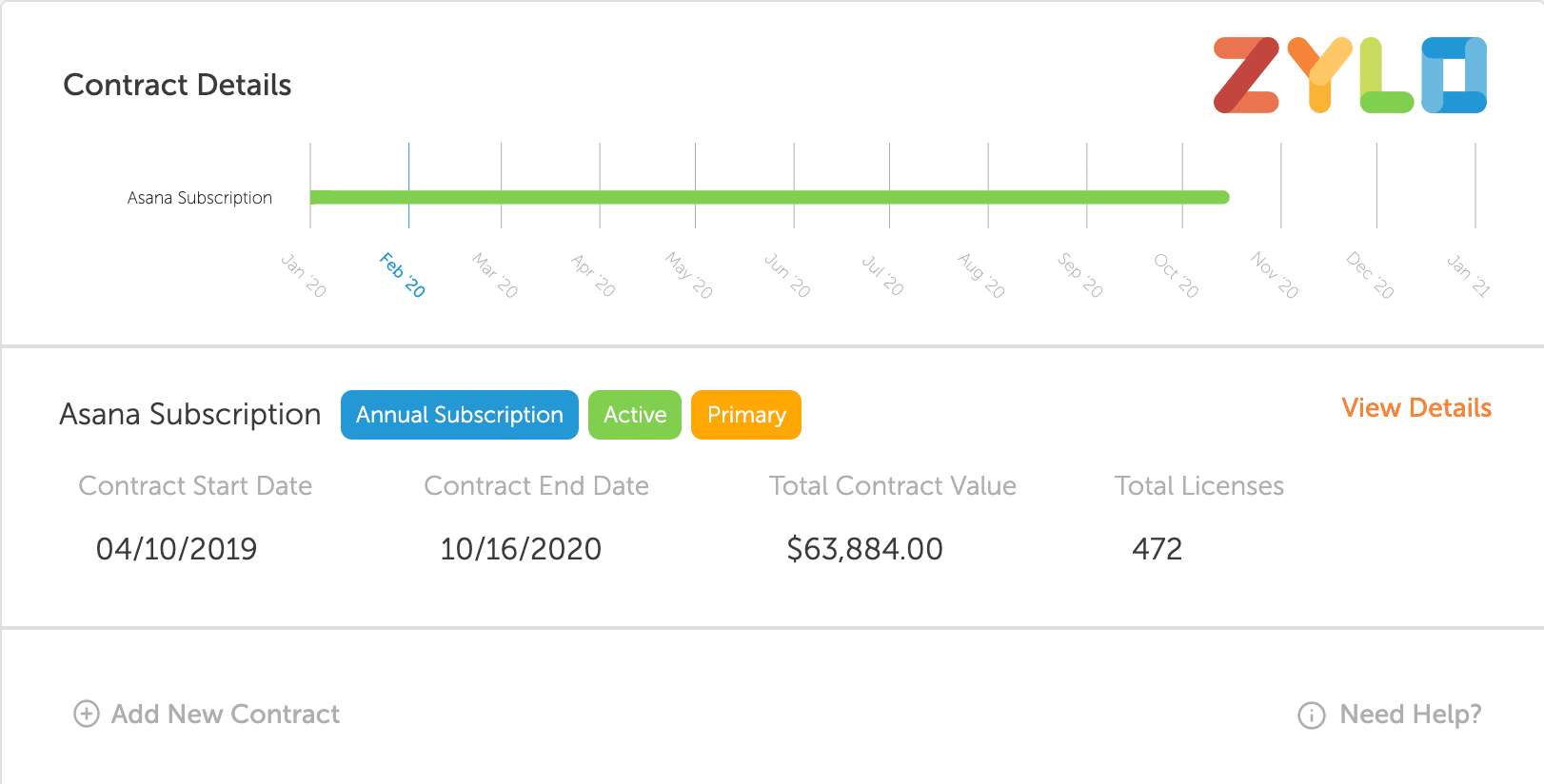 2. Reach out to vendors early for a better deal
Arguably the easiest way to get better details is by reaching out to vendors months in advance. Procrastination puts you at a disadvantage when it comes to IT vendor management.
How so? Consider the prevalence of automatic renewal. Most companies wind up renewing at least one SaaS application every day. If you're reviewing your SaaS contracts and usage data months in advance, there's no potential for those renewals to creep up on you or force you into renewing a tool you don't need.
More importantly, reaching out early gives you an upper hand during negotiations. For example, you can analyze the tool's ROI and prepare talking points or begin comparing the tool against competitors.
A dedicated renewal calendar to help you keep track of your tech tools and understand when it's time to start gathering data for negotiations.
If you're negotiating for a better renewal price, timing discussions for the end of a month or the end of the quarter can give you additional leverage as well.
3. Understand user entitlements and usage
How do you figure out if you're getting your money's worth from a vendor?
Comparing user entitlements against user activity data such as adoption, utilization, and sentiment can clue you in. Measuring end-user utilization for each individual application requires legwork but is made easier with SaaS management tools like Zylo.
Take Zoom usage, for example. With Zylo's direct integration to Zoom, it's possible to see the average meeting minutes per user, as well as the number of attendees. Zoom requires a premium license for any meeting that exceeds 40 minutes with more than two attendees. If sessions typically last fewer than 40 minutes, a premium license usually isn't necessary.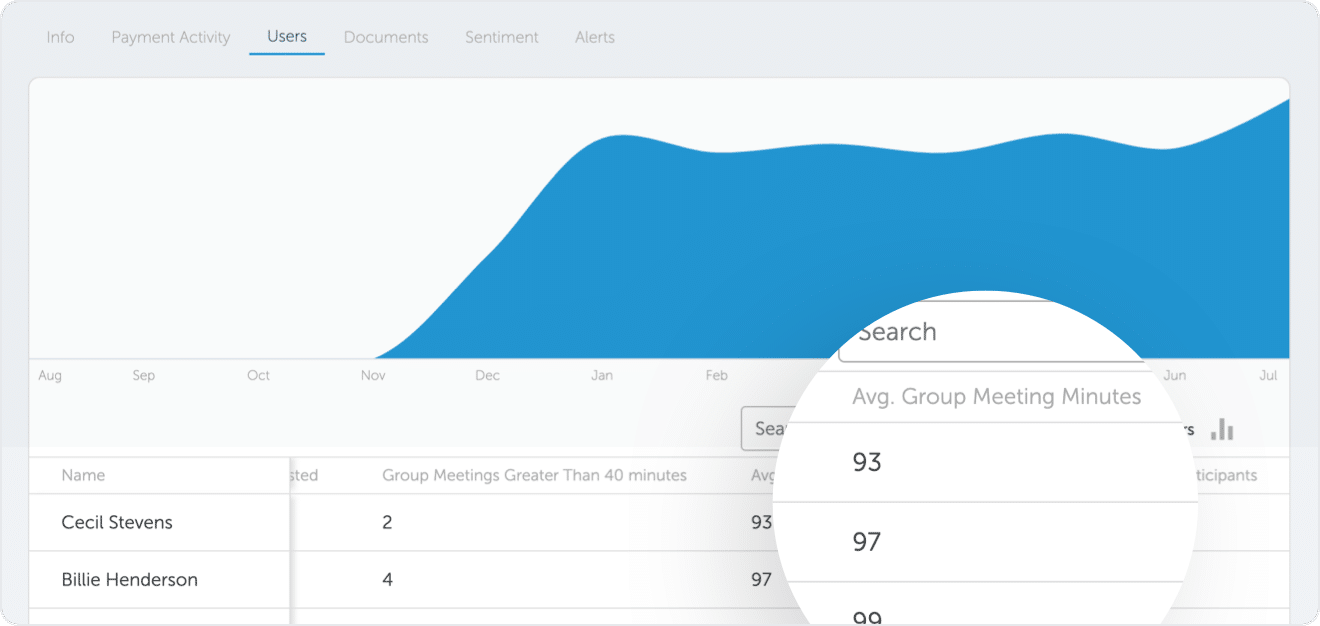 The same logic rings true for the rest of your tools: If you aren't taking advantage of premium entitlements, don't pay for them. Documenting this data positions your organization to cut costs immediately and negotiate reduced costs when it comes time to renew.
And remember: effective IT vendor management requires companies to be able to drill into both company-wide data and the behavior of individual users.
For example, how often is a specific department (think: HR or Marketing) using a particular tool? For how long? Who are the power users? Is the adoption rate for high-dollar, mission-critical applications increasing or decreasing?
This is again where a SaaS management tool that centralizes utilization data can be a life-saver, allowing you to see at a glance how your SaaS tools are used in addition to detailed reports broken down by each user.
4. Document downtime (and know the SLA!)
Speaking of measuring and documenting data for SaaS vendor management, let's talk downtime. Note that expectations are pretty high when it comes to uptime these days.TechRepublic notes that a staggering 80% of businesses today require a 99.99% uptime as of 2018. Thankfully, that commitment is often met.
What happens when it's not, though? Analysis from Total Uptime notes that the difference between 99% and 99.99% isn't a matter of seconds or minutes of lost productivity: it's a matter of hours and days.
Any significant sort of downtime represents a significant point in your favor if you're in a situation where you need to negotiate. It can't be said enough: documentation matters.
5. Gain a complete view of your IT vendor portfolio
There is no such thing as a one-size-fits-all portfolio in terms of IT vendor management. That said, you should always have a bird' s-eye view of the types of tools you're using and, maybe more importantly, how they're being paid for.
According to Zylo data, one in three employees purchases software with a credit card and request expense reimbursement. This significantly raises the risk of redundant, overlapping, or duplicate apps.
Think about how many communications tools your team uses. Could you possibly be using multiple project management tools (think: Trello, Asana) or CRMs without even realizing it? Avoiding these redundancies can save serious time and resources alike.
6. Determine which tools you can consolidate
Just as SaaS tools come and go, they're also continually evolving. New features. New integrations. You know the drill.
That's why you need to not only have a pulse on your vendor portfolio but also what features your vendors are rolling out over time. This comes down to tracking product updates and understanding the value of each item in your portfolio.
Consider how a tool like MailChimp has evolved from just another email marketing service to a comprehensive marketing automation and analytics platform. Features such as social scheduling, ad management, and marketing calendars could very well be at odds with other tools you're already paying for.
Additionally, it's also a smart move to watch for emerging tools in the space. With the help of review aggregators like Capterra, you can see which tools are up-and-comers for any given type of software.
7. Thinking about a switch? Start researching now
The process of switching tools can be time-consuming, but it doesn't have to be costly. Given how often companies switch vendors, doing so simply comes with the territory of SaaS vendor management.
Either way, conventional wisdom says the earlier you start searching, the better.
This is crucial with tools that require a Proof of Concept to evaluate switching vendors (hint: tag these tools). Ideally, you can start the process approximately six months out to give yourself time to negotiate and likewise look at new vendors if necessary.
Oh, and make sure to talk to fellow business leaders and do your homework, so you aren't stuck in a situation where you settle for a subpar tool.
8. Score better deals with bulk pricing and longer terms
If there's a vendor that you absolutely love and don't see going anywhere in your tech stack, see if you can sweeten the deal with sticking around with bulk pricing.
Most SaaS vendors offer multi-year discounts. At the very least, you can often get grandfathered into feature sets of tools. With a good relationship and track record with a vendor, negotiating these points doesn't have to be tense.
9. Don't be afraid to ask
Pushing for discounts definitely falls in line with vendor negotiation best practices. And when it comes to discounts, you don't necessarily need to worry about being shy.
Why? Research from ProfitWell highlights the willingness of SaaS vendors to use discounts to both close customers and retain contracts.
Their study notes that 70% of SaaS companies believe discounts should be used to close deals. Meanwhile, the same data says that 80% of salespeople cite a ~25% discount as being "appropriate."
The takeaway? Paying full price is far from an expectation, at least typically. Although this study also highlights the fact that discounted users churn at higher rates, this spells good news for you as a customer seeking a better deal.
What's your approach to IT vendor management?
Effective SaaS and IT vendor management require being proactive.
That means not only negotiation best practices but also evaluating product usage across all of the tools in your toolbox. The more information you have on hand, the easier it is to assess your needs and negotiate accordingly.
No matter how many vendors you might be juggling, consider a tool like Zylo to help streamline the process of IT vendor management.