In 2023, SaaS spending is projected to grow 17.9% to total $197 billion, according to the analysts at Gartner. And by 2024 it's expected to grow to $232B. Software as a service has undoubtedly become the face of modern software as more companies divest themselves of server-based server deployments and embrace the advantages of the cloud and subscription-based access.
But these advantages – including lower pricing, easier user accessibility, more specialization, and faster time to value – do not come without a few tradeoffs. Namely, the democratization of software made possible by SaaS threatens some of the best practices for value optimization, data security, and overall IT governance that took technology leaders decades to establish.
If your desired business outcome for this year includes wrangling unmanaged tech stack growth in the shape of SaaS, take a look at these stats to aid a critical understanding of the impact subscription software.
IT Strategy Stat #1: The Average Company Has about 300 SaaS Applications
Or 291 applications, to be exact. Zylo manages more than $30 billion in active SaaS spending under management. When we recently anonymized and aggregated all SaaS-related information in the 2023 SaaS Management Index, this was one of the most impactful pieces of data.
As we shared earlier, SaaS is expected to continue growing by nearly 18% this year. In fact, analyst IDC has noted that as much as 70 percent of application spending in the US stems from LOB budgets – not IT.
This trend is expected to continue through the next few years. And while budget sourcing for technology purchases may be shifting to lines of business, the overall responsibility for technology strategy remains squarely with IT teams, IT asset managers, and software asset managers. As a whole, businesses need must take note of the impacts created by modern software and devise new strategies and processes for maximizing its effectiveness and value while mitigating risks.
IT Strategy Stat #2: 1 in 6 Employees Expense SaaS Applications
When you consider that the average company holds about 291 subscription-based applications, the next question may be, how do they acquire all these tools? As mentioned above, technology spending is increasingly moving away from IT and towards lines of business, especially for applications.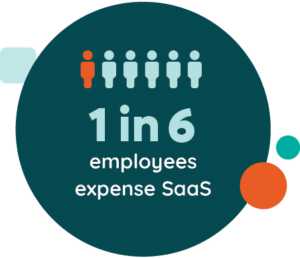 But what may be surprising is how much of this LOB spending occurs at the individual employee level. Fifteen percent of employees purchased a SaaS application using an expense process, typically a personal credit card that was then reimbursed by the company's expense system.
These purchases add up. According to Zylo data, more than a third of all application quantity in the typical tech stack is comprised of tools purchased via employee expense. Without the ability to discover these purchases frequently, employee-led spending creates a significantly ungoverned and insecure portion of tech stack.
As it stands nows, most IT leaders underestimate the total quantity of applications in their tech stacks on the order of two to three times. Employee-led acquisition plays an active role in this tendency to underestimate application quantity. For example, Zylo analysis of employee-led spending on SaaS applications finds that 51% of all transactions involving SaaS were not accurately attributed to software spending.
Anecdotally, Zylo SaaS consultants frequently find SaaS transactions hidden in a wide range of seemingly innocuous expense types. That often includes meals and dinners, professional training and development, association dues and membership, and periodical subscriptions. All told, the average company in Zylo's portfolio processes about 300 unique transaction types in a given year, and the Zylo Discovery Engine correctly identifies SaaS applications in 24% of these unique transaction types.
Because SaaS is so ubiquitous, businesses now need a tool like Zylo to accurately discover, identify, and ultimately manage applications – no matter acquisition source.
IT Strategy Stat #3: 44% of SaaS Licenses are Inactive
In most organizations, performance is a crucial indicator of value. That said, the ability to observe each application's actual usage by end-users can be phenomenally essential to understanding the application's total cost of ownership and, therefore, value.
So the fact that 44% of all SaaS licenses go unused in an average 30-day period highlights the fact that a large portion of the cost associated with SaaS tools – their licenses – is wasted. If business or IT leaders could either rightsize the number of licenses needed or, alternately, ensure all licenses become utilized, the investment in the subscription could be optimized. In most organizations, the former is more accessible than the latter.
Why do SaaS licenses go underutilized? First, many applications remain hidden or misattributed, as discussed above. That means they may escape the attention of a business leader or IT specialist charged with driving effective utilization. More often, however, the license quantities don't match the actual need.
To truly optimize value, business and IT leaders must wrangle not only the bigger picture of applications within their environment but also end-user utilization.
IT Strategy Stat #4: Most Companies Renew One SaaS Application Every Day
SaaS renewals represent one of the central strategic challenges of managing SaaS as a business tool. Lack of visibility or discovery into exactly when SaaS applications will be renewed under an automatic renewal clause frequently leads to unplanned renewals and subsequent unforeseen costs.
Automatic renewal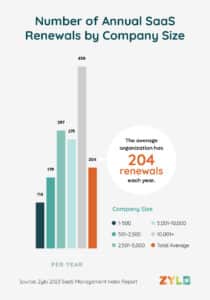 clauses are a feature of SaaS agreements, not a bug. The predecessor to SaaS, on-premises software, relied on perpetual licensing – once you purchased the software, you owned it. But subscription-based software comes with distinct periods of ownership typically reinforced through renewals.
The prescription to avoid an unplanned renewal is to build a calendar that tracks all software subscription renewal dates and their related notification periods. Locating these dates and specific notification terms frequently requires tracking down the original contracts, agreements, or purchase orders and logging that information in a SaaS renewal calendar.
Once a timeline of renewals becomes established within a calendar, that calendar becomes a powerful tool for proactive planning. Should the application be kept, or off-boarded? How many users use the tool? Does it make sense to continue to invest in this tool, or should we shop the market for a new solution? With renewal dates and notification periods visible, these questions can be answered, and renewals can be strategically and proactively planned, instead of being reacted to.
IT Strategy Stat #5: Companies Spend about $4,600 per Employee on SaaS
When you add the total cost of cloud-based software and divide it by the number of employees, the result can be a staggering view of per capita costs. In contrast, the cost for employers to provide healthcare insurance to the average employee and their dependents costs slightly less than $11,000 per year, according to the National Business Group on Health.
Most employers cannot operate in good faith defined strategy for employee healthcare and benefits, due in part to the high cost of the investment. If SaaS applications command nearly the same costs, shouldn't they also command a comprehensive strategy?
There is another correlation to health benefits and SaaS investment for businesses and organizations: both affect employee experience and their ability to produce work outputs.
And increasingly, technology affects employee satisfaction and effectiveness. According to a recent survey, 92% of employees stated that having the technology necessary to do their job efficiently affects their satisfaction at work. Nearly one out of three employees in the same survey said they would quit their job if the technology at work is outdated.
And in another survey, 73% of respondents said they know of tools or technology that would help them produce higher quality work. By 2023, Gartner predicts 40% of workers will choose business applications and tools like they do their music streaming experience
With these facts in mind, IT and business leaders face a choice: Proactively develop new ways for employees to access and acquire approved software or reactively deal with shadow IT, and it's resultant cost and risk, as it occurs.
Ready to jumpstart managing and optimizing SaaS at your organization? Request a demo of Zylo today.