After two decades of explosive growth, there's no denying businesses are flush with SaaS. According to Zylo's 2023 SaaS Management Index, the average organization holds 291 SaaS applications in their portfolio and spends nearly $50 million on SaaS each year.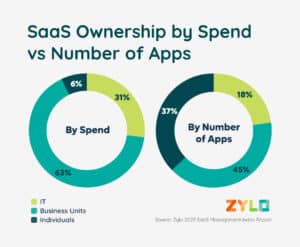 Despite this massive growth, IT now manages just 31% of SaaS spend and 18% of the organization's applications. 
This 180-degree shift in acquisition results from product-led growth strategies and low barriers to entry that make purchasing SaaS increasingly easy. It also opens the door to potential problems, especially when license management occurs (or in many cases, not at all) outside the purview of IT professionals. 
In this post, we'll dive into the benefits of strategic SaaS license management and explore how a SaaS Management tool like Zylo makes it easy to gain real-time visibility into SaaS usage, so you can effectively manage and optimize all licenses.
What is a SaaS License?
Before the rise of software-as-a-service, organizations typically entered perpetual software license agreements, meaning they paid a one-time payment for full ownership of the software. It also meant paying for and managing on-premise data centers.   
When you subscribe to a SaaS license, you enter into an ongoing agreement for as long as you pay for the software. You gain access to the software's support staff, and because the software lives in the cloud, all of the features and updates occur in real-time. The cloud also eliminates the need for in-house services or ongoing maintenance.
Most SaaS licenses operate on a monthly or annual subscription. More recently, some vendors began offering consumption-based licensing agreements, meaning the user only pays for what they use, not a set monthly or annual cost.
Key Benefits of SaaS License Management
SaaS may be more affordable and easier to acquire than on-premise software, but these same advantages can cause considerable problems, especially for large organizations. 
Because lines of business now account for the majority of the SaaS spend (66%), and one in six employees expense SaaS purchases, IT no longer controls acquisition, ownership, or management. It causes a proliferation of shadow IT (software purchased unbeknownst to IT), which increases costs and risk, and leads to redundant and duplicate licenses.
To take control of license management, establish a software license management workflow — powered by a SaaS Management platform — to seamlessly weave discovery, optimization, and spend management into your processes.
Effective SaaS license management helps you:
Understand your complete software portfolio — even shadow IT

Store all license data in a central system of record

Take advantage of enterprise-level licensing agreements

Reduce costs by eliminating redundant tools

Enhance security and reduce risk

Ensure compliance with GDPR, HIPAA, or CCPA

Monitor license utilization (or lack of)
4 Tips for Effective License Management
At Zylo, we approach license management from a per-user level, looking at connections between each user, their specific license type, and utilization data across the entire deployment.
A SaaS Management platform streamlines license management by spotlighting all license information and utilization data in real time, down to the individual user. It helps your SaaS manager identify and deprovision inactive or underutilized licenses, or redeploy licenses to different employees to increase value and reduce costs.
#1 Identify all users and licenses
Effective license management requires full SaaS visibility across the organization. A SaaS Management platform, such as Zylo, makes it easy to quickly see which employees hold licenses for each SaaS tool, regardless of team or business unit.
#2 Documents each user's license features and permissions
A SaaS Management platform also reveals each user's specific permissions. With an accurate inventory in place, you can optimize license management by matching the right licenses to users.
#3 Measure license utilization
According to Zylo data, the average organization utilizes only 56% of their provisioned licenses, meaning 44% are ripe for optimization. A SaaS Management tool monitors utilization for each license, so you can make high-value decisions to deprovision inactive users, rightsize total license counts, and remove unused features or permissions.
#4 Automate workflows
Save time and streamline efficiencies by building automated workflows in your SaaS Management platform. Workflows can identify inactive licenses, survey users about releasing unused licenses, and make deprovisioned licenses available for redeployment. 
While SaaS offers multiple benefits for employees and organizations, it causes major headaches when left unmanaged. A SaaS Management tool such as Zylo showcases actionable license data, so you can make informed decisions to manage and optimize SaaS licenses, while ensuring licenses never go unused.
Optimize your SaaS investments with the 3 R's of SaaS Management: Download Zylo's Practical Guide to Rationalizing, Rightsizing and Renewing SaaS for proven strategies to reduce the costs and risk of SaaS of unmanaged growth.