For many enterprises today, software is the biggest line item right behind headcount. Companies spend an average of $50 million per year on SaaS. Gartner predicts that this spending will triple globally by 2026. And with such a large budget, there's naturally some investment that goes to waste.
However, there's more software waste than you might think.
During uncertain economic times, you're likely facing frozen budgets with little room for anything else while still facing pressure to drive the organization forward. So, how can you achieve both? How can you stay on a strict budget and still advance? The answer is to unlock this savings potential inside your SaaS stack. Identify your software wastage wherever it hides.
Saving money is always good for the company, but there's more potential here. You can reinvest those savings to make the most out of every day.
As Salesforce's SAM Program Director Jason Owens shared with us on SaaSMe Unfiltered, if more people understood the power of SaaS management, then "more people would say, 'We really need to invest in this for our business, because we can leverage that money, unlock value, and put it into things that are transformative for the business rather than just spend.'"
That's why Zylo is here to help your business realize those savings and free up money to make meaningful reinvestments in your business, and that's exactly what we're going to discuss today. 
Savings Opportunities That Allow You to Reinvest in Your Business
When you're looking to save money to reinvest in your business, there are some key opportunities you should look for in your SaaS portfolio. 
Renewals.

Renewals are your biggest opportunity to make serious changes in your SaaS portfolio. This is when you can negotiate with your vendor for better rates that suit your needs according to usage.

And with

benchmarking

, you can bring meaningful data to the negotiation table with your vendor.

Rationalization and Consolidation.

Identifying and removing duplicative applications from your portfolio allow you to increase your purchasing power without sacrificing functionality.

Removing Underperforming Apps.

Apps with low utilization and sentiment, or that are no longer serving your business needs, are good opportunities to trim the fat from your SaaS portfolio and free up spend to be invested elsewhere in your organization. 
So, what do all of these opportunities have in common? They require visibility and proactive SaaS management to act on. With Zylo, you get that and more. 
How Zylo Helps You Reinvest in Your Business
Zylo is a SaaS management platform, true. But we're also a partner you can rely on to deliver cold, hard cash back into your business. And that's exactly what you need when you're looking at your budget with more scrutiny – a partner that can help you save money.
What's more, we're a partner that can help you step back and consider what will strategically move your business forward by reinvesting your recovered spend. 
Comprehensive Visibility into Your SaaS
Before you can find opportunities to save and reinvest, you must have a full picture of your SaaS portfolio, spend, and usage. As we've said before, you can't find a cost-saving opportunity that you can't see. Without that visibility, you're stuck.
By using a SaaS management platform with comprehensive discovery, you can find and track all of your applications. Zylo's AI-powered Discovery Engine locates 100% of your applications — even shadow IT.
The tool pulls all your data into one place, creating a central source of truth for your IT, Procurement, and Finance teams. You're quickly able to examine your usage and spend across your portfolio.


The Discovery Engine allows you to:
Understand the number of applications being used

See a complete picture of your application license spend and usage

Classify your applications automatically with an AI-powered matching model
These metrics allow you to then make critical optimization decisions such as rightsizing, rationalization, cost avoidance, and informed renewals to free up spend and reinvest elsewhere in your business.
Actionable Insights Drive Optimization
The modern proliferation of SaaS came with a great amount of spend. However, this spend is rarely optimized. Rather, the average organization only utilizes 56% of its provisioned SaaS licenses. That leaves 40% that is wasted and unused. 
Clearly, there's a huge opportunity. But, where do you start?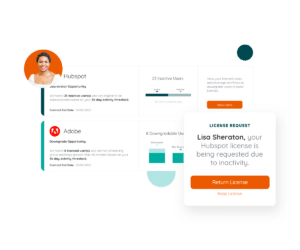 Zylo Insights automatically surfaces optimization opportunities, ranging from quick and easy wins to long-term strategic decision-making. You can see the top opportunities across your portfolio and find those needle-in-a-haystack ways to save and reinvest.
Here's what Brad Pollard, former Tenable CIO, had to say about his Zylo experience on SaaSMe Unfiltered when he used Zylo to identify a savings opportunity.
"I went into your tool and I was looking at what is my adoption of my unified communications as a service?" said Pollard. " I don't want to blast traditional telephony, but it's going away. People aren't doing it anymore. And so, I'm looking at what this bill is we're paying, again, through this tool. Okay, well where can I save money?"
Pollard went on to discover that the only members of the team using the service was customer service for inbound customer calls. Other than that, everyone was using Zoom. This allowed their team to realize they could shift to a voice-over IP at a fraction of the cost they were paying.
"We ended up saving a ton of money that we were reallocating to other projects," said Pollard. "So, we ended up staying flat on budget, not losing any functionality, and then having money to do innovation and new projects."
And all of this was possible because Pollard was able to quickly and easily see the data behind this opportunity. 
Proactively Manage SaaS Renewals
The average enterprise sees one renewal every single business day. That can make it hard to prepare, especially if you don't know a renewal is coming. Worse yet, a missed renewal is a missed cost savings opportunity, something you can ill-afford when budgets are already set or tight.

Zylo allows you to track all the data you need to prepare for SaaS renewals. Plus, we'll let you know that they're coming. You'll never miss a renewal again. 
We're a partner that can help you develop a renewal strategy that you can operationalize across your entire business. What's more, our team will go to bat for you as a hands-on integrated resource on your team. Our Managed Services team can help with everything from managing your day-to-day SaaS management needs to your end-to-end procurement process including vendor negotiation. 
SaaS Management Drives Business Transformation
SaaS spend is ripe for optimization. You only need to know where to look. Acting on cost-saving opportunities today means less waste and more money going back into your business to make real change. Zylo can help with that. 
Start saving today, check out our Cost Optimization Resource Center to find more ways you can make the most out of your SaaS portfolio.
And if you're ready to reinvest in your business, request a demo with Zylo today.