For those in IT Procurement, you know the software landscape is rapidly changing and priorities seem to shift constantly. Understanding these priorities and overcoming challenges in the process is a significant part of IT Procurement's role, especially as the end goal is to understand all of IT, including SaaS, cloud-based software and subscription software.
With these challenges in mind, the Zylo team consulted Twitter to pose some general questions of IT Procurement leaders and we targeted individuals with an interest in SaaS and software to gain the most accurate results. We used Twitter Polls to ask 3 questions over the course of one week. Each Twitter Poll was live for 24 hours before the results were finalized.
In this post, we'll examine the first question asked, the poll results, and Zylo's take on the responses. Check back later this week for more Twitter Poll results.
Question #1: How many cloud or SaaS apps do you believe your organization uses?
Results: 133 votes
0-25 – 37%

25-200 – 19%

200-500 – 21%

500+ – 23%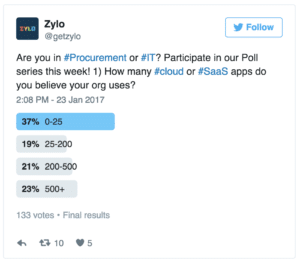 In the first Twitter Poll we conducted, we asked how many cloud or SaaS apps organizations use. When considering their entire organization across all departments and individuals, 44% of respondents believe their organization uses at least 200 SaaS applications. 23% of that number believe that their organization uses over 500 cloud or SaaS apps! Of course, these numbers likely reflect an organization's size, with smaller companies or startups using few apps, and larger organizations using many, many apps.
This can actually be a very difficult question to answer with certainty (as you'll see in Twitter Poll question #2 later this week). As Zylo's VP of Services, Cory Wheeler, mentioned in an earlier blog post, "I found was that everyone in the company was buying their own software—usually without direct support from IT. My previous experience of managing 10 large annual IT license purchases turned into 1,000 employee license purchases across Marketing, Sales, HR, Development, etc. And it was all subscription software. SaaS was exploding in a big way and I didn't have any tools or consistent stakeholders to be able to help scope out or support the software explosion."
If you're an IT Procurement leader, can you relate to Cory's sentiment? Are you able to account for all cloud and SaaS subscriptions utilized across your organization by each department and even each individual?
---
Visibility and cost optimization are top of mind for IT Procurement leaders, and today, for the first time ever, it's possible for IT Procurement to obtain 100% of licensing data and have visibility in order to put a strategy around it.
Interested in learning more about how to be innovative with cloud software in your organization? Download Zylo's latest resource, "How The Cloud Shift Can Drive IT Procurement Strategy" for insight on how to be proactive and drive strategy.
Also, check out these blog posts for more resources on SaaS:
The SaaS Landscape Is Changing Procurement Forever. Here's Why:
"Buyers" Move Over. Why The Subscription Economy Is The Future.