A few months ago, I was interviewing at different companies in search of my first post-grad job. I had various assumptions and preferences when looking for a place of employment, but the #zylife has turned out to greatly exceed my expectations.
My Path to Zylo
My journey that led to Zylo was unique. I was recruited by Orr Fellowship, a nonprofit organization created to match exceptional college graduates with full-time employment at dynamic, high-performance Indianapolis area companies.
Every year, the Orr Fellowship selects 65 candidates out of more than 1,200 applicants who display top talent. The program then provides two years of preeminent curriculum and unique opportunities for personal and professional growth.
The Orr Fellowship has a mission of developing the next generation of local business leaders and entrepreneurs. They continue to attract talented young professionals and bring alongside notable companies like Zylo to host fellows in the Indianapolis area.
When going through the Orr interview process, I was asked to submit a statement of 200 characters or less to describe myself in regards to my professional career. Given my business, data, and technology education from Taylor University, I described myself as follows: an enterprising, holistic systems thinker who serves others by highlighting the meaningful and eradicating the menial through business operations, technology, and relationships.
Through a variety of experiences with data analysis and artificial intelligence at Taylor University and beyond, I was able to speak at two Salesforce conferences – Dreamforce in San Francisco and the Higher Education Summit in Washington D.C. – as well as one of their podcasts on the work I had done up to that point. Little did I know, my resume had become perfectly tailored to Zylo.
The Challenge of Managing SaaS
The problem is simple: Companies big and small continue to struggle with managing the growth in both the sheer number of subscriptions, as well as the cost of purchasing SaaS that helps their organization run. In other words, companies lack the clarity that allows them to drive ROI on their software subscriptions and contracts.
In fact, within the last few years, an entire industry of SaaS Management has arisen. This is the reality: SaaS is the new status quo. In my time at Zylo, I have realized three notable indicators that show the health and trajectory of the company:
Big companies benefitting from our software
Big investors backing our product
Big talent coming not only to the Indy tech community, but to Zylo in particular
The Solution
Zylo has a simple value proposition which turns out to be slightly ironic: SaaS for SaaS. Through developing this platform, Zylo gives their customers clarity in their software through discovery and optimization which drives ROI.
Clarity & Optimization → ROI
In Jim Collins' book Good to Great, he focuses heavily on the Flywheel Theory. This theory is built on the foundation that when you have the right people who understand the three components of the hedgehog concept (see visual below), the success you built the company on will continue to compound itself with "each turn of the flywheel." Zylo has continued to grow exponentially due not only to the clear product-market fit, but also the phenomenal team.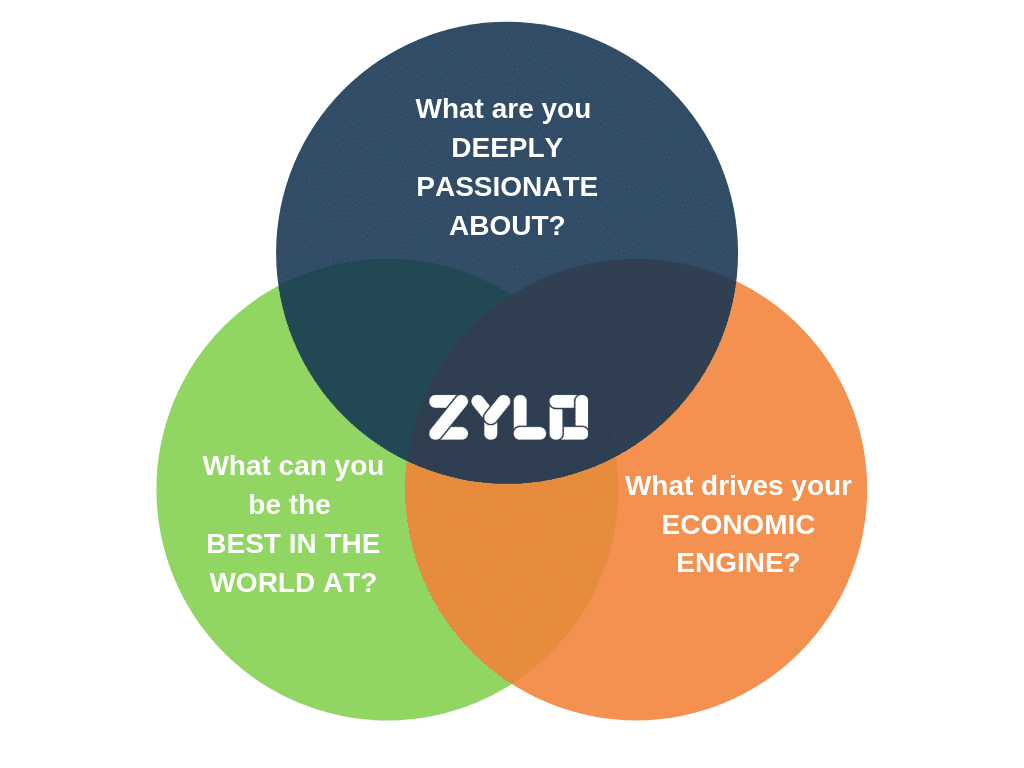 The #Zylife
Joining the right team was a priority of mine when making a decision for post-grad opportunities, and it was very clear after my first visit to Zylo that they were the winner.
I am continually amazed at how the leadership is locked into the mission and direction of Zylo, but they also exercise their professional will with a great deal of personal humility. This paradoxical blend is a clear indicator of the Level 5 leaders that are blazing trails for Zylo.
We all know that work can get monotonous if we are working toward something we have lost belief in. Therefore, we must identify problems, understand what is working and what isn't, and fix things as we go.
At Zylo, it's a continual celebration of team effort and accomplishment as we iterate, refine, and add functionality to the product in order to better serve our customers and the industry as a whole. Through weekly updates and casual conversations around the office, it is clear that all the employees at Zylo – ranging from the CEO to the newest hire – feel the pride of the product.
They know they are contributing to each and every day within their specific roles to make the company excellent.
I will leave you with one last thought from Ed Catmull's Creativity Inc., the book that highlighs his time as president of Pixar and Disney Animation Studios:
"If you give a good idea to a mediocre team, they will screw it up. If you give a mediocre idea to a brilliant team, they will either fix it or throw it away and come up with something better."
We work on a ridiculously talented, brilliant team at Zylo, and as the SaaS management enterprise leader, we have some big things in store. As a team, we continue to eradicate the menial. This frees up space to highlight the meaningful and provide clarity to our customers on the enterprise level.